After Graduating Westridge, What Next?
On Friday March 6, Westridge hosted its annual Alumnae Weekend. Dozens of Westridge alumnae gathered to visit their alma mater and reconnect with their high school classmates. Spyglass was lucky enough to catch up with some of the graduates and chat with them about what they've been up to.
Charmaine Haravey '80
By Jacqueline Y.
When I first sat down with Charamaine Haravey, I knew that I would enjoy the conversation I was about to have with her. Her eyes lit up as she confided with me about how excited she was to be back on campus and reconnect with her former classmates.
"
It's a bit of a paradox, but I know that Westridge encouraged a lot of personal empowerment … I think young women here were given the proper support here to do what they want."
— Charmaine Haravey '80
After graduating from Westridge, Haravey '80 attended UC Boulder as an undergrad.  Later, she transferred to University of California, San Diego, for her junior and senior year and served as a reporter for the UCSD Guardian, her school's newspaper. Immediately after graduating UCSD, she worked for a small paper in downtown San Diego, promoting new restaurants, music venues, and developing growth for the city while attracting people to visit downtown. 
Currently she resides in Colorado and is working in the accounting field at a creative agency, which specializes in partnering with mainly nonprofit organizations. "I'm only working part time, but it's great being in a place that produces something. I'm the oldest person there and we do a lot of things involving graphics, packaging, and creating custom swag. It's nice to be in that environment."
Elizabeth Russell '69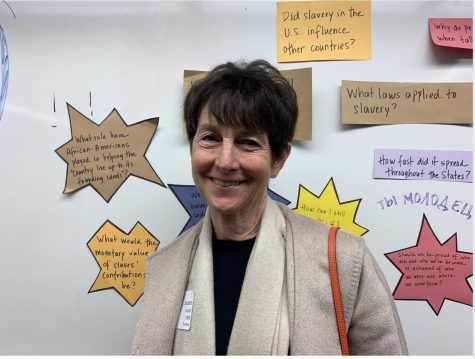 By Hannah W.
Rather than answer how Westridge has changed from the time she attended, Russell identified the unchanging heart of Westridge. She said, "The core of Westridge is still building kind, generous, intelligent, independent women that can change the world."
After graduating from in 1969, Elizabeth Russell was accepted to Chapman's Semester at Sea program and spent four months going around the world during that time. Later, she started her second semester of college at Pitzer College and graduated with a degree in English literature and film. 
"
It's the retro-perspective understanding of the gift that I got from my Westridge education. I didn't realize how profound that was until afterwards."
— Elizabeth Russell '69
Right after finishing college, Russell went into business, where she worked in healthcare for over 40 years. "As an excellent business woman, I was able to lead people, conceptualize ideas, make those ideas happen, and coach people so they can be their best self. I credit most of that to my education at Westridge."
Cheri Colby-Langdell '62
By Emily S.
Before I even had a chance to ask Cheri Colby-Langdell for an interview, she was already pulling out the seat next her for me to sit down. Immediately she began to talk to me excitedly about the values of learning Latin as a high school student. 
Langdell graduated from Westridge in 1962, and at the time, she, like many other high school Latin students, believed the language wouldn't help her achieve anything. This changed the moment she stepped foot into her first college class at Boston University.  The teacher was standing on top of a desk reciting a speech about Roman soldiers. 
"
I believe that Latin gives you a lot of different arrows in your quill."
— Cheri Colby-Langdell '62
"I believe that Latin gives you a lot of different arrows in your quill," explained Langdell.  "There are a variety of different things that it helps you with, and I see its effects everyday."
Throughout her undergraduate education at Boston University and her graduate work at the University of Southern California, she continued to learn about the values of a Latin education. She went on to receive a PhD in Comparative Literature. Currently, Langdell is a Lecturer in English at the University of California, Riverside.
Sylvia Holmes '76
By Emerson L.
Alumna Sylvia Holmes has been working with permaculture and environmental advocacy for the last decade. She defined the novel term "permaculture" for me with the patience of an expert in an obscure field: "Permaculture is providing for human needs in abundance and repairing damage done to the earth at the same time through good design." 
Though her path to this passion was far from straightforward, she felt that her single-sex education helped prepare her with self-confidence and leadership skills in her adult life. "I remember being president of the glee club… and it occured to me that there were only, in every situation, in every class, choices for the president to be female, and I just got so used to that idea." 
"
I feel like a lot of women in college that didn't go to a girls school…would sort of backup and go 'oh well some guy will take over that position, I don't need to do anything,' [whereas] I felt the responsibility to take on leadership when it was available."
— Sylvia Holmes '76
After graduating from Westridge, Holmes attended Swarthmore College, studied religion and music, and then worked in politics and book publishing. As her next educational endeavor, Holmes raised three daughters, all of whom have attended Westridge, as she wanted them to have "the same experience that [she] had enjoyed so much." Currently, Holmes is working as a permaculture designer and is extremely active in Pasadena local environmentalism.


Carol Hall '60
By Bella W.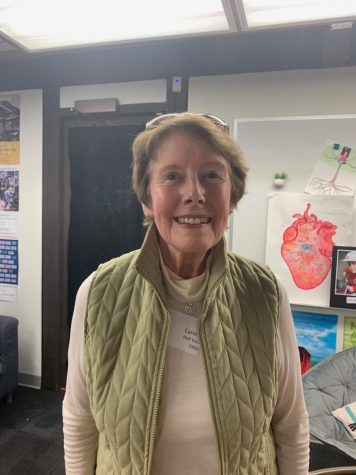 Carol Hall, '60, former editor of Spyglass, reflected on her time at Westridge and the lifelong skills she gained as she visited for her 60th reunion. Her senior year, Carol was the editor of Spyglass, at a time when the pictures were taken on film cameras, and unpublished articles were referred to as "galleys." 
"We would take our articles to the printer, get back our galleys and our pictures… and then the staff, our advisor and I would all sit in the classroom and paste it all up and put it together," explained Carol. The printing process was much more physical than it is today, considering Spyglass has moved to online publishing. 
However, despite the publishing differences, Carol still resonated with the skills needed to run an online student newspaper. "It was a wonderful experience from the standpoint of responsibility and organizing the staff," expressed Carol. 
"
I think the most impactful thing I got from Westridge was confidence, I was a shy person so that confidence traveled through my time at Stanford and beyond."
— Carol Hall '60
Carol shared her love of journalism and writing as she has helped out with editing Polytechnic High School's paper.  Currently, Carol still enjoys writing but also volunteers in her community. 
Margaret Russell '67
By Ibby A.
When I sat down across from Margaret Russell '67, she knew exactly where to begin in her story. "I guess we can start with a 10-year-old who comes to Westridge in fifth grade," she shared. "You're two feet tall, and you wear your little uniform." 
She recalls her years at Westridge fondly, especially as a quiet child who was always encouraged to be herself. "It was just so easy to be here…"I think a lot of the women's school for me was permission to be yourself – absolute permission to be yourself. That was glorious," Russell described. 
After graduating from Westridge, Russell went on to study at Scripps College and later attended graduate school at Cal State Los Angeles. She was a special education teacher for 10 years, started a preschool for blind students, and then became an educator at her local public school. "Coming into that world, I had a sense of confidence," Russell explained.
"
I think a lot of the women's school for me was permission to be yourself – absolute permission to be yourself. That was glorious."
— Margaret Russell '67
To this day, she loves returning to campus and meeting current students. "Coming here is always so heartening," she revealed, "because I see such intelligent, articulate young women, and so grounded. I think that for people that feel that the world is going to hell in a handbasket, they just need to look at our young people…if I need to leave my future to somebody, I'm perfectly happy to leave it in your hands."

Leave a Comment