With only two more issues left, Spyglass is coming to a close for the 2019-2020 school year. This year has taught me how to grow and develop my writing abilities, along with showing more leadership as an older staff member. At the beginning of the year, I started out as the Outside Contributors and Art Manager. Now, at the end of the year, I am preparing to take Caroline's role as the Editor in Chief. 
Caroline L. and Isabel A.
Barbara Ferrer, Los Angeles' Public Health Director, revealed on Tuesday that the county's stay-at-home order will most likely extend through July. But many were already disregarding quarantine orders long before this announcement. "I've been alarmed by the number of people in my immediate Westridge community not following stay-at-home orders," Gracie B. '20 admitted. "If you have the privilege to stay home, do yourself, your community, and those who don't have the ability to stay home a...
May 15, 2020
This year, Spyglass is sad to see many of our Westridge faculty and staff members leave our community. While some are retiring and others are pursuing other opportunities, we wish all of them the best of luck and will cherish their time spent at Westridge.
May 15, 2020
May marks the start of a month full of senior activ...
May 15, 2020
Westridge students are all experiencing quarantine...
May 8, 2020
The COVID-19 pandemic has presented the world with nu...
May 8, 2020
As the lines between home life and school blur, stud...
May 1, 2020
On April 10, Westridge families received the long-awai...
May 1, 2020
Due to the COVID-19 pandemic, many of us are spendi...
May 1, 2020
School is back in session and it's better than ever… ...
April 24, 2020
Staying involved in your community can be challengi...
April 24, 2020
As shelter-in-place orders are established, more and more people are working and learning remotely. That means more time with family, and for many pet owners, it means more time with their animals.
April 17, 2020
Recent Recent Campus Culture Stories

Westridge Artists Run Second Annual Disassembly
April 17, 2020
On the afternoon of February 19, students and facul...

Reactions and Responses to Off Campus Cancelations
April 17, 2020
The effects of COVID-19 were already being experienced ...

Guys and Dolls Takes the Westridge Stage
April 16, 2020
On March 6, Guys and Dolls debuted on the Westridge stage, ...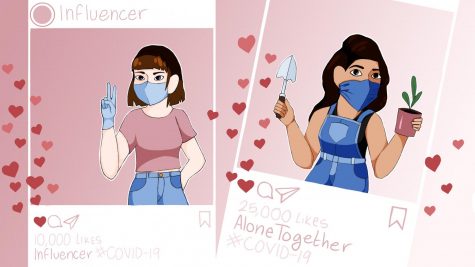 Addie K.
When Gal Gadot, an Israeli supermodel and actress, posted a three minute video of celebrities singing...
May 22, 2020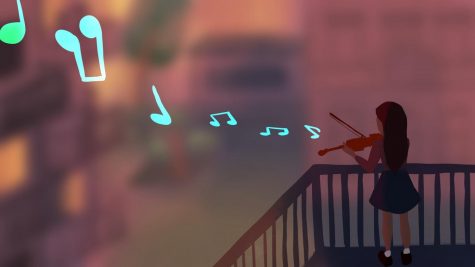 On Mother's Day, a particularly hot afternoon, I approached my mom's house clutching my Hanez guitar...
May 15, 2020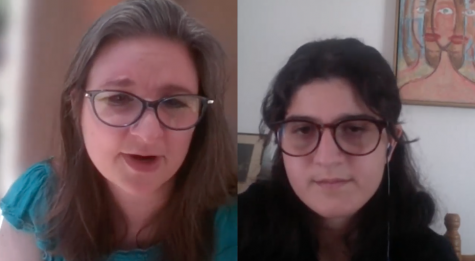 Sophia H. '21 interviewed Dr. Carruthers, Westridge's Director of Counseling and Student Support, about...
May 8, 2020
As most employees and students settle into new routines at home due to the COVID-19 pandemic, others continue going to work every day to help support our community and save lives. Some of the medical and civil service workers who are part of our larger Westridge community have shared with Spyglass brief glimpses into their current lives.
May 8, 2020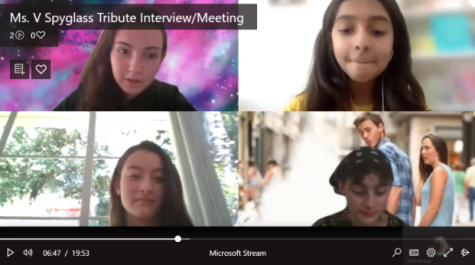 On April 14, we lost an integral member of the Westridge community, Lower and Middle School Dean of Stude...
April 24, 2020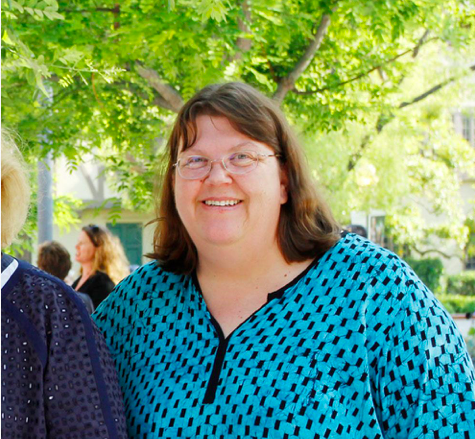 Carol van Zalingen, Westridge's beloved Lower and Middle School Dean of Student Support, died at Hun...
April 23, 2020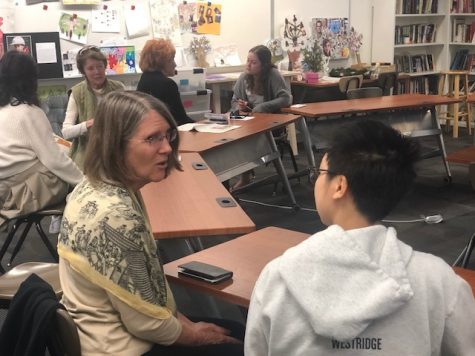 Masami Hansen
Jacqueline Y., Emerson L., Emily S., Isabella W., Isabel A., and Hannah W.
On Friday March 6, Westridge hosted its annual Alumnae Weekend. Dozens of Westridge alumnae gathered t...
April 16, 2020
Izzy S.
On Thursday, March 19, President Donald Trump stood in the Brady Press Briefing Room at the White House to give updates on the pandemic at hand. However, as he began his speech, something was noticeably different; he began referring to the COVID-19 outbreak as the "Chinese Virus." 
May 1, 2020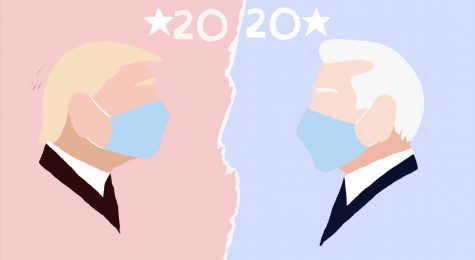 In addition to voting in the presidential primaries, this year U.S. citizens are voting on 435 seats in the House, 35 senate seats, 13 governorships, and multiple state and local elections. However, the spread of Covid-19 raises the question -- how will a global pandemic affect our democratic process? 
April 24, 2020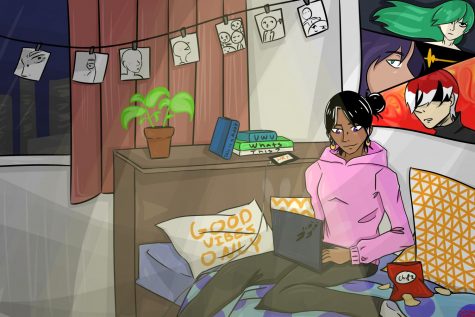 There have been some positive unintended consequences and impacts of social distancing as more and more cities mandate sheltering in place. Pollution Around the world, the rate of pollution has gone down as comm...
April 24, 2020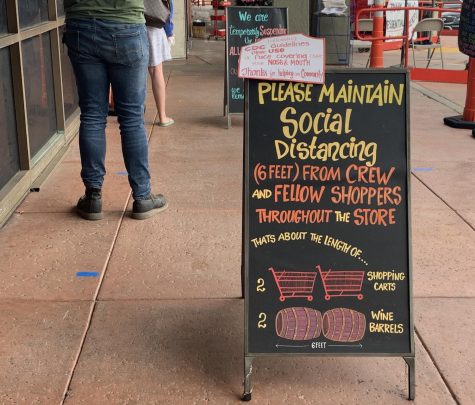 Anyone who has shopped for groceries in the past few weeks knows that COVID-19 has created an extraordinary challenge for both grocery stores and customers. In order to prev...
April 24, 2020
Over the past couple of months, the coronavirus has taken the lives of over a hundred thousand people worldwide. But it's also had irreversible impacts on the U.S. economy and delivered shocking blows to small businesses across the country.
April 16, 2020
Caroline Lopez
Spyglass recently sent our staffers out to capture images of once-bustling public spaces, grocery stores, and streets that now sit empty as a result of the Covid-19 pandemic. While there is a certain sadness in observing major gathering spots that now lie vacant, the time to document the effects of this virus and capture places in their pristine, untouched state is now.
April 16, 2020
COVID-19 threw a wrench in sports seasons, and not just at Westridge. Sports and sporting events such as the NCAA championships and the Olympics have either been postponed or canceled. At Westridge, as of April 20,  scheduled games up to April 24 have been canceled, but as the situation changes, more competitions could be called off. 
April 24, 2020
After moving to pass/fail, I've become a lot less interested in doing work for most of my classes. Of course, I still complete it, but not with the same vigor I had before the transition. All my work is, quite frankly,...
May 22, 2020
Since stay at home orders have continued to spread, we have seen a reduction in car travel, plane travel, and even industrial production, as well as a reduction in ecosystem disturbance now that many parks and beaches are...
May 15, 2020
Dear Spanish Students, I studied Latin for seven years, and throughout that time, you Spanish students have been eager to point out just how unuseful a "dead language" is and how we should wake up and see that Spanis...
May 8, 2020
Like everyone else, I am so sick of talking about the Coronavirus. This pandemic truly feels endless. And being a senior in high school on top of everything makes the future feel all the more insecure. The college process is a wild roller coaster with twists and turns, but a global pandemic was a drop I never could've expected. 
May 8, 2020
This past year, Netflix has dipped their toes into reality TV production. Shows like The Circle, released on January 1 and Love is Blind, released February 13, center around ordinary people who are thrust into unusual situ...
May 8, 2020
Evidence of President Trump's disastrous response to the COVID-19 outbreak has been steadily mounting over the past few months. Just this past week, on Tuesday, April 28, the U.S. surpassed one million cases of the coronavirus, demonstr...
May 1, 2020
"The Sleep Foundation recommends you get around eight to ten hours of sleep per night," my Human Development teacher told our class at the beginning of this year. Student health and well-being is a frequent topic of discussion at my independent all-girls school. It's hard not to laugh when teachers encourage us to get more sleep.
April 24, 2020
When I started high school, I lost count of the number of curse words I heard on a daily basis. I didn't expect to hear "bitch" a lot, but I was surprised by the number of times that word casually came up in conversation. At Westridge, we focus on empowering young women, so I didn't expect to hear the word as often as I did.
April 24, 2020
Whenever I announce to a classroom that I'm a chronic procrastinator, it's always echoed by classmates who chime in with the classic "saaame," followed by nervous laughter and awkward side-glances at the teacher, whose face is fixed into a disappointed frown.
April 24, 2020
Looking up at the mountains surrounding Los Angeles, you might not know it, but these mountains are actually filled with food.  This is where Pascal Baudar holds his weekly foraging classes, although "foraging" might not be the right title for them.  
April 17, 2020

Civics Belongs in Our Classrooms
April 16, 2020

5 Reasons I was Social Distancing Long Before Coronavirus
April 16, 2020

Guest Contribution: Why You Should Visit Tijuana
April 16, 2020
Sorry, there are no polls available at the moment.
Growing up in Los Angeles, I've been told that girls can do anything they set their minds to, especially STEM: science, technology, engineering, and math, the decided holy grail of intellect and suc...
May 1, 2020
On April 14, we lost an integral member of the Westridge community, Lower and Middle School Dean of Student Support Carol Van Zalingen, to complications due to COVID-19. As Westridge reflects upon and ...
April 24, 2020
In Eighth Grade English, students wrote haikus reflecting on their experience during the Coronavirus quarantine. Spyglass would like to feature three of these haikus to add some cheer in these times of fear and uncertainty. 
April 17, 2020
Ella B. and Sophene A.
"When I walked onto the field, a smile came to my face. I immediately knew this was going to be an exciting and great day!" exclaimed Reed D. '25 as she recounted this year's All Schools Day.  ...
April 17, 2020
1. Spaghetti Sword Fights A starchy and competitive workout for the whole family, or whoever's willing to get off their laptop for five minutes. C'mon, dad, I'm looking at you. * If participating with neighbors, omit spaghetti and instead use six pieces of duct-taped lasa...
April 17, 2020
Nothing inspires more fear than speaking in public.  When it comes to presenting the 60 second sermon, an infamous Eighth Grade English assignment, students found that banding together in support is ...
April 17, 2020
Ella B. and Sophene A.
On March 11, Head of School, Elizabeth McGregor announced that Westridge would switch to remote learning in order to ensure the health and wellbeing of students, faculty, and staff. At first, some stude...
April 17, 2020