The Magical World of Junior Varsity Soccer
Every year, Westridge's Junior Varsity soccer team draws the membership of a significant number of students, almost always surpassing 20 players. A soccer team only needs to field 11 players, and JV has more than double that. Some join the team for P.E. credit, and others join to advance their skills as players. But, each individual's reason for joining doesn't matter when everyone is together on the field. 
JV Soccer at Westridge is, without a doubt, the most populous sports team. Attracting new members isn't the only thing they have succeeded at this year. The team, through their nine games, was undefeated (7-0-2). Outscoring opponents 29-5, Athletics Director Coach Melanie Horn has regarded the team's season as "incredible."
"
I really like the communities and the coaches."
— Crystal Z. '23
The team not only acquires experienced players but also those who have never played soccer before. 
Holly N. '25 played soccer for the first time. "JV soccer has been overall a positive experience for me this season," she said. "The coaches make it a fun and not an overly competitive environment. Deciding to take soccer this year has been a good decision, and the team atmosphere, along with the coaches being super nice and positive, has been great. The games and practices have been a good experience for me to practice a team sport."
A large amount of the team's success can be attributed to some new additions to the coaching staff this year. Along with long-time coach Dr. Ryan Skophammer, an Upper School Science teacher, Westridge was joined by long-time club coach Fernando Chavez and former Costa-Rican national team striker Javier Wanchope. The coaches are well-liked by their players.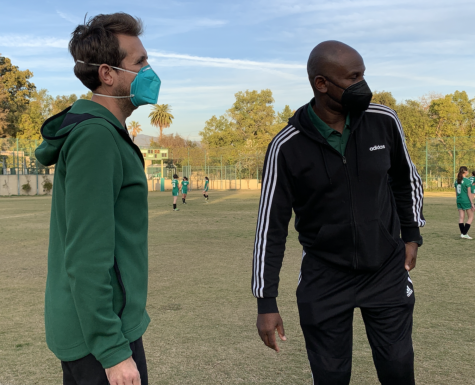 Dr. Skophammer believed that the team was successful largely because of their coaching staff. "We have two experienced and really hard-working coaches who have made sure that our practices are useful, [and that they] help with skill and fitness. [They] also understand the culture of the team really well." 
The team has hit a spring of youth with dynamite forwards, Sophene A. '25 and Ximena A. '25. Both freshmen scored the majority of the team's goals while continuing to develop into stronger players. Junior Varsity has proven to be a great program for player development as some students aspire to eventually play on Varsity. 
Sarah Y. '22 is playing in her second official year on Westridge's Varsity soccer team. She originally started on Varsity in both her freshman and sophomore years. However, she eventually quit because JV soccer looked fun, and she didn't want to take soccer too seriously. Like so many others, she preached the supportive and friendly environment of JV. 
"At times it would still be competitive enough to, you know, like help me grow and fulfill my soccer stuff," she said. "I actually wanted a slightly more intense environment and thought that I could push myself even more as the years went on."
"
We've had a cookie on one or more of our team sweatshirts. It's been a longstanding [tradition]. It's hard to believe that it's been this long. I believe that the cookie tradition has been going on for 7 years."
— Ryan Skophammer
Furthermore, the team's strong leadership core of Juniors and Seniors has been pivotal for their performance thus far. Crystal Z. '23, Katelyn S. '23, Charlotte Z. '22, and Claire S. '22 have all led both on and off the field. 
Dr. Ryan Skophammertalked about their important role in the theme. "For the four of those players, Charlotte and Claire don't have to be out there. They're not out there for credit, and everyone knows that. They're there because they love to play, they're there because they love to be out there with the team, you know. It also communicates something to the younger people on the team. With Katie and Crystal, and Charlotte and Claire, they're very good players and they work hard in the games and at practice. That shows."
Charlotte Z. '22 reflected on her experience playing for the team all four years of high school. "I chose to stay just because I really love the non-competitiveness aspect of it and just like how we're all really like a family, especially with things like a cookie cheer and cheering each other on all the time. I think it's just a really fun experience."
The Junior Varsity team's positive culture has been highlighted over and over again. "JV Soccer culture started with the class of 2019 when they were freshmen," Skophammer said. "They were a big part of it. They were the first group to play for four years on the team."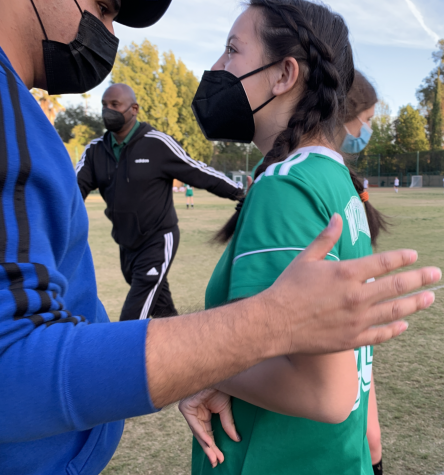 With that same class of 2019, the infamous team cookie cheer originated. After practice one day, it was time for a break, but a team member misheard and said, "Cookie break?" "Everybody had a good laugh about it and after that, we decided to do our team breaks to cookies and for some reason, that's lasted this whole time," Skophammer said.
Despite the pandemic, the team was able to bring back their runs to South Pasadena's Farmers Market. "It's a way to break up the monotony of day-to-day practice," Skophammer said. 
Sophia Kaplan '19 was a large part of JV soccer during her time at Westridge. She played on the team her freshman year but later helped coach.
"Helping coach JV Soccer taught me a great deal about leadership, management, and flexibility, Sophia said. "I grew up loving and playing soccer and after a series of severe concussions thought I would never be able to find community or joy in the sport ever again."
"We play more for fun instead of winning [and]  I like that attitude," Crystal Z. '22, a member of the team for three years, said.
After a historical season for JV soccer, the team has maintained its easy-going culture. That, above all else, is what makes this team so magical.
Leave a Comment
About the Contributor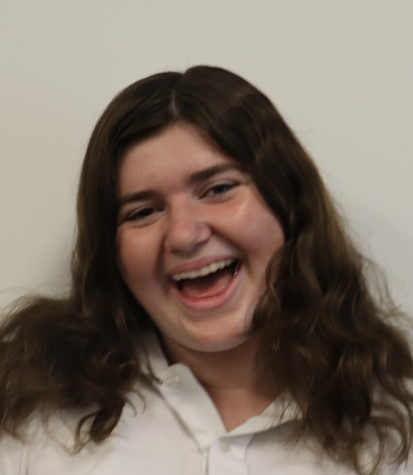 Ella B., Editor
Ella is in her fourth year writing for Spyglass, first year as an editor, and her second year developing Spyglass' social media presence. When she is not...