Heritage Speakers Share Their Language Learning Experience at Westridge
At Westridge, Middle School students choose between learning Spanish, Latin, and Mandarin for both years seventh and eighth grade. For some students, the choice is easy, but for others, who are native or heritage speakers, finding a class that meets their needs can be challenging. 
When a heritage speaker has to choose which language to learn, they're stuck in a tricky situation where they are too advanced for the class because of their speaking skills yet  also lacking education in some other areas.
Most often, heritage speakers learn a second language from their parents by speaking it at home. Usually students understand the language very well, but they may struggle with writing and reading. Shania W. '27, a heritage Mandarin speaker taking Spanish at Westridge, said,  "When I was learning at home, I was just learning how to speak it. I didn't know how to write much, and there was no set curriculum like at school." 
Another student, Makayla W. '26 said she had to adjust to the Mandarin teacher, Ms. Shang's Beijing way of speaking Mandarin because of its slight differences with the way her parents raised her to speak. She also realized that the way she spoke Mandarin at home was more casual, and was different from the formal usage taught in class.
Most students turn to their parents for help in making their decision as well as reaching out to faculty. Ms. Fang-Yu Hull, the Upper School Mandarin teacher, explained that it is recommended that students take a placement test to gauge which level of a language they should be placed into. However,  she notes that very few students place into a high school class. 
Ms. Shang, the Middle School Mandarin teacher, said that she usually suggests that advanced students take another language for two years and take a placement test to switch back to their heritage language. "In my experience with students who join a high school class, it's difficult for them to fit into the class and be comfortable because they are younger," stated Ms. Shang. 
Esperanza O.C. '26 joined Westridge in 7th grade, and she currently is enrolled in Spanish III, an upper school level class.. She said that she "was repeatedly questioned as to why I wanted to take a harder class. My mom also had to have multiple meetings with staff at Westridge. It definitely took a lot of help from my family to be placed in a higher level Spanish class." Even then, she felt rushed into the advanced class because she wasn't familiar with being in a class with juniors and following a highschool workload.
Even if they're not prepared for advanced coursework, heritage speakers remain strongly motivated to continue learning their heritage language at school.
  Many students choose their heritage language to keep in contact with their culture. "Now that my sister and I go to school more, we speak less Mandarin at home," says Presley P. '27. While in class, students not only learn their language's grammar, they also learn about the culture as well. "[Heritage speakers] feel that the class is a place that they can develop more of their own self like their culture and more of who they are through the language," said Profesora Maldonaldo, Middle School Spanish teacher.
Heritage speakers are also afraid of losing fluency in their language, something they are reminded of by their families. Manon I. '26, who currently takes Mandarin 8, said that she wanted to learn to "speak less like a foreigner" in her own language. She mentioned that her cousins often refer to her as the "American cousin" and that she doesn't want relatives to see her differently because she is from America.
"When you are learning a language, you are learning about yourself, and you are developing your identity," said Profesora Maldonaldo. Similarly, even if it's difficult to teach students who have different skill levels, Ms. Shang said that having heritage speakers helps classes explore culture from varying perspectives. 
She added, "I love it when students share connections with what they already know and teach other students different ways to say something."
View Comments (3)
About the Contributor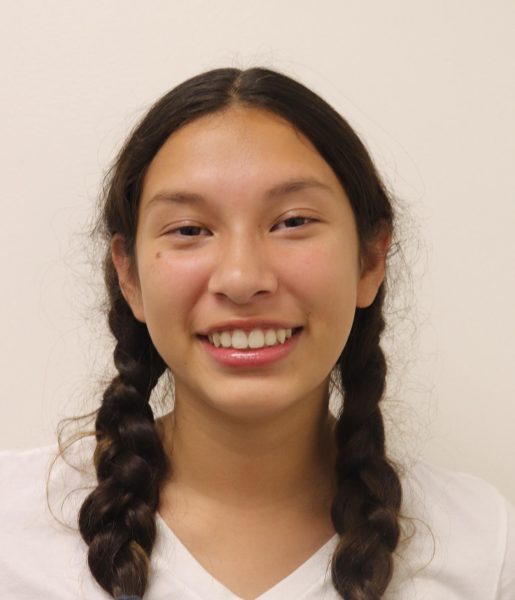 Rebecca L., Staff Writer
Rebecca is a freshman in her third year of writing for Spyglass. Other than school work and volleyball taking up most of her time, you'll find her constantly...