My World is So Colorful
Yuki Chen Rennels, 50, immigrated from Taiwan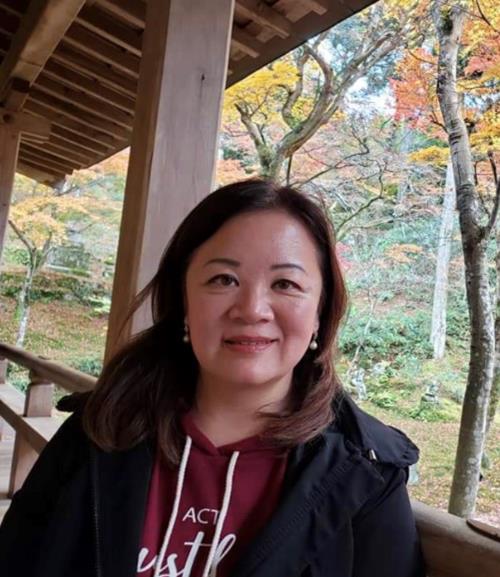 My mom's cousin Yuki looked at me expectantly through the computer screen. She sat in front of yellow walls and a tall shelf with toys placed neatly on top. The sunlight shined through the window, illuminating her face. "Well, go ahead," she told me.
Yuki came to America in fourth grade with her parents and three younger siblings. After what happened in Vietnam, her parents were afraid of the Communists coming to Taiwan. In a bustling city in Taiwan, her parents owned an electronics store and lived in the apartment above. In San Diego, her mother couldn't drive, and she and the four kids often felt stranded at home waiting for their father to come home from work. It was scary, terrifying even, to be placed in a foreign world and to have to figure things out for herself. As the days went on though, her American experience soon became more enjoyable.
"I remember the first day of school," she recalled. She and her sister were in class and had to go use the bathroom, but they didn't know how to say the word "bathroom" in English. Her sister drew a picture of a toilet, trying to convey their thoughts, but the teacher still didn't understand. "My sister and I were just hopping up and down."
In America, her parents tried to open a restaurant, but their efforts did not pay off due to the recession. Her family ended up returning to Taiwan only two years later. Going back to Taiwan was one of the hardest parts of her immigration journey. Most schools in Taiwan are highly competitive, and missing two years of education set her far behind. Despite this, she worked hard and continued on to a highly ranked high school.
Yuki returned to America when she was 21 to get her master's degree. She had always held on to the pleasant memories of her childhood in America and wanted the chance to live here again. She came back with the memories of a 10-year-old who didn't understand how to ask basic questions. She came back for her old best friend, Denise Smith. She came back for unfamiliar smells like cheese and pickles, something she had to get used to. She came back for the kindness of neighbors who brought her candy on Easter. She came to America for her degree but stayed for the people.
Yuki has planted her life here, with her children, cousins, nieces, and nephews. "Which place feels more like your home?" I asked her. "Taiwan or America?" 
She responded, "They're both my home."
Even after her complicated journey of immigration, she regularly visits Taiwan and told me that she plans to retire there one day. Taiwan will always be a part of her. "I really love my life right now," she tells me. She made the decisions to create a life she cherishes and makes an effort to live every moment of it.
"
"They're both my home…""
— Yuki Chen Rennels
Leave a Comment