I am wrestling with NIMBYism in reverse: Erewhon, the astronomically-expensive, specialty grocery store and darling of influencer culture, has opened in Pasadena, and I'm not happy about it. $22 celebrity-endorsed smoothies? $12.50 for 3 ounces of raw kale chips, or $255 for an Erewhon-branded tote? No, thank you. Not in my backyard.
Pasadena doesn't need a grocery store that is famous mostly for being a hangout for image-obsessed influencers and for TikToks documenting its outrageously overpriced products.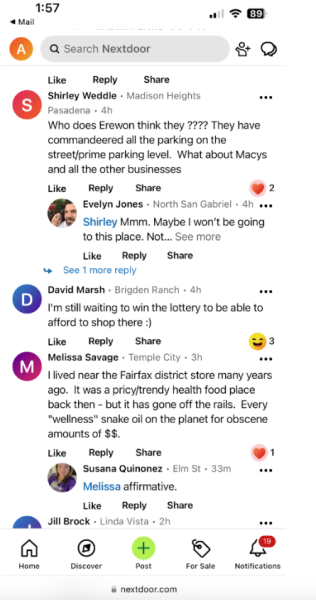 The world is mocking LA for buying into the ridiculousness, and it's downright embarrassing. The UK's Daily Mirror recently ran an article wordily titled, "The 20 most ridiculously expensive items from Erewhon – the luxury grocery store beloved by Hollywood A-listers, where a bottle of WATER will set you back $26 and Kourtney Kardashian's smoothies cost as much as $22." 
I wish Erewhon would just stay in its lane and cater to hipsters and wannabes in other parts of town. It's not our jam here in Pasadena, and judging by the chatter on Nextdoor, other locals agree.
To be clear, I do not in any way object to Erewhon in principle. But in practice, I object on several levels. Erewhon's website states, "We are more than your local organic grocery store; we are a community of people who are united in our love for pure products that protect the health of people and our planet." Who can object to that? And, Erewhon started off innocently enough. Founded in Boston in 1966 as a health food store specializing in macrobiotic and organic foods, the name Erewhon (an anagram for "nowhere") is a reference to Samuel Butler's 1872 satirical novel about a health-focused utopia. Although the original Boston store closed, a second store on Beverly Boulevard in Los Angeles survived. For many years, it quietly and unassumingly catered to LA-area hippies and natural food enthusiasts. So far, so good. 
However, the road to hell and $26 bottles of hand-purified, hyper-oxygenated water is paved with new ownership and private equity investment. Since 2011, Erewhon has expanded to eight stores in LA's poshest neighborhoods and become the embodiment of the meme-worthy superficiality that characterizes Los Angeles in the popular, non-local imagination. 
Indeed, Erewhon is a running joke for social media satirists like Christina Najjar (@itsmetinx), who poke playful fun at celebrity culture and coastal elites. When interviewed by The New York Times in an article called "How Erewhon Became L.A.'s Hottest Hangout," Ms. Naijar was only half-joking when she said of Los Angeles millennials, ". . .we're always looking to tie ourselves to external validation and these markers of who we are as a person. Your coffee shop, your supermarket, the neighborhood you live in, they all become these badges: 'This is me, I'm a West Hollywood, Alfred coffee shop, Erewhon girl.'" No wonder people roll their eyes when someone says they are from L.A.!
A few "steals" (of your money!) from Erewhon:
KALE CHIPS- 3 OZ $12.50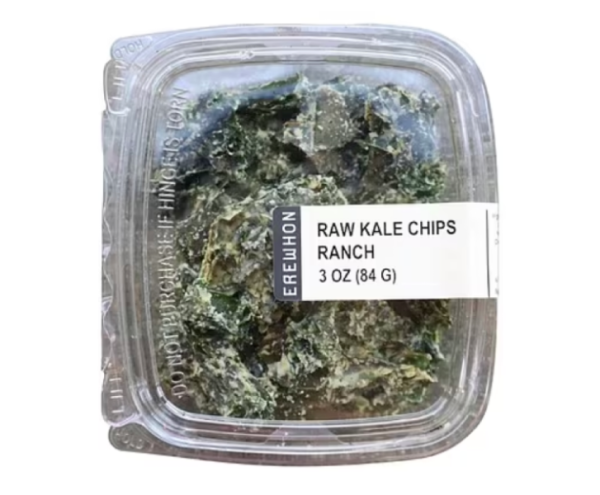 WATER (hand-purified, hyper-oxygenated) $25.99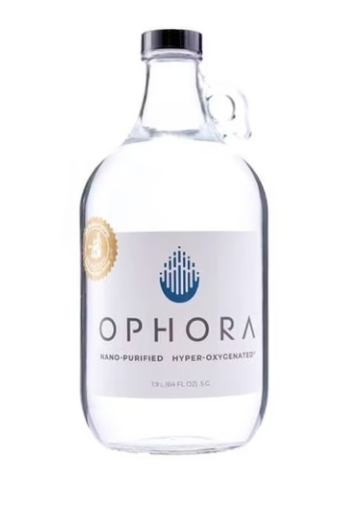 To me, the culture of absurd extravagance that Erewhon represents seems tone deaf at best in a city facing housing, homelessness, and poverty crises. The "community of people who are united in our love for pure products that protect the health of people and our planet" that its mission statement refers to is a very small and privileged demographic indeed; the use of the word "community," which implies accessibility to all or most, feels disingenuous and maybe even a little offensive. 
It makes me uncomfortable that Erewhon places healthy, sustainably-produced food—a basic human resource that should be available to everyone—out of reach for 99% of the population. Erewhon markets wholesome food and environmental stewardship like they are a fad or trendy night club, complete with a collab with celebrity jewelry designer Sydney Evans on a gold and diamond necklace spelling out "Erewhon" that sells for $1495! The whole thing gives me Hunger Games Effie Trinket vibes—the uber rich congregate at Erewhon to flex their disposable income, social status, and performative love for the planet, right before jumping into their private jets and dumping a couple tons of CO2 into the atmosphere. What kind of late-stage-capitalism dystopia are we living in here?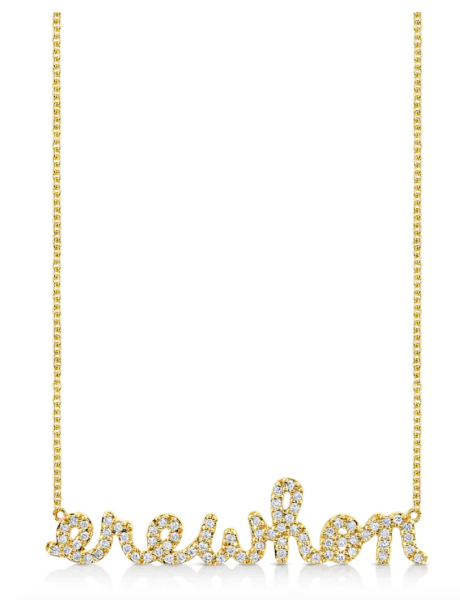 Beyond my objections to its classism and consumerism in the abstract, I don't want Erewhon and its hangers-on to poison Pasadena's proverbial well. Historically, Pasadenans have been blissfully unaffected by the celebrity-saturated, status-obsessed entertainment industry influence that afflicts our neighbors in other parts of the city. Instead, Pasadena is the home of CalTech, JPL, the Carnegie Observatory, the Pasadena Playhouse, and the Rose Parade. Pasadena is a safe space from influencer culture, and I want it to stay that way.
The rest of LA thinks we are uncool, and that's okay with me. To wit: Pasadena is the birthplace of Trader Joe's. Characterized by its affordable prices and almost maniacally cheerful employees clad in tacky Hawaiian shirts, Trader Joe's is the anti-Erewhon. (For some amusing insight on just why TJs employees are so darn cheerful, check out this article by Slate). Moreover, from its inception in 1967, Trader Joe's target consumers have been described as "overeducated and underpaid" people like teachers, writers, scientists, artists, and musicians with adventurous tastes and limited budgets. This ethos seems much more aligned with Pasadena's good sense and sensibilities than the bizarre alternate reality of Erewhon.
I'm not denying that what Erewhon sells is seductive and enticing. From the gorgeous and photogenic produce displays (just search #Erewhon on Instagram) to the allure of shopping with the rich and famous (even if you can't afford to buy anything), Erewhon has undeniable appeal. I love Erewhon's minimal packaging, which makes great use of reusable glass mason jars. I readily admit that the fluorescent glare of Trader Joe's less camera-ready lighting glints on a noticeably egregious amount of single use plastic packaging. I guess this is my call to action to lobby TJ's to work on its sustainability practices, because I refuse to be defined by where I buy my kale chips. If Erewhon is cool, let's keep Pasadena weird!
For Further Reading: