Starbucks' Pumpkin Spice Latte, the iconic autumnal drink that has spawned a whole pumpkin spice industry, turns 20 this year, and I can't imagine fall without it. If not for Starbucks dropping the Pumpkin Spice Latte every August 24, how would I even know it's time for fall vibes when it still feels like summer in SoCal? I might not be able to engage in traditional fall pursuits like leaf-peeping or apple picking, but I can pull up to my local Starbucks for a pumpkin spice latte (iced, obviously). In fact, in what is surely a sign of the apocalypse, Starbucks drinks may be the seasonal harbingers of the future: with climate change, we will probably all be marking the seasons by the advent of Pumpkin Spice Lattes and wintry Peppermint Mochas pretty soon. Try not to think about it while you sip your iced pumpkin cream chai latte.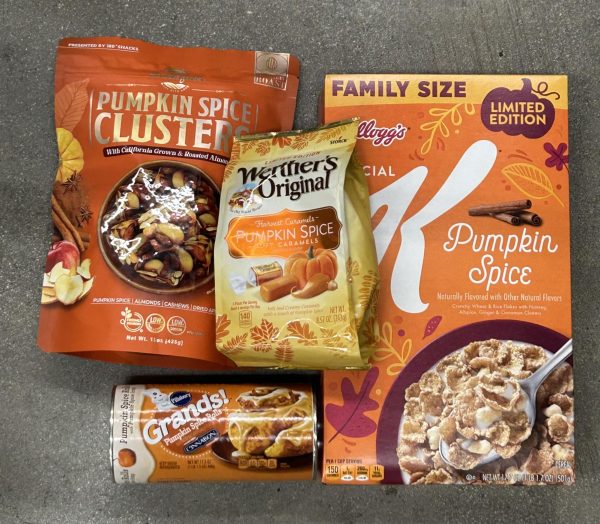 Fun Facts to Celebrate 20 Years of Pumpkin Spice Lattes 
The Pumpkin Spice Latte (PSL) was invented in the Starbucks "Liquid Lab," a secure research and development space on the 7th floor of Starbucks headquarters in Seattle in 2003. Starbucks has sold more than 600 million PSLs in the last 20 years.

Since 2015, the pumpkin sauce in PSLs has included real pumpkin puree from small kabocha pumpkins.

Head of School Ms. Kassar has never tried a pumpkin spice latte but admits to being curious about the iconic beverage. "I should really try one. I actually think I would like it. I will remedy this situation immediately," she said.

Director of Upper School Mr. Baldwin has also never indulged in the magic of a pumpkin spice latte. He plans to "stay clean in the event that it turns people to zombies or something and someone needs to be clear-headed to administer the antidote."
The PSL inspired a pumpkin spice industry across multiple product lines and retailers from pumpkin spice scented candles and Hefty trash bags to cake mix, lip balm, dog treats, "Dude Wipes," and limited-edition pumpkin spice Spam.

Merriam-Webster added the phrase "pumpkin spice," defined as "

a mixture of usually cinnamon, nutmeg, ginger, cloves, and often allspice that is commonly used in pumpkin pie

s," to the dictionary in 2022.

The average Starbucks pumpkin spice-themed drink costs 15.9% more than its non-pumpkin counterpart.

One study comparing 40 pumpkin-spiced items across 6 retailers found that customers are willing to pay a premium, or "pumpkin spice tax," of an estimated 8.8% for pumpkin spice products.
The very first Starbucks seasonal offering was "Christmas Blend" coffee, which has been sold every holiday season since 1984. Starbucks' first annually-returning seasonal drink was the Peppermint Mocha, which customers have enjoyed every winter holiday season since 2002.

New for 2023, select Starbucks Reserve Roasteries serve pumpkin spice cocktails, including Starbucks Reserve

®

Pumpkin Spice Latte, Starbucks Reserve

®

Pumpkin Spice Espresso Martini, and Pumpkin Spice Whiskey Barrel-Aged Iced Latte.

Starbucks provides the

following recipe

and invitation to "revel in the deliciousness" of a homemade PSL.

Me holding an iced pumpkin spice latte!