For the 2023–24 school year, the Westridge Upper School schedule has been amended in an effort to add structure to students' classes and establish a consistent block for community assemblies and events. Although these needs have been met, the new schedule has also resulted in a consistently later lunchtime and caused conflicts for student athletes.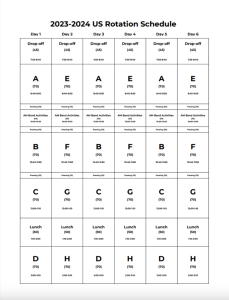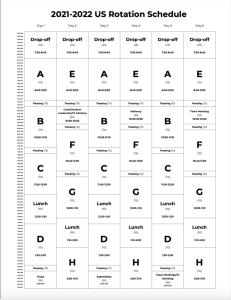 With this update, three blocks and an A.M. Band occur before lunch, and lunch begins at 1:10 p.m. In prior years, the schedule was constructed so that only even days consisted of a 1:10 p.m. lunch and A.M. Band, whereas odd days consisted of a 12:30 p.m. lunch and P.M. Band. As a result of this change, P.M. Band, the 30 minutes after D block for meetings, assemblies, and other events, has been removed.
Although the Upper School administration had been planning to change the schedule before this year, this year's Middle School schedule change ultimately prompted the Upper School to shift as well.
"One of the big things we wanted in Middle School was to start every day with a morning band, so we could do announcements and things like that," said Ms. Farrell Heydorff, Dean of Lower and Middle School Student Activities. Since enacting the schedule change, Ms. Heydorff has noticed primarily positive impacts on the Middle School students. She said, "Meeting every single morning has really set the tone for how Middle School is working. It's not as confusing. I think for students, it's much easier to know, 'on Monday, you do this, on Tuesday, you do this.' That was much easier to understand than the six-day rotation."
Another benefit of the new Upper School schedule is the daily structure it provides. Ms. Coker, Dean of Student Support, said, "Keeping the same schedule every day is nice because then you get a pace where it's like, 'Alright, I know that the second block of every day is from this time to this time.'"
 Additionally, Brandon Worrell, Director of Dining Services, claimed that the amended schedule is beneficial to the Commons and its efficiency. The new schedule has allotted more time between the Middle and Upper School lunchtimes for the Commons staff to clean up and prepare food. "The most difficult thing we had with the odd-even schedule the last couple of years is the dramatic difference in Upper School [lunch]. Having a permanent time helps us organize ourselves really, really well," said Worrell.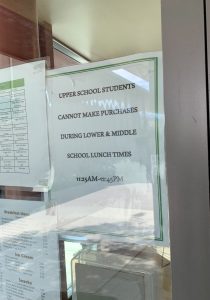 While this change is beneficial for the Commons staff, some students find the lunch times inconvenient. Many Upper School students find themselves hungry during classes because Lunch is now at 1:10 p.m. and Upper School students are not allowed to make purchases from the Commons during Middle/Lower School lunch (11:25 a.m. to 12:45 p.m.). "I'm lucky to have all my academic classes before lunch which has been really nice. I do—like many people—get hungry, though. I've started stashing bars in my locker but sometimes I can't snack because teachers are against it," said Micah M. '25.
Additionally, the updated schedules for both Upper and Middle Schools have also resulted in room scheduling conflicts for some classes. Mr. Zhou, who teaches an Honors Pre-Calculus class during D Block, remarked, "The middle school math class in Room 11 ends at 2pm, and my D block starts at 2pm. There's no passing period there. So we start late every single D block."
Student athletes have also been affected by the recent schedule change. In prior years, athletes with an early release time for sports events would often miss some of their D Block class—but because D Block runs half an hour later than it did last year, the same release times are causing athletes to regularly miss some or all of their D Block classes and occasionally their lunch, too.
Dr. Ryan Skophammer, who teaches the D Block class Research in Science, has had several students miss classes for athletic events. This proves especially difficult considering Research in Science meets once per rotation instead of the standard three times. "There are a couple of students—two or three—who basically haven't gone to any classes. It just so happens that the D Blocks are the [class blocks] they're missing. So they haven't been able to do anything. They've missed what it looks like to be in a class discussion. They've missed some of the other activities," said Dr. Skophammer.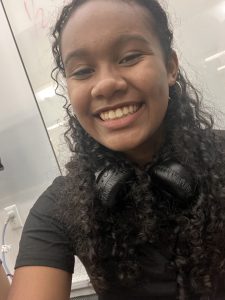 Micaela R. '26,  who participates in after-school sports and theater, said, "Even if [the schedule] was changed to help athletes not miss community events, we still miss classes, which is the actual problem."
Similarly, Ella S. '25, another student athlete, said, "I'm not a big fan of [the new schedule], because I miss having a P.M. band. And it was nice to have a break sometimes toward the end of the school day. So far, I've missed so many of my math classes because I've had golf tournaments. So now I have to make up everything. My schedule feels out of order."
Coach Melanie Horn, Director of Athletics, offered a possible solution to this issue: scheduling sports events strictly on even days so that students would only miss their H Block elective rather than their D Block academic classes. Still, it's not a perfect solution, as other schools are not always available to schedule events on Westridge's even days. Additionally, many students are equally disappointed to miss their H Block elective classes as they are to miss their D Block.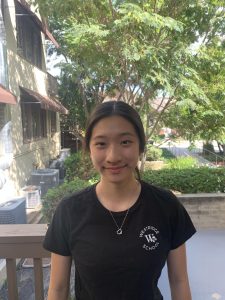 "I would be sad to miss Rocketry because I'd get less class bonding with my friends, and it's a really fun class to get work done and hang out with friends. But missing math is difficult because I want to get a good grade, and if I don't listen to his lectures in class, I won't do well on the quizzes," said Ella S.
Dan Perahya, who teaches Rocketry during H Block, believes a change in athletics scheduling would not be beneficial to his class. Because each Rocketry student has a specific set of skills and knowledge relative to their task, one student missing class can hinder the rest of their peers' progress. "Just like a teammate missing from a sports team, a teammate missing from the rocketry team impacts our ability to perform," said Mr. Perahya. "I don't know what the solution is, but putting [athletic events] all on one class doesn't sound like the right solution."
Conversations are currently being held to resolve some of the new schedule's issues. Still, finding the perfect solution proves difficult. "It's a real problem," Coach Horn said. "And I am not happy with kids missing that much [of their classes]. And yet, I have to run my program and compete against other schools when they're available to compete. The puzzle is multi-layered. It's very deep and wide, and there's not an easy fix."