On the third down, with only one chance left to score, Ariana E. '25 runs down the field with the ball. She looks around to pass before spotting an opening. Seeing her opportunity, she sprints in and scores the first ever Upper School touchdown.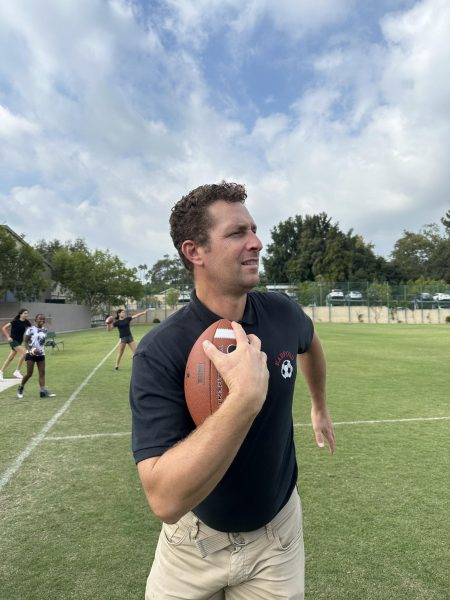 After the California Interscholastic Federation Southern Section (CIF-SS) voted in favor of making flag football an official sport for girls, Westridge announced they would be launching an Upper School Varsity flag football team adding onto their existing Middle School team. Though most schools still do not have flag football teams, the Tigers have played six games against five teams thus far. Although the team lost their first two games over the summer break, they have been steadily improving, now boasting a record of 2-3-1 (W-L-Tie). The Tigers have four games left in the season, all at home.
As it's the team's inaugural season, there's a lot of excitement with each new accomplishment. "Having a season of a lot of firsts has been really fun," Coach Daniel Calmeyer said. In particular, the Upper School flag football's first win and touchdown.
Since the team doesn't have any pre-existing plays from prior years, the Tigers have had an opportunity to work together and experiment with what works well. For instance, the quarterbacks might suggest plays, which the team will then try out. "We don't have anything entrenched at this point, so you can really be fluid," said Coach Calmeyer.
The team continues to improve as the season progresses, developing strong bonds and becoming more familiar with the game. Some of the players played on the middle school team, and most are freshmen or sophomores, along with a few juniors. "We've just all gotten closer, and practices have been more fun. And we've won games now because I think as a team, our connections have [become] stronger," co-captain Luella C. '25 said. She added that she wanted to make the freshmen feel comfortable and connect with them by asking them about their days. As a result of this closeness, she said, "Now we just all have inside jokes."
Co-captain and quarterback Abby W. '27 also spoke about the laughter and jokes on the team. "We have a lot of fun, and lots of laughing moments. It's definitely a very fun and supporting group of people to be with."
Westridge is also currently the first and only school in the Prep League with a girls' flag football team. Athletics Director Coach Melanie Horn expressed disappointment but said, "I'm very proud that a girls' school has taken the charge."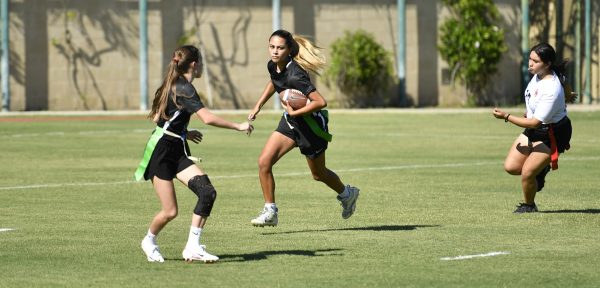 The team hopes to continue growing together. "We've come so far since the beginning, and we've only gotten better, so I think the rest of the season is going to be phenomenal if we keep working hard," Abby said. 
Support the flag football team at their home games on Frank Field.  See the schedule here.
Further reading: Westridge Tackles Implementing Upper School Flag Football Next Fall