Westridge Tackles Implementing Upper School Flag Football Next Fall
"There's no reason why girls can't play any sport. So, [to take] a sports opportunity that's been historically a male sport and to offer it to girls is awesome," Director of Athletics Melanie Horn said about her reaction to girls' flag football being added as a sanctioned sport. Back in the fall of 2022, the California Interscholastic Federation Southern Section (CIF-SS) successfully voted 61-26 in favor of making girls flag football an official sport. However, it wasn't until February 3 that the proposal was pushed to the state level and was passed unanimously by CIF. 
In recent years, girls' flag football has been especially encouraged by NFL teams hoping to attract wider audiences. Since 2022, the LA Rams and LA Chargers have hosted a yearly league tournament for girls' flag football. As participation in traditional tackle football declines, flag football presents itself as a much safer alternative.
Although Westridge has had Middle School flag football teams for over 15 years, the fall of the 2023–2024 school year will be the first time Westridge offers the opportunity to Upper School students. Westridge will be the only independent school in the Prep League that has officially confirmed that it will offer flag football.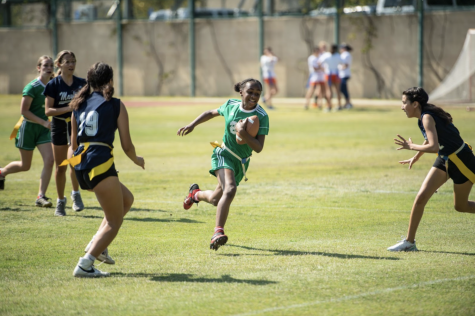 Shania W. '27, who is currently on the Middle School team, said, "[Being on the team] gave me a better understanding of how football works. I think it's a great addition because girls aren't typically allowed to play football, and making it an official sport means it will be taken seriously, as more than a PE game."
Upper Schoolers who haven't had the chance to play before are also excited. "I feel like Westridge adding football was very needed. Though we have almost all of the sports, I did always wonder why we didn't have any sort of football. It honestly made me feel like it wasn't fair, just because we are girls," said Jaden A. '26, who plans to join the Upper School team next year.
However, while the announcement of Upper School flag football teams has been met with positive feedback, there are some concerns with the logistics of introducing another sport.
Coach Horn explained that many co-ed schools have not expressed interest in adding girls' flag football, which makes it difficult to form an official flag football league. "The not-perfect news is in the Prep League. And I'm like, 'What's wrong with you guys?' You know, this is a huge opportunity. Of course, we're gonna jump on board because it's an opportunity for girls," Coach Horn said.
Additionally, another concern from both students and the Athletic Department is that student-athletes will already have four sports to choose from in the fall. Adding flag football can potentially create conflicts with other sports that students are already dedicated to. "Most people on the [Middle School flag football] team were really committed to it. Adding it in the Upper School gives people more options to learn something new. I'd plan on playing flag football next year, but I don't think it works with golf so I'm not sure what I can do," rising freshman Layla R. '27 said.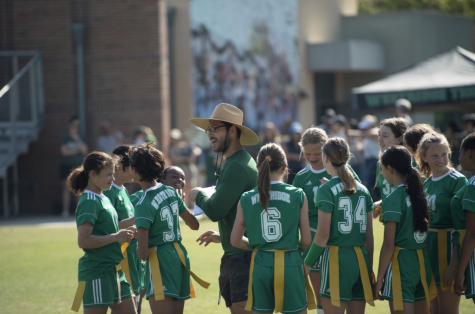 The Athletic Department continues to discuss whether or not flag football will be available full-time for PE credit in the upcoming school year. Athletics Coordinator Nicholas Sale, who coaches the Middle School team, will also serve as the Upper School coach. "Right now our expectation is to hopefully have it as a full-time sport. I know we're gauging the interests of the students whether they want it to be kind of like a part-time thing," he said. Currently, Westridge plans on only having one flag football team. 
Coach Horn stressed Westridge's commitment to girls' flag football, regardless of the positions of other Prep League schools. She said, "We'll do what we have to do. But absolutely positively without reservation, there's no way that Westridge is not going to have a football team if they allow football for girls."
Leave a Comment