One Year Later: Head of School Ms. Andrea Kassar Is Still All In
When I first interviewed new Head of School Ms. Andrea Kassar back in late August, she spoke about her desire to observe Westridge before making changes. Rather than immediately implementing new initiatives, she took the time this year to take in Westridge and better understand its culture. One way she did that was by engaging herself in Westridge events, whether that be sitting in on a History and Pizza or inviting each grade level to chat.
Additionally, Ms. Kassar informed me that no matter how busy her day is, she always tries to go walk about and interact with the Westridge community. "Being able to spend even 10 minutes between meetings, just walking about chatting with people and stopping by students is just such a wonderful way to connect with people," Ms. Kassar said. "I feel like that's where I get most of my thoughts and stories that I think about later about what makes Westridge."
Her willingness to talk to anyone at Westridge—no matter their role—has not gone unnoticed.
Holly N. '25 is appreciative of Ms. Kassar's strong presence on campus. "I think it's really cool how Ms. Kassar has already involved herself so much in Westridge culture," Holly said. "She's made a significant effort to be at Westridge events and learn more about our school and students. I think it's very honorable and I can't wait to see how she grows with Westridge in the future."
Ms. Kassar's presence is not only appreciated and noticed by Upper Schoolers. "I love Ms. Kassar," shouted out lower schoolers Charlotte J. '29 and Elina S.-J. '29. Elina continued to say that she was appreciative of Ms. Kassar being "open and out of the world" when referencing her activeness in student spaces.
Westridge faculty are also appreciative of Kassar's involvement in and out of the classroom. "It has been nice seeing how involved she gets with the students, " Ms. Jennifer Cutler, Upper School History Teacher, said. "Like how she knows students' names." Ms. Cutler continued to say that she likes how Ms. Kassar notices the little things on campus. For example, on a day in late May, when seniors had concluded classes, Ms. Cutler observed as Ms. Kassar asked the seniors why they were there that day. "It's clear that she's taken an active role in getting to know the students and the faculty," said Ms. Cutler.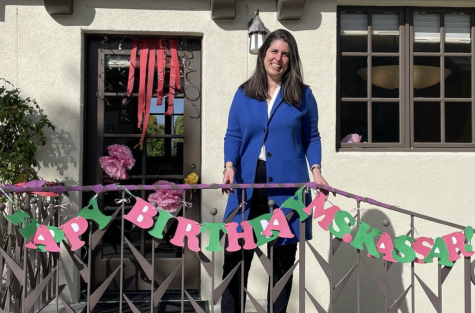 This year, Ms. Kassar also formalized meetings with students through a lunchtime series called "Cookies and Conversations with Ms. Kassar." From 4th to 12th grade, Ms. Kassar hosted two lunchtime sessions each for the respective grades to talk to her presence about Westridge, their lives as students, and anything else on their minds. 
Alice C. '25 attended the most recent 10th grade conversation with Ms. Kassar. "I really enjoyed attending Cookies and Conversation with Ms. Kassar," Alice said. "Her sincere curiosity to hear from us about any concerns or just chat about our days was so lovely. Though the conversation was casual and the topics trivial, Ms. Kassar always listened intently."
As Ms. Kassar transitions into her second year at Westridge, she feels ready to start expressing more of her educational vision. She said, "I've sort of done more research to be able to express my opinions on things and I look forward to sharing those with community members as well." 
A main responsibility of Ms. Kassar's, especially for the next few years, is to continue implementing Westridge's strategic plan, which will conclude in 2025, after being initiated in 2020. When speaking about the plan, she emphasized its focus on advanced courses, deeper learning, diversity, equity, and inclusion, and social and emotional support for students. She also reflected on how Westridge teaches agency and leadership to its students.
Ms. Kassar prioritizes better student experience at Westridge, but she also aims to improve the parent and faculty experience. In the coming years, she hopes to facilitate a parent book club and potentially host optional faculty focus discussions. 
Additionally, she will work with the Board of Trustees and use input from faculty and staff when planning Westridge's expansion.
Throughout her first year of Westridge, Ms. Kassar has many things to be proud of. From moving from New York City to Los Angeles to learning hundreds of names of Westridge community members, this change has not been easy; but like the Head of School she is, she has handled it with grace. 
"My real hope every day is to not be so busy doing the job that I'm not doing the job. I think that there are some days where I can feel that pressure more than others. But overall, I think I feel proud of the idea that I've been able to spend time on the things that matter most to me," said Ms. Kassar.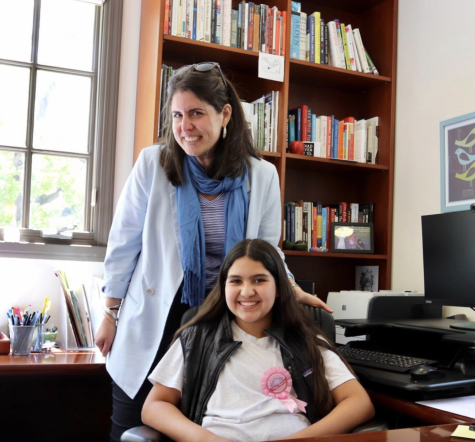 Leave a Comment
About the Writer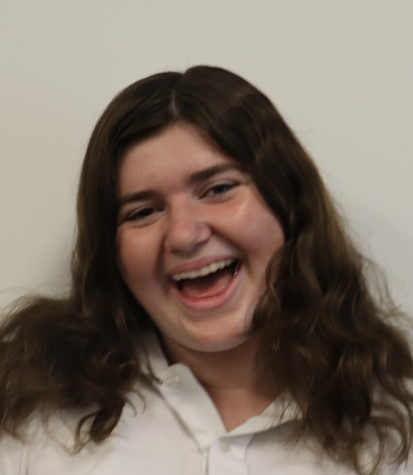 Ella B., Editor
Ella is in her fourth year writing for Spyglass, first year as an editor, and her second year developing Spyglass' social media presence. When she is not...