10th Grade History: A Love Story
The Alumni Courtyard buzzes with the chatter of hungry sophomores as they shuffle papers and line up for delivered pizza. This is the inaugural HAP, a lunchtime discussion series and a signature wing of Crisis and Courage's CbC. What's that, now? It sure ain't your AP teacher's 10th-grade curriculum.
United by a shared hatred of AP curricula and an equally fervent team spirit, Upper School history department heroines Ms. Melissa Kelley, Ms. Jennifer Cutler, and Ms. Sandy de Grijs are reenvisioning the way 10th-grade students engage in the advanced study of history. With their enthusiasm for innovative curricula and their gushy, adoring camaraderie, the trio has built a new program that seeks to make advanced historical studies complex and interesting.  
Before Westridge officially announced its move away from AP curricula last February, the History department was already dreaming big: "We've been wanting to get rid of the APS for a while, so Ms. Kelly is, like, incredible and came up with this amazing trajectory," explained Ms. Cutler. When news broke that Westridge would be phasing out the Advanced Placement curriculum, beginning with 10th grade history in the fall of 2022, the History department was thrilled to implement the course.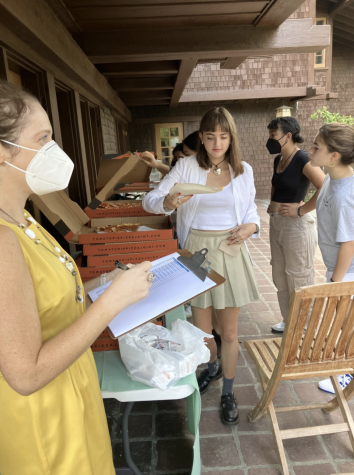 Previously, rising Westridge sophomores could choose between a world history course—formerly titled Modern World System—and AP European History during the course-selection period midway through freshman year. Now, the curriculum has been consolidated into one class, Crisis and Courage in Global History, with an advanced option into which students can elect at the end of the first academic quarter in November. As described in the official course description, "The Challenge by Choice program (CbC) is for those students who wish to delve more deeply into the study of history. Upon making a commitment to CbC, [students] will be expected to do independent, supplemental research related to the writing assignments (both the Homework Questions and the more formal unit papers), participate in HAP (History and Pizza lunches), read and respond to additional articles and/or chapters from books, and complete some additional assignments."
Despite the rebranded title, Crisis and Courage follows the same curriculum as Modern World System. "The Challenge by Choice, that's the new part. And that was Kelley's brainchild. So basically, what ended up happening is they wanted us to change the name, but it's still the course. So it's a curriculum that I developed over years and years, and I started in 1996…So it's my class. It's kind of my baby," Ms. de Grijs beamed. 
Ms. Kelley and Ms. Cutler are enthusiastically on board with Ms. de Grijs' curriculum, which includes a research project on modern-day genocide and specially-compiled collections of reading materials fondly known as "paquettes". Cutler and Kelley are also the creators of History and Pizza (or HAP, for those in the know).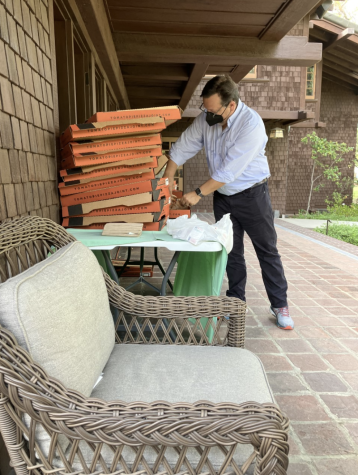 The first official HAP lunch of the 2022-2023 school year (a trial run was performed last Spring), which was open to all 10th grade students, and highly encouraged for those considering Challenge by Choice, required students to read and reflect upon a 22-page article about Southernization. Ms. Cutler led the students through a generally-quiet, but thoughtful discussion about the text.s. And despite the student body's general hesitancy to approach the mic, the Westridge culture of fun pervaded — students giggled through complex thoughts, clapped for their peers, and joked with their teachers. Surprise guests, Director of Upper School Mr. Gary Baldwin and Upper School Assistant Ashley Leonard, stopped by to survey the conversation and steal pizza. 
Most student attendees shared the amiably-indifferent attitude of Lindsay C. '25, who thought "It was cool." Arden R. '25 is too busy with theater and honors courses to enroll in CbC, but enjoyed attending HAP, regardless. "History? Pizza? What could go wrong?" she mused.
Ms. Cutler explained how the HAP concept originated with Ms. Kelley's vision for a history book club for the class of 2025. "We went to Mr. Baldwin…and he's like, I'll find the money for [pizza] — you can't make kids attend something, right?" I suggested that was because they needed a bribe. Ms. Cutler said, "Right!" 
"No, no," Ms. Kelley interjected, "we can't make them attend and not feed them, because it's a lunch." Ms. Cutler suddenly remembered: "Right, that was it. That was, yeah, yeah, yeah, we can't not feed them." Ms. Kelley asked the record to show, "It's not a bribing issue!!"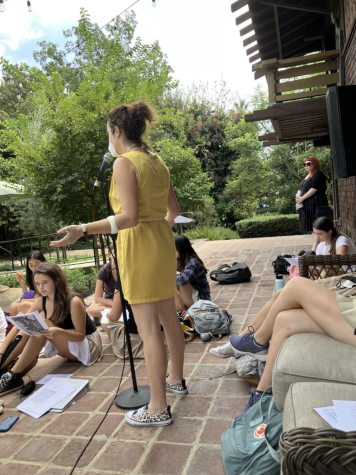 Nor is it entirely a discussion issue. Ms. Kelley explained, "It's a lot to talk in front of everyone… From my side, the discussion is just like a tiny piece of what it actually is. If you're doing Challenge by Choice, you have to go afterwards and do a self-reflection, which is like, what did they talk about? What did we talk about in the discussion? Did I play a role in the discussion or not? Regardless of whether I spoke, was there something left out of the discussion? Like if I, you know, if I could go back right now, what would I say?"
HAP seeks to make history interdisciplinary in addition to intellectually challenging and fun. There are plans for future HAP lunches to include guest speakers from other departments. Spanish teacher Vicki Garrett will lead a HAP on Latin American Revolutions, science teacher Dr. Ryan Skophammer will speak on Thomas Mathus, and Director of Teaching and Learning Mr. James Evans will discuss European interwar art. 
Leave a Comment
About the Contributor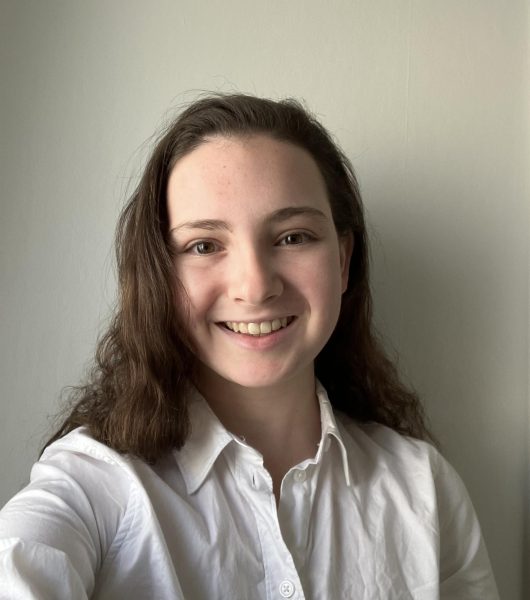 Ilena M., Editor, Former Editor in Chief, Columnist
Ilena is passionate about stories— especially histories— good snacks, and bad puns. She has been on Spyglass for a very long time. Ilena is a senior.