What is it like to be a Long-Term Sub? Subs and Students Weigh in on Rewards and Challenges
Substitute teachers are an essential part of a school's operation. The reality is that sometimes teachers need to step away from the classroom, sometimes for a class, sometimes for a day, and sometimes for a quarter or even two. Long-term subs are responsible for providing class coverage for a teacher who is absent for a prolonged period of time. This year, five long-term subs have joined the Westridge community: Verónica García Moreno (Upper School Spanish), Darren Brown (8th grade Science), Erin Gunn (4th grade Math and Science), Jack Fritz (Upper School English), and Roni Shneior (Upper School Art).
Being a long-term sub is not without its challenges for both the substitute and the students. Substitutes have to step into the role of a teacher, build relationships with students, acclimate to a new community, and negotiate a curriculum and program that isn't their own. Balancing students' needs and the program goals is a challenge for every teacher, but it's proved more difficult when the program isn't one's own.
Stepping into the role of a long-term sub can have a potentially long-term impact. The National Education Association (NEA), an organization that helps advocate for education professionals, created a series of studies regarding teachers leaving mid-year. Their data outlines the impact on students when teachers leave. According to neaToday, Christopher Redding and Gary Henry, two professors at Vanderbilt and the University of Florida, found that mid-year exits tend to be more disruptive and consequential to student learning. After researching 13,600 teachers over the span of two years, Redding's study concluded that teachers leaving mid-year can sever the "social capital between the students and their family members, undercutting the child's support system."
"Being a long-term sub is perfect for me, but for the students, it's not fair," said Verónica García Moreno, long-term sub for Upper School Spanish. "Because my students are going to have another teacher soon, I try to follow the curriculum as much as I can to help them transition."
Darren Brown, long-term sub for 8th-grade science, discussed the curriculum and how he modified the former teacher's curriculum into what he has the most experience in. "I have the curriculum, but I actually incorporate what I used to do, which is being a research scientist. So I incorporate a lot of that science into what we do."
"Pretty much everybody in our grade loves Mr. Brown," said Sofia H. '26, one of Mr. Brown's students. "He's very funny and always jokes around with his students. I know that it is going to be hard when Mr. Brown leaves because he is very hands-on and creative with his labs. At the moment, I really like the long-term sub situation, and I feel that it is going to be difficult when Mr. Brown leaves and I am worried about having a new teacher and less creativity with labs."
"
I just feel grateful to be a part of this community."
— Jack Fritz
Jack Fritz, long-term sub for upper school English, was the only sub this year to join the Westridge community mid-year. After two weeks of shadowing Ms. Stevenson, Upper School English teacher, Mr. Fritz is now teaching all of her classes for the rest of the year. "I was nervous initially because I had to start mid-year," he said. "I'm being thrown into a classroom where the teacher has established a relationship with the students, and there are certain rules and expectations, and I am sort of disrupting it or trying not to disrupt it. But I feel like the shadowing that I did with Ms. Stevenson, for those few weeks, actually made the transition very good."
Mr. Fritz acknowledged that the transition can be hard for students as well. "Change is hard for everyone, and when you're coupling it with the pressures of being a junior or a senior, it can be especially difficult. But I have to say, even if they have been anxious, they have not overtly expressed any anxiety. And I work hard to allay it."
Despite the challenges of being a long-term sub, this year's subs were unanimously positive about their experience working at Westridge. "Westridge is a great school," Mr. Brown said. "It's been exciting to come here and I hope I can stay. [The Westridge community] has been great and very welcoming, which is nice."
"It's been great," said Erin Gunn, long-term sub for 4th-grade math and science. "I love the Westridge community. I've heard great things about Westridge over the years and was really excited to teach here. For me, this has been a huge learning experience and I didn't expect this to feel so warm and welcomed into the community. I've had people like faculty members come up and check in on me. It's great."
"It's quite a blessing to be here in the Westridge community," Garíca Moreno said. "I never thought I could be so happy here. I would say that my experience here has been inspirational, challenging, and lovely. Once you are at Westridge you are a part of the community, so I'm really going to miss this job when I leave."
"I hope all the students here realize generally what a safe space Westridge is, for all types of individuals," said Mr. Fritz. "I really do feel like these students look out for each other in a genuinely compassionate and authentic way. There are cons at every place, and there are things here that need to be addressed and improved, but that's how life works. But for all that, this is a really special and safe place. And I am very grateful for it."
Leave a Comment
About the Contributor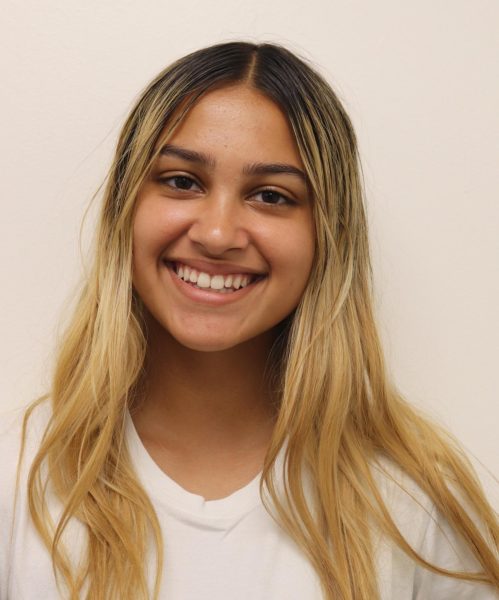 Ariana E., Staff Writer
Ari is a junior in her third year as a Spyglass staff writer. When not playing a sport or spending time with friends, she can be found baking and listening...