Meet Jade McKnight '09, This Year's Distinguished Young Alumna
When I first sat down to interview Jade McKnight for an Alumnae Weekend website video on a Tuesday afternoon, I was immediately drawn to her charismatic and bubbly personality. She spoke to me almost as if she was my older sister, giving me advice as we chatted about her life at Westridge, in college, and now her career. 
McKnight '09, this year's Distinguished Young Alumna Award Recipient, was involved in many activities at Westridge. She participated on the track team, performed in the annual dance concert, attended the Student Diversity Leadership Conference twice, acted in a student-directed one-act play, and cheered as a Westridgette in addition to her long list of accomplishments. 
After graduating from Westridge, she attended Amherst College, where she earned a Bachelor's degree in Anthropology.  McKnight began her first job as a case manager for the Philadelphia Treatment Court, a diversion program in Philadelphia that helps individuals get treatment for substance abuse or drug offenses. After two years, she moved on to become a paralegal at a law firm that was offering services to people with HIV or AIDS. "One of the lawyers referred to it as 'poverty law,' because a lot of the clients we were working with were struggling with different things in life—benefits, housing, etc.," said McKnight.
After her time at the law firm, she landed an opportunity to work at Prevention Point Philadelphia, the city's only syringe exchange program. Her responsibilities included helping people get IDs or birth certificates to verify their benefits and receive social security cards. 
McKnight was then accepted into the University of Pennsylvania's graduate school for public health. While in school, she simultaneously worked with 'C Change: Philadelphia's Plan to End Hepatitis C among Injection Drug Users', a program designed to eliminate hepatitis C in high-risk Philadelphians based at Prevention Point Philadelphia. "I learned a lot about healthcare and how to support people. You can tell a lot about a city by how they treat the people who are struggling the most."
However, she felt like she needed a change from the East Coast. McKnight moved on to look for a job closer to her hometown of Pasadena and ended up as a school health program coordinator in Redondo Beach. "It's funny because the work I was doing in Philly was more of an intervention, and now what I'm doing is more of a prevention." 
When COVID-19 hit, McKnight started working more at a local clinic in Redondo Beach, helping people get vaccinated and take COVID-19 tests. "I'm a part of history, and I feel like it's something that I'll always remember. It's amazing getting to see more Black and Brown faces coming in and getting the care and support they need that I wish we could have provided earlier, but I'm happy that it's happening now and that I can help provide it."
Her work in public health led to her receiving the Distinguished Young Alumna Award. When I asked her about her experience finding out she was nominated and receiving the award, she laughed. "It's funny because I was writing about this in my [recipient] speech. Lauren Yang '09 nominated me. When she asked me to talk about my job, I was super confused because my job revolved around depressing topics and substance use. I was unsure why she would want to talk about it, but then she told me she wanted to nominate me for the award, which I thought was super sweet of her." Yang previously won the award in 2020.
McKnight also felt like the timing of the award was perfect. "Especially now, when there's so much going on and everything's moving so fast, I had been feeling burnt out. I was working at the test site, and so many people pass every day constantly getting tested day in and day out. It was nice to have support from not just one of my peers, but Westridge as well."
When I spoke to her, she talked fondly of Westridge and how the school influenced her to be the person she is today. Her experience as a lifer at Westridge enabled her to grow and be more confident both in college and beyond. "I've developed as a woman and as a learner. Lauren [Yang] and I are both women of color, and knowing that we are representing young alumnae in a way that is really magical. It's still important to remember that we are our ancestors' wildest dreams. Getting these awards on campus, being recognized as leaders for young women and in our fields—it's just really important to recognize each other."
When I asked her what advice she would give to students interested in public health, she responded without any hesitation. "Experience as much as you can by trying new things, and support the patients and people you're working with no matter what position you're in. It's always about treating people with respect and honoring them as human beings because, at the end of the day, it's really hard to live your life on this planet." 
Leave a Comment
About the Contributor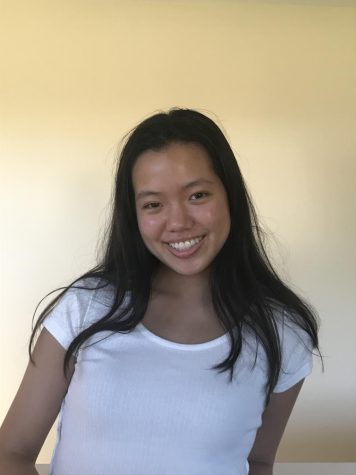 Jacqueline Y., Editor in Chief
Jacqueline is this year's 2020-2021 Editor-in-Chief. Originally joining Spyglass to improve and explore new ways of writing, she now enjoys investigating...