Westridge comes together after alumna hurls anti-Asian slurs
A video was recently posted online that depicted a Westridge alumna hurling anti-Asian slurs. The video, which circulated quickly online, was first posted on the Nextdoor app on Wednesday, and then spread to Instagram. The person filming is still unknown. The events before and after the video are unclear, but the former student, who is white, can clearly be heard making anti-Asian slurs. Spyglass was unable to find bystanders at the scene of the video to interview.
Many in the Westridge community felt harmed and hurt by the racist language.
 "My initial reaction to the video was shock as I realized, again, just how much of a bubble our community is," said Shirlynn C. '21, co-head of Westridge's Chinese affinity. "Westridge School is not immune to racism and discrimination, no matter how hard the administration tries to market us as a 'progressive school.'"
On Thursday, the alumna issued an apology on TikTok for her language and for offending people. In the same post, she claimed that before the video started, the woman filming, an Asian woman, criticized her for not wearing a mask while biking and called her a racially charged name. The alumna maintains that she yelled out racist slurs in response to the other woman. She also said that after the video went online she has been receiving death threats.
"My view of the situation changed in a negative way," Sofi M. '23 said after watching the apology. "As someone who is Asian, it frustrates me to see such hatred from someone who attended my school. I think it also reflects on Westridge, as this idea of casual racism and microaggressions have always existed on campus."
Head of School, Elizabeth McGregor, sent a school-wide email condemning the alumna's behavior on Thursday evening, emphasizing the importance of the school's diversity, equity, inclusion, and justice efforts.
"It is fundamentally at odds with our values of respect and inclusion and, as a community actively working to become anti-racist, it is important for us to denounce this behavior," she wrote.
On Friday, the day after McGregor's email, the school held a Zoom lunch gathering to address the video and support students. More than 150 people attended the meeting with both students and faculty members joining. Several student leaders shared their thoughts, including Chinese Affinity co-head Sophie C. '22. "[Watching the video] was painful and embarrassing, but not surprising," she said. "Racism against Asians has become so normalized within our own community that it's easy to think this is the first incident. But this incident and the hateful words heard from it make it very clear that this is the product of a system that normalizes and permits these anti-Asian sentiments to go unchecked until it causes serious harm to others."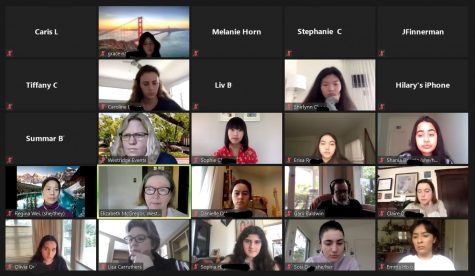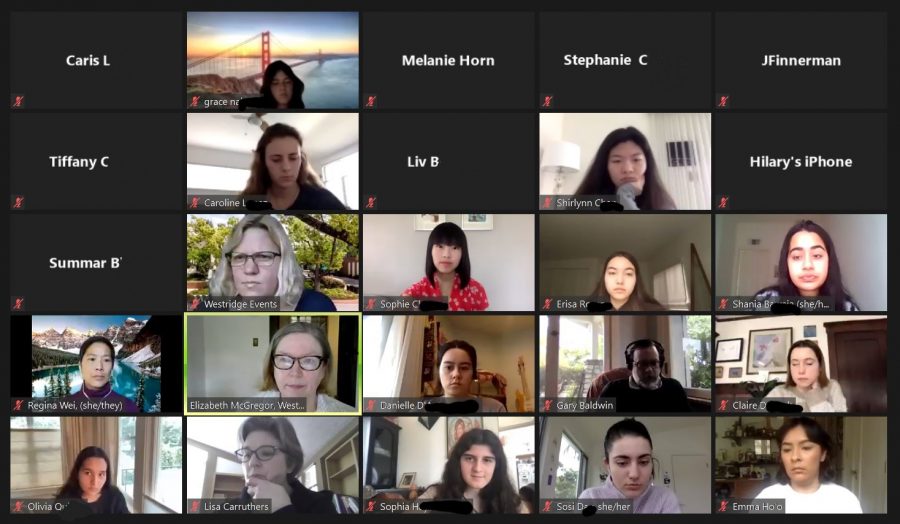 The Zoom meeting included an open mic opportunity for any other students who wanted to share their experiences or ask questions. "I wish I could say I was surprised [by the video], and initially I was, but given the surge of AAPI [Asian American Pacific Islander] hate… I cannot say that shock was the main emotion at hand," said Zelia M. '21, co-head of the Filipinx affinity.
Although some students were able to share their experiences in the Zoom discussion, Shirlynn left the meeting feeling disappointed. "I understand that the administration cannot enact change and policies overnight," she said. "However, they have exhibited a repetitive behavior of only listening to student input and responding to issues when there's an uproar."
Faculty members were also impacted. When Lily Shang, Middle and Upper School Mandarin teacher, first saw the video, she wasn't quite sure what to feel. "I felt numb. I felt hurt, and at the same time I felt lost," she said.
"[After learning of the incident,] I was upset and disappointed that a Westridge alum was the perpetrator," said Thompson Chen, Westridge's Network Administrator. "However, I was not surprised with all the anti-Asian violence that has been brought to light recently. I am sad to say that as an immigrant living in LA, being verbally attacked is nothing new."
Anti-Asian racism has been trending upwards since the start of the pandemic. 
When the pandemic first began, the COVID-19 virus was labeled the "Chinese" and "Wuhan" virus. And since March 2020, more than 3,000 hate crimes have been committed against Asian Americans, according to advocacy group Stop AAPI Hate. 
In just the past two months, a 91-year-old Asian man was thrown to the ground in Oakland's Chinatown, and in San Francisco, an 84-year-old Thai American man, Vicha Ratanapakdee, was brutally attacked and died from his injuries. Assaults on Asian-Americans have been spiking nationwide.
"[Ever since the virus was first phrased as the 'China virus,'] I have heard of how other Chinese and Asians are treated in public," said Shang. "I have been feeling sad and insecure because I am Chinese."
In the lunch meeting, Shang remembered how one student was asking why these talks about anti-Asian racism are just beginning now. "One of the students was asking that why now, why now have we started to talk about this issue? Just because this incident involves the Westridge community? What about before the pandemic? What about during the pandemic?"
Shirlynn shared thoughts for moving forward from this incident as well as moving forward from larger, institutional issues of racism. Reevaluating the curriculum and enacting policies play a role in these future steps. Conversations with students are also important.
"I hope that all Asians who have been victimized receive the support they deserve, but I also hope that they understand this is emblematic of a larger, systemic issue," she said. "This is a time for us to grieve and push back together."