Working Their Way Towards Success: Westridge's Student Workers
While most students spend their time after school studying, watching Netflix, or hanging out with friends, some students are busy making a profit.  
Hadley, who works as a part-time nanny, has babysat children for years. She initially got her job as a nanny four years ago when her neighbors asked her to look after their kids, and now works around eight hours a week picking up the children from school, doing homework, and feeding them until their parents come home from work. 
At first, juggling school and work was difficult for her. "In the beginning, it was a little hard to balance school, sports, and the job, but as I have had the job for all of high school I have learned how to work around my schedule and set aside time to do my work. Also, free blocks during school are definitely important for me to get most, if not all, of my work done," said Hadley P. '21.
Maribella M-J. '21, who works as a lifeguard at the Rosebowl Aquatics Center, agreed. "It was definitely challenging at first when I was working during the school year as I had a pretty late shift, but when COVID struck, it gave me back a small part of the social aspect I was missing by doing school from home." She has been furloughed due to the pandemic but hopes to work again soon.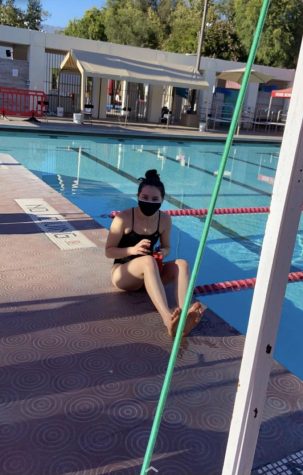 And while both Hadley and Bella had their jobs before and during the pandemic, other students found work during the pandemic, such as Maris B. '23, who started working for her father's company Bronstruction as an office helper and organizer once his employees couldn't work in-person. "This is my first job. I think it's giving me a fairly good idea of what a job is like. Before having a job, I was never fairly clear on what someone in my job did, so I'm glad to be getting this experience for later on," she said. Some of her duties include filing paperwork, writing down the monthly schedule, typing and shredding contracts and documents, and sorting emails.
Like Bella, Claire D. '21 has also taken a job at the Rosebowl Aquatics Center for a little over a year to feed her house plant obsession. "As a lifeguard, I guard the three pools, administer First Aid, check the chemicals in the pool, and take care of any other equipment/property upkeep needed. There's also a surprising amount of customer service," she expressed. 
Sophie C. '22 started working originally during the pandemic to spend more time with children, as well as wanting to earn a little extra money. Sophie works as an online tutor l on Fiverr, a platform for merchants to sell goods and services.  She now works around 6 to 10 hours per week after school, teaching between 3-6 kids. She also views her job as an opportunity to develop good personal finance habits.  "[I wanted to work because] I find tutoring and working with children very fun and rewarding. I am also trying to maintain responsible spending and saving habits. While I do occasionally get something for myself, I'm  trying to deposit part of my income into a Roth IRA."
Some students have even found ways to make a profit on their own during the pandemic as a way to pass the time. Students like Eva K. '24 and Danielle D. '21 have opened their own clothing businesses and have learned how to market, manage, and create their own apparel and products—and both have only begun their businesses as a result of the pandemic.
"Over the summer, I began to see a lot of clothing brands started by young adults/teenagers and I just got so intrigued and inspired. I've always loved clothing/fashion and clothing design especially because I'm an 'artist' I guess," remarked Eva. Her business, SleepytimeCrazies, has only been around for two months but has had a lot of success.  "I design the clothes, research everything, contact people, figure out business plans, how I'm going to make the items, pack all the orders, write thank you cards, and so much more. But honestly, it's so fun to do everything."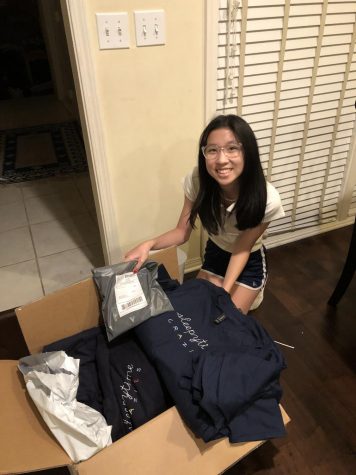 Even though online learning this year has enabled her to spend more time on her business, she worries about the future. "Before I started my business, I honestly thought it was going to be so hard balancing school and my business. Online school helped a lot, however, because it gave me more time to work on it while I was at home. But I actually am kind of still worried for next year because of the more homework load, and we'll hopefully most likely be in person by then."
@DanielleMakesThings, which sells knit tops, canvas bags, masks, and bucket hats, has been a passion project for Danielle, who started the business during quarantine just like Eva. "I originally created the shop because I re-learned how to knit in May of last year. It doesn't even feel like a job because I"m having fun and creating things while donating as well." 
In addition to hand-knitting all her products, Danielle donates 25% of her proceeds to The Pink Fund, Yemen Aid, the Okra Project, and the Navajo Nation Relief Fund. She even offers a deal that for every face mask purchased, another one will be donated to the Navajo Nation Relief Fund. After the Black Lives Matter protests this past summer and the increase in discussions surrounding equality and racial injustice, she felt the need to do her part. "I wanted to find my own way to be an activist [for racial justice], and this was my way of doing that."
Having to balance school with work can be exhausting and a bit challenging—students spend a full day at school and then pick up a second shift at their jobs. An hour after school here or there adds up in addition to students' responsibilities at home, school, and extra-curriculars, but even during a global pandemic, Westridge students are still hard at work, finding different ways to balance it all and earn an extra buck.   
Leave a Comment
About the Contributor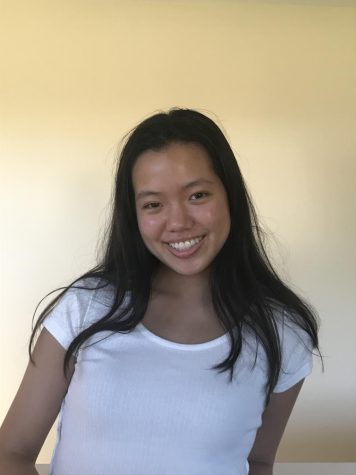 Jacqueline Y., Editor in Chief
Jacqueline is this year's 2020-2021 Editor-in-Chief. Originally joining Spyglass to improve and explore new ways of writing, she now enjoys investigating...