Review: One of the Best Shows of 2020: The Queen's Gambit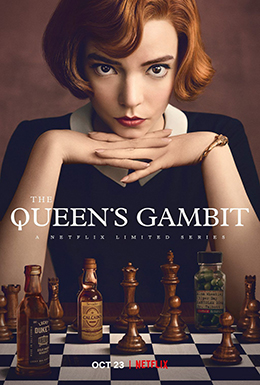 When The Queen's Gambit, a TV show about chess, hit Netflix in October, it immediately broke records. Sixty-two million households watched the show in its first month and it was ranked No. 1 in 63 countries. The show has also sparked an interest in chess: chess sales increased by over 170 percent after The Queen's Gambit was released.
The Queen's Gambit, set in the 1950s to the 1960s, focuses on a chess prodigy named Beth Harmon's chess career. The audience follows her as she travels to tournaments and meets all sorts of interesting chess champions, like Benny Watts, a fellow chess genius from New York. Her end goal is to go to Russia to battle the top chess champions, specifically a man named Vasily Borgov, the chess world champion.
The Queen's Gambit immediately pulls the audience in by introducing Harmon when she is just a little girl in an orphanage. The audience grows to like her as she develops an interest in chess and bonds with her chess teacher, the orphanage's janitor, and accompany her throughout her teenage years as she wins tournament after tournament.
The actors do a brilliant job portraying their characters, especially Anya Taylor-Joy, who plays Harmon. Her confident line delivery and her concentration while playing chess made it feel like Harmon was a real genius. Another actor that particularly impressed me was Isla Johnston, who plays young Beth Harmon in the first few episodes. Child actors do not usually have the same skills as their adult counterparts, but Johnston nails her part.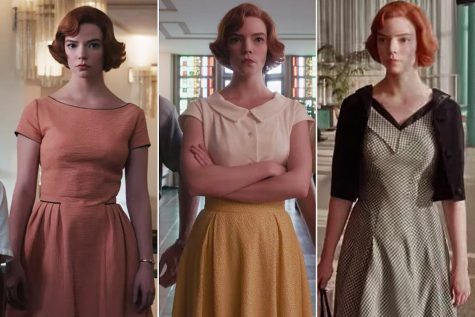 The costumes brought the characters to another level and truly set the scene. While in high school, Beth meets girls dressed in high-waisted skirts, saddle shoes, and short wool sweaters. The scenery also adds to the vintage feel, with patterned wallpaper in most rooms in Harmon's house. The drugstore Harmon visits frequently between tournaments displays packages handmade by the show's crew to maintain an authentic '50s ambiance.
The score, composed by Carlos Rafael Rivera, adds to each scene by swelling and fading based on what is happening at a particular moment. My favorite scenes are when Harmon imagines a chessboard on the ceiling. The shadows on the wall and reflections in her eyes, along with the music in the background, make the scenes very entertaining.
One aspect of the show I did not particularly enjoy was its glorification of drugs. During Harmon's stay at the orphanage, the faculty give drugs to the kids to placate them. The drugs help Harmon focus and calm her mind, aiding her in figuring out how to outsmart her opponents. The drugs give Harmon a "superpower" of imagining chess boards on the ceiling, enabling her to visualize the moves she wants to execute. She uses this strategy on and off throughout the show, and it almost always ends in her winning the game. The glorification of drugs may mislead viewers, especially young ones.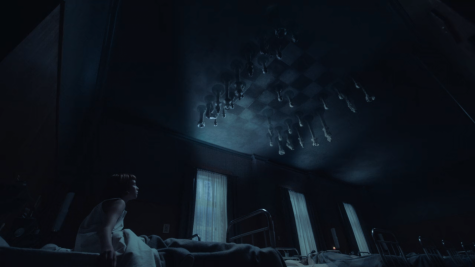 I particularly enjoy this show because of how unique it is. There are not many movies and TV shows about chess. Ordinarily, the sport of two players sitting down and moving pieces for an hour does not make for riveting entertainment. 
As I watched, I rooted for Harmon because I can relate to her drive and motivation. She does not feel in control of her life, so she plays chess — something that she feels she can control. She struggles with addiction and the loss of her mother, but ultimately perseveres. Everyone has experienced some level of turbulence and uncertainty, so she is easy to empathize with.
Most of all, I appreciate how thoughtfully each episode and scene is put together. The stylistic choices come together to create an entertaining and meaningful show. The show goes beyond chess, focusing on Harmon as a person, and teaching an important lesson: it is okay to rely on others for help. It shows the discrimination that women had to deal with in the 1950s-60s. Every time she travels to a tournament, her opponents underestimate her, which makes it even more satisfying to watch her beat them with a sophisticated ease. Overall, I recommend watching the Queen's Gambit; it is an excellent way to spend your weekend.
Leave a Comment