Welcome to your guide to watching the new Taylor Swift movie, Taylor Swift: The Eras Tour in theaters.
For those who don't know, Taylor Swift has been touring all across America, performing all 10 of her albums since March in her all-stadium tour, the Eras Tour. On October 13, she released her movie, Taylor Swift: The Eras Tour, which is footage from three of the six nights she performed in Los Angeles. She announced that her movie will stay in theaters for 13 weeks, which means there are now 9 weeks left. So when you finish reading, I hope you get a chance to watch it for yourself. 
Now, you may be wondering why you should listen to me. Let me give you my qualifications.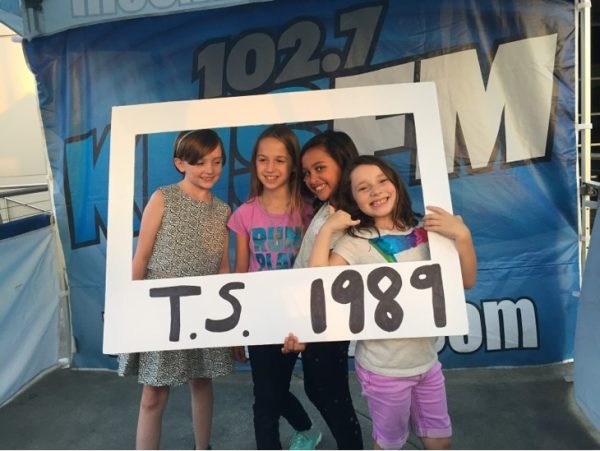 I believe I am one of the biggest Taylor Swift fans on the planet. My love for her was sparked on the bus to Tom Sawyer Camp at age six. They played the song "Love Story" from the album Fearless on the radio in our beat-up white van that only got one station, 102.7 KIIS-FM. Hearing the song for the first time—even though "Love Story" came out in 2008, one year after I was born—I immediately fell in love. Ever since then, I have been obsessed. I went to my first Taylor Swift concert in 2015, the 1989 World Tour, where my mom surprised me with last-minute tickets on the night of the performance with three other friends. The only thing I can recall is the immense joy I felt when I entered Crypto.com Arena, formerly the Staples Center, to see Taylor perform for the first time. 
When she announced her next tour, the Reputation Stadium Tour, I begged my mom to get us tickets. We were lucky enough to get amazing tickets at the Rose Bowl, where we witnessed her extraordinary tour. 
Following these concerts, quarantine came, and everyone stopped in their tracks—everyone in the world but Taylor Swift, who released two breathtakingly beautiful albums, Folklore and Evermore, which incorporated both the horrors of COVID-19 and the simplicity of life. Those two albums have now become my favorites, not only because of how much I relate to the songs but also the thought-provoking lyrics themselves.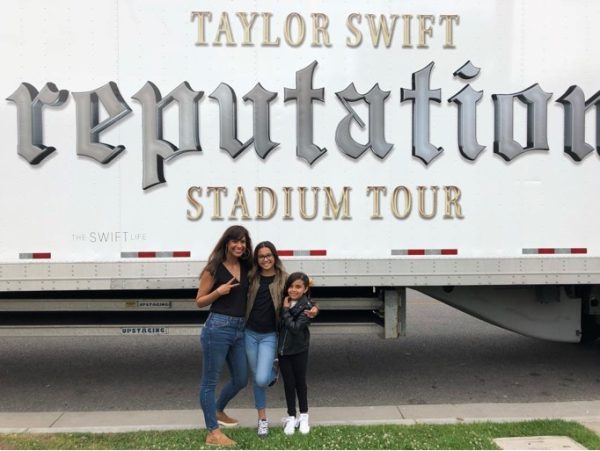 Hearing the news about the Eras Tour, I, of course, jumped at the chance to get tickets. 
Unsurprisingly, I also made sure to get opening night tickets to the movie Taylor Swift: The Eras Tour in hopes of reliving the memories of my concert in August. I had a great time and plan on going again. I hope that I have convinced you of my devotion to America's favorite artist, Taylor Swift.
Here is a guide to Taylor Swift: The Eras Tour: 
Get there early! 
I cannot stress this enough! The last thing you want to do is worry about missing the beginning of the movie, which is arguably one of the best parts. There is no harm in coming early, grabbing some snacks, and settling into your seat. Make sure you pick a good one because you'll be there for 2 hours and 49 minutes. 
Learn some of the songs before!
While this isn't necessary, knowing a couple songs beforehand will definitely enhance your experience. Even knowing the most popular songs like "You Belong With Me" and "Anti-Hero" will help you connect better with the crowd. 
Wear whatever you want!
There has been some inquiry on what to wear to the movie. At the Eras Tour concert, fans dressed to the nines, with many in theme with the different aesthetics of her albums. I also wondered about the "dress code" before I went. I decided to wear shorts and a Taylor Swift t-shirt, which at first seemed too casual in comparison to the other outfits worn at the concert, but I soon realized that everyone was wearing something different. I saw dresses, skirts, and shorts. So I truly believe that you should wear what you're comfortable in because at the end of the day, the movie is for your enjoyment.
Grab snacks and splurge for the custom Taylor Swift Popcorn Bucket and Cup!
I usually advise against buying overpriced merchandise, but the one regret I have after watching the movie is not buying the Taylor Swift popcorn bucket and cup.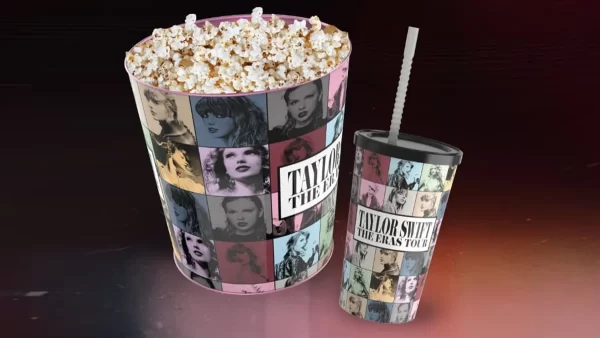 Some could argue that it is unnecessary, but I say that it's worth the hype. Taylor Swift is famously known for having extremely overpriced merchandise. Luckily, if you want to buy both the cup and popcorn bucket, you only have to pay $20, which is a great price especially since you can reuse both.
Go to the bathroom before!
I was extremely disappointed with the amount of people who left my theater to go to the bathroom or grab another snack. You wouldn't leave the concert to get a quick bite to eat, so you shouldn't leave the theater! I noticed that the time between each album during the movie is extremely limited, so you may miss out on a song, or even worse, two songs!
Be prepared for different theater environments!
If you have been on the internet lately and have watched anything Taylor Swift-related, you may have seen videos about theater etiquette. While concerts and movies have different environments, Swifties have reclaimed the theaters as their own personal concert. In fact, there have been videos circulating popular media outlets, like TikTok and Instagram, showing people leaving their seats and dancing around the bottom of the stage, something not commonly seen as "movie theater etiquette." Everyone interprets movie theater etiquette in their own way, but there are no concrete rules saying that people cannot stand up and dance.
Personally, my experience was very positive, and my theater was respectful. I was lucky enough to sit in the front row, so occasionally I looked behind me to see the vibe of my theater. Some people stood in the aisle, and I could see people dancing in their seats, but for the most part, no one blocked anyone's view. There were, however, a group of little girls who stood up and danced the whole time. While some may have found it annoying, I felt so grateful to be able to enjoy Taylor's music alongside other die-hard fans. The girls weren't embarrassed or nervous about dancing in front of an entire audience, which I felt displayed the true beauty of how close Taylor Swift brings people together.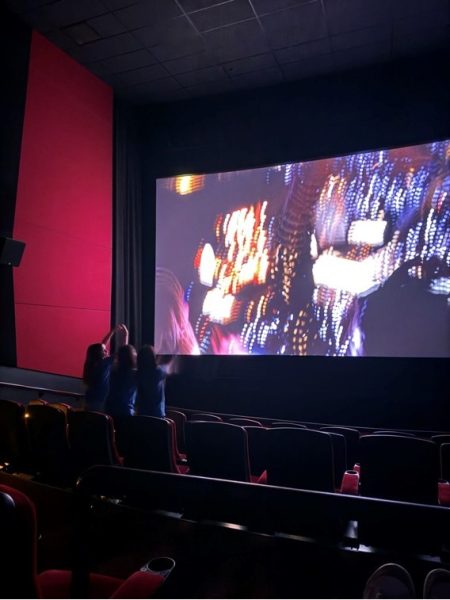 My advice is to be prepared for any type of environment. My theater happened to be very calm, but some audiences may be more passionate than others. If that makes you uncomfortable, I recommend that you pick a day that is less busy. But if you're okay with that passion, feel free to have as much fun as you want, as long as you refrain from blocking the people behind you.
Make friends and trade friendship bracelets!
One big trend that emerged from the Eras Tour concert was making friendship bracelets and trading them with strangers at the concert. These bracelets consist of anything Taylor Swift-related from song lyrics to silly memes about the singer herself. One question that I saw people ask, both in person and on the internet, is should we bring our friendship bracelets to the movie? The answer to that is yes, yes, and yes. 
Below is a picture from the end credit scene found in the movie.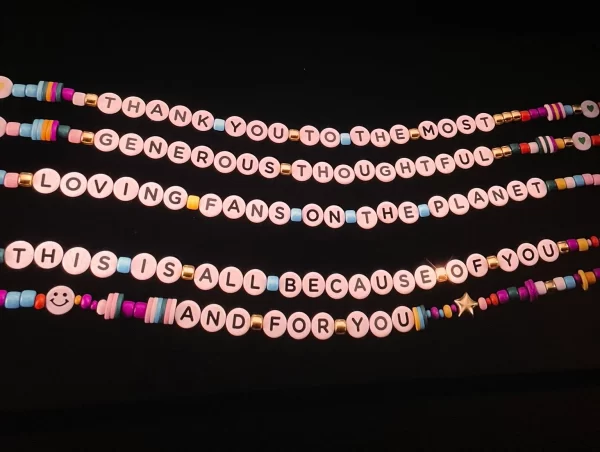 On top of this display of appreciation for the fans, in her Instagram caption regarding the release of the movie, she wrote, "Eras attire, friendship bracelets, singing and dancing encouraged…" 
AMC clearly understood this. When I got to the theater, I was pleasantly surprised that they gave every person their own mini Taylor Swift poster and friendship bracelet that had the letters AMC written on it. My point is, Taylor Swift creates environments where people can make friends and spread joy, and her movie is no exception. 
Go again and again and again!
This era of Taylor Swift is truly once in a lifetime. The concert was incredible, and I feel awful for the people who were not able to get tickets. But luckily, this movie is an opportunity for fans everywhere to enjoy all of their favorite albums in one place. In my theater alone, I saw people crying, laughing, singing, and dancing. An older woman sitting in the seat next to mine leaned over and whispered, "She really is something isn't she?" I couldn't help but smile, knowing that Taylor's music brings everyone together.