"Motion," yells the quarterback behind me. I catapult a football between my legs and take off on a straight route ahead. The quarterback locks eyes with me, slings her arm back, and hurls a football towards my awaiting hands. The tips of my fingers grasp onto the leather of the ball, but before I know it, the ball bounces onto the grass. I burst out laughing, and so do my teammates around me.
This instance of me dropping the ball was not a first—it happened every time I stepped onto the field. But unlike in other sports I have played, my mistakes in flag football have never once discouraged me from continuing.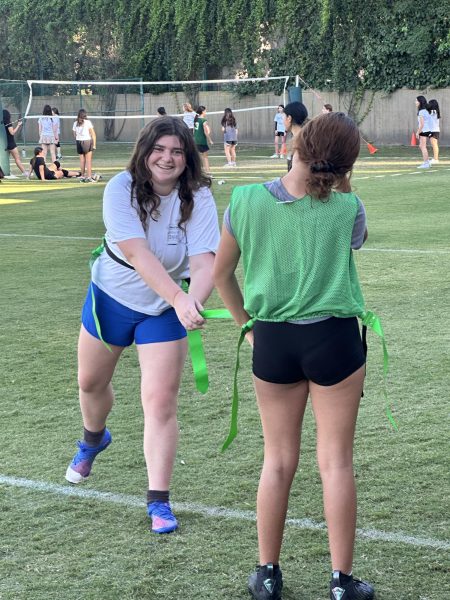 The inaugural flag football team at Westridge was unique. We supported each other through wins and losses, offense and defense, both 100-degree days and rainy days, and the daunting first days of the school year. 
When Director of Athletics Coach Melanie Horn first emailed the Upper School about the possibility of having a Varsity flag football team in the 2023–2024 school year, I took about five seconds to think before deciding to abandon my golf clubs and polo shirt for a football and a jersey. Golf was never my first choice of a sport, but with limited options in the fall season, it felt right for me. However, as I scrolled through my inbox on a late May night, flag football felt like my destiny. 
I first picked up a football in August. As I scanned my teammates around me, I thought to myself sarcastically, Oh great, look how many freshmen there are. This will be fun. 
In a way, we were all freshmen. Most of us stepped onto the field with no prior experience playing flag football. Together, we learned the names of positions, how to run plays and pull flags, and what degree of physicality counted as a penalty. Since girls' flag football was a new sport for every school we played, there was never a time where we encountered teams entirely composed of girls who play at a club level. We all started out fresh, which provided us with an even playing field and little pressure to succeed.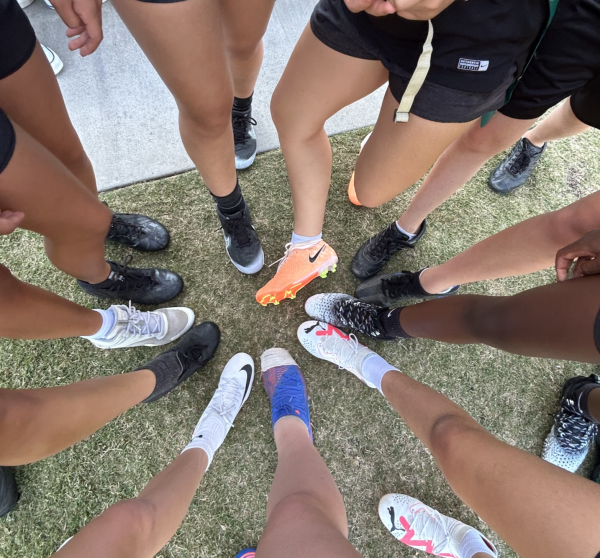 As the entire team was new to high school flag football, there was no hierarchy within. Juniors made fun of freshmen, and freshmen made fun of juniors. We pulled each others' flags during water breaks and playfully teased each other when we dropped the ball. Unlike other athletic environments I had been in, we all had a mutual respect for each other. With our level of social balance, we transformed our connections to strong work on the field. 
Yes, we lost a few times. Yes, we lost more than we won. But we did win. In fact, we won four times in our season. For the first time ever, I intercepted the ball at Brentwood School. Against Rosemead High School, I caught my first touchdown. And in a last-minute win against Vasquez High School, I caught the ball in the endzone for an extra point. This was a season of fun firsts. 
There was never a day without fun at flag football, but there was also never a day where we did not work. We were always perfecting a new play, working on our defense, or watching clips from previous games. We worked together to get better, and it was evident in our results: we started the season 0-2, but after those two games, we never once lost twice consecutively. 
As I reflect on our all too short season, I am sad because it is over but excited knowing I still have one more year left. The only bad part about playing flag football is that I only ever had two years to play, not four.