My older sister Isa bursts through our connecting door, shrieking, "It's happening!" She turns her phone to me and reveals a Taylor Nation Instagram livestream. "I know!" I tell her excitedly, showing her that I am watching as well. We pause for a moment to watch Taylor Swift announce to the stadium that she will soon be rereleasing her fifth album, 1989, in order to gain ownership of it. We had been anticipating the 1989 (Taylor's Version) announcement for a while, and all the signs were pointing to the reveal during the August 9th Eras Tour performance. So, that night, we stayed awake late in our separate rooms, not knowing the other was waiting for the same thing. When our suspicions were proven true by the Taylor Nation Instagram livestream, Isa was the first person I wanted to celebrate with. 
American singer-songwriter Taylor Swift is practically ruling the world. Her current expedition is the international Eras Tour. The tour, a kind of biographical musical journey, was announced early November of 2022, shortly after the release of her 10th studio album, Midnights. Presale tickets for the United States leg of the Eras Tour were available in mid November on TicketMaster, but due to high demand, the website kept crashing and changing the times tickets were available. By the end of the day, over 2.4 million tickets were sold; every show was sold out. The tour has now expanded to five continents with a total of 146 performances. 
My love of Taylor Swift started when I was a 7-year-old kid, watching the "Shake It Off" music video with my sister. I wanted her to throw me in the air the way Taylor was thrown as a cheerleader in the video. Isa obliged, but wasn't able to catch me. I fell hard on the floor and then wrote a "Shake It Off" parody titled "I Broke My Back." Isa found my song funny, so I kept on singing it.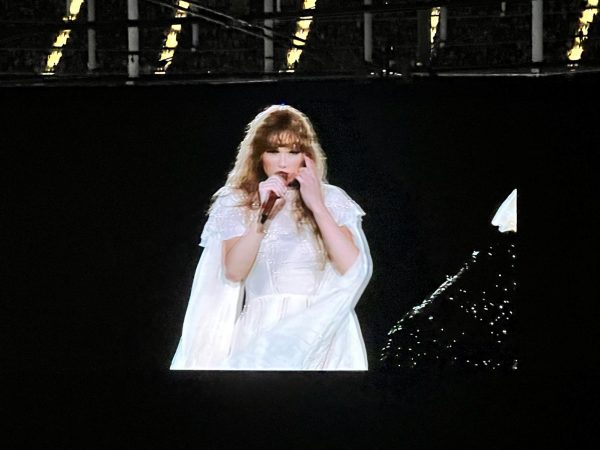 Over the years, my love for Taylor Swift has only grown, so when she announced "The Eras Tour," I knew I had to be in the stands. 
The anticipation of the concert itself might have been as good as the actual event. My sister and I made enough friendship bracelets to cover all of our arms in the morning and then headed to her friend's house to get ready for the concert, all while I was trying to contain my excitement. After a lifetime of wanting to be included by my sister's friends, having the opportunity to spend time with them AND see my favorite singer felt like a dream come true. 
At SoFi Stadium, I traded friendship bracelets with girls from Montana, and strangers complimented my poofy yellow dress and glitzy eye makeup. Being surrounded by 70,000 Swifties was definitely sweet, but experiencing the concert with my sister made it all the better.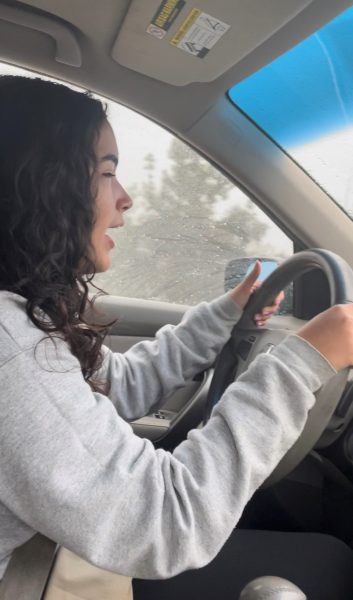 The moment Taylor Swift took the stage, I exploded with tears. I sobbed for most of the show, but the tears hit especially close to home during "Marjorie," a song about Swift's dead grandmother. As she sang, my eyes met Isa's for about half a second, and I couldn't help but wonder if she was thinking about our sick Abuela, too. 
Isa and I are pretty different. While she spends her afternoons in STEAMworks working on flight computers and helping 4th graders during Tinker Time, I'm in the Performing Arts Center dancing on a stool in the costume shop, waiting for my next rehearsal call time. And though it's nice to talk about our separate interests, Taylor Swift is one of the few things we share.
During our hour-long car rides to and from school, Taylor Swift is the only thing Isa and I listen to. We scream the lyrics to "August" and "Illicit Affairs" and laugh as I put on an awful country accent to sing "Teardrops On My Guitar." I love telling her about what I think are the true meanings behind Taylor's songs, like how "Timeless" is actually about American Girl Dolls and "this is me trying" is about Honors Chemistry. 
Now that Isa is a senior, I often wonder who I will listen to Taylor Swift with when she's gone. It's a much easier question to ask than, What in the world am I going to do without her? 
The days before Isa goes off to college are rapidly ticking away, but I know whenever I pull into the Westridge parking lot next year, a Taylor Swift song blasting at full volume, I will think of her. And somewhere she might be listening to Taylor Swift too, perhaps even the same song, and she'll be thinking of me.