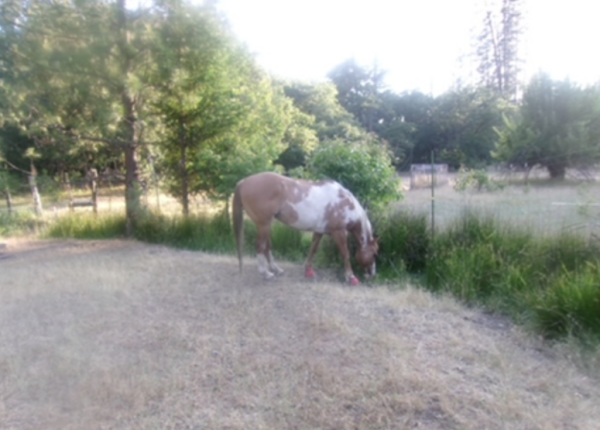 Last summer I took a leap of faith and did something I never imagined I could do: For two weeks in June I lived in a deep and magical forest in northern California at Bar 717 Camp Trinity. No, there weren't elves or fairies, but it was still magical. I used to swear I would never ever go to sleepaway camp. The thought of being away from my warm bed, sleeping in a place that seemed foreign to me—away from the warm embrace of my home, my precious pets and my parents—made me sick. But in the past year so much had changed. I had taken on big obstacles, and dealt with emotions that prepared me to face the world. My mind and heart now wanted more. So when my parents suggested a sleepaway camp in California, I was ready. 
Camp was everything I had hoped for. By the end of the first week, I was well informed about the area and had made friends. I felt much more comfortable than I had at the beginning of the camp. At the end of the second week, we were required to do an overnight which I had been dreading because our first week's overnight was so exhausting. From the start, my friend Sofia and I knew we wanted to go on the horse overnight where we ride instead of hike. The ride to our destination and back would be two hours each way. We had both been placed in the advanced horse group which was good considering the horse overnight was only open to the advanced riders. Sofia and I had been riding for a solid six years, but I do consider myself to be an anxious rider.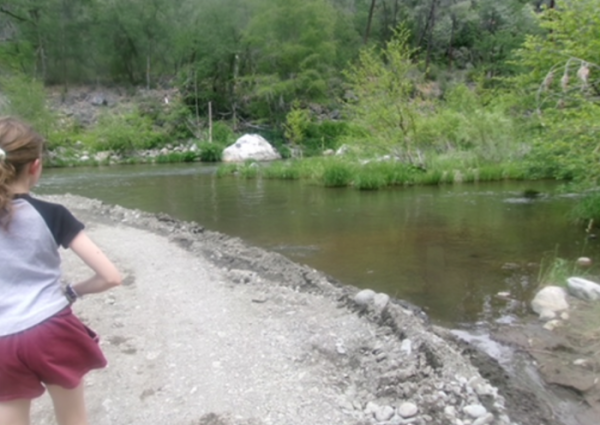 I requested to ride a small-ish horse named Ukiah (he wasn't that small; I am just used to riding tall horses.) Luckily no one else requested him due to his "bad reputation" of bucking people off of him. During the whole overnight trip, he cooperated well and his kind-looking face never failed to put a smile on mine. 
It was a great experience becoming friends with new people on the trail, making s'mores, sleeping under the stars, talking to Ukiah while galloping up steep hills to calm myself and him, as the summer solstice breeze swung through my hair and the view of the mountains surrounded us.
All of that led up to one specific moment. We were but minutes away from arriving back to camp after a chaotic morning when we stopped at the river. The river separated our current trail from the main trail back to camp. We could either cross a newly installed car bridge (I had crossed it with Ukiah on the way there) or we could cross the river on horseback. That may seem easy, but, in some ways, it was quite dangerous. Riding across a river on a horse is not for beginners. The horse is carrying himself and you through a moving river. He could trip or get stuck on something, and riders can't be timid. The part of the river we would be swimming in started off shallow, but the middle would be deeper, deep enough that the horse's legs couldn't reach the bottom. Even more challenging was the fact that two weeks before, there had been a storm which made the river a little more rapid than usual.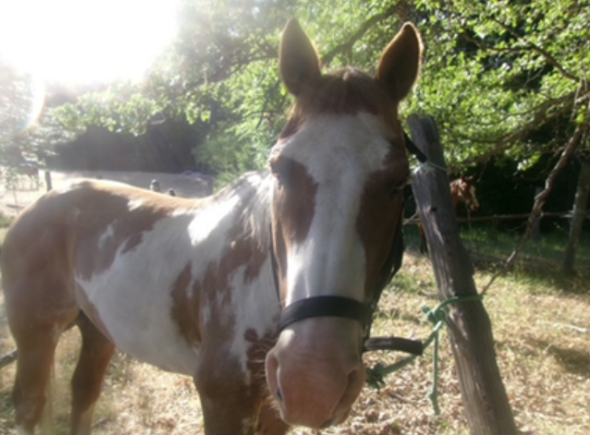 I was lost in my thoughts, worrying about if we would have the choice of going across the river when my thoughts were interrupted by my counselor, Zoe, asking, "Is there anyone who would like to swim across the river on horseback?" I had a strong and pounding urge to speak out and say, "I would!" Why on earth would I, a timid person, decide to do this?
I thought of all the missed opportunities and lost chances of the past couple years. Times when in my head I so desperately wanted to say something or do something but would always get too nervous and stop myself from doing it. I would experience a strong feeling of regret, but I would never just learn from that and actually take risks.
I decided I didn't want to be the same person, the one who didn't speak out in class or to a friend or to family members. Before I could think, I shouted out the words "I would want to!" After I said that, a couple others requested the same and we walked closer to the river. 
I took my feet out of the stirrup irons and loosened my reins. Ukiah slowly walked and investigated the water with his nose and suddenly we dropped deeper down into the water. I placed my reins far up his neck so it would be easy for him to swim, the bottom of my jeans touching the water but the rest of me dry. Ukiah worked against the water with his head just above it and his ears pinned forwards with determination. He had done this many times so I knew he would take care of himself and me. I heard Zoe's encouraging words, "Good job Lorelei!" as I almost reached the shore. 
Ukiah took one last big step as we crossed over a mound of dirt separating the shore from the river. And in that moment when I realized we made it to land safely, I just smiled as wide as I could, savoring every second. Ukiah stepped out onto the main trail as we waited for the others to cross the car bridge and river. I saw Sofia with her horse going across the car bridge and I looked up at her, smiling with so much joy. She smiled at me as if to say, good job. Zoe complimented me, and I fell onto Ukiah's soaked neck, patting him over and over again, thanking him.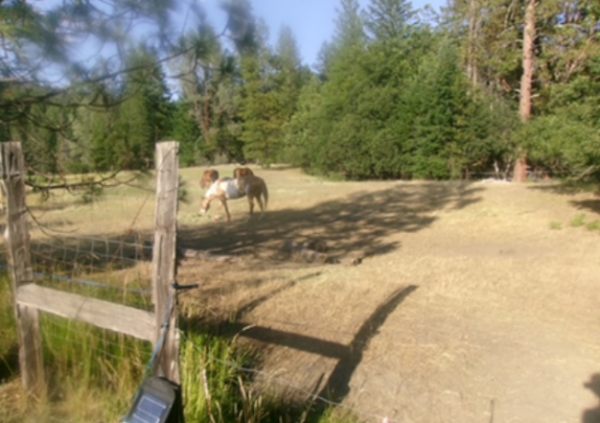 I knew that day that I had outgrown some of my fears and achieved childhood dreams. I waited by the path for everyone else, my body still shaking from excitement and my cheeks burning from smiling. In that moment, all those nerves were gone, and I felt true joy.