Reconciling Kobe Bryant's Legacy
Kobe Bryant, one of the most influential basketball players of all time, died in a helicopter crash on the foggy morning of January 26, 2020. No one on the flight – including his 13-year-old daughter Gianna and seven others – survived.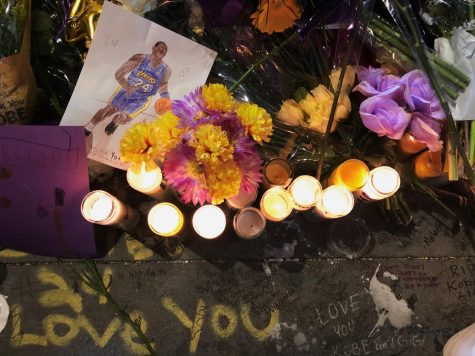 Los Angeles, the nation, and the world were left to mourn Bryant and his legacy. His death at age 41 was felt on the Westridge campus. "It was really sad to see that he was gone, especially with his daughter and all he was planning to do with his platform," said Tzedek G. '24, who sported Bryant's #24 Lakers jersey.  
Westridge ASB sent out an email notifying students that they were invited to wear purple and gold colors to school on January 31 instead of the regular uniform. Sure enough, the campus was a sea of #8 and #24 jerseys that day, the two numbers he wore on the Lakers team.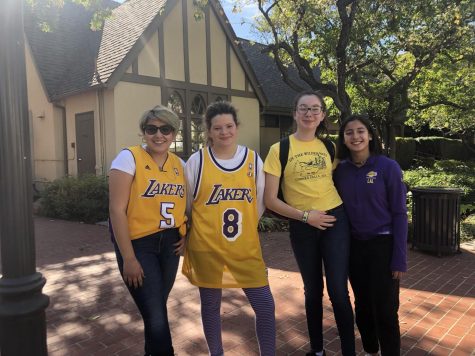 "My dad watched him from the time he was in his first rookie year, which is when he got this jersey," Lily S. '24 explained. "It has a certain sentimental value for me, which is why I wore it today."
Beloved by many Angelenos, Bryant spent his entire professional career in Los Angeles and led his team to three consecutive NBA championship titles. He also won the league's award for Most Valuable Player and took home two Olympic gold medals during his career. After playing 20 seasons, Bryant retired in 2016 and assumed new roles: advocate for women in sports, author of children's books, Academy Award-winner. But the role he himself loved most was that of a father of four girls, proudly exclaiming to ESPN anchor Elle Duncan, "I'm a girl dad.
While the community mourns Bryant's shining athletic legacy, some are reminded of darker moments in his public career. In 2003, he was accused of raping a 19-year-old female employee at a hotel in Colorado. His accuser eventually decided not to testify in court after facing death threats and attacks against her reputation. Even though the case was settled in a civil suit, the allegations cast a shadow on Bryant's legacy.
"
Any memorial about him, in my opinion, must include a discussion of that event because he is both an exceptional, all-time great basketball player and a rapist."
— Ryan Skophammer
Examining the life and legacy of an athletic giant is one thing, but Bryant's past has raised the question of how to celebrate someone's accomplishments while also acknowledging the more problematic aspects of their life.
Many people are grappling with this very question in the wake of Bryant's death. Washington Post reporter Felicia Sonmez, a survivor of sexual assault herself, was placed on administrative leave and received death threats after retweeting an article about Bryant's alleged rape following his death. Although her suspension has since been reversed, this incident sheds light on the oftentimes blinding devotion that we bestow upon celebrity figures and the godlike status to which we elevate them. 
Abigail Disney's tweets following the news of Bryant's death also faced similar backlash.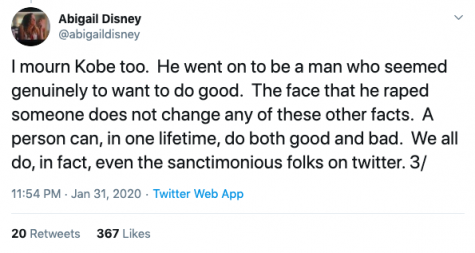 Members of the Westridge community have been having similar discussions, too. Audrey Y. '20 grew up playing basketball and watching Bryant on TV with her family. Like many students, she learned about the sexual assault charge after his death. "I know that he wasn't the best guy," she admits, "but what he did in his basketball career – he set a lot of records and did a lot of groundbreaking stuff." 
Others agree that his alleged assault doesn't change the way they think about or respect his legacy as a basketball player. "I don't think it diminishes the things to celebrate. It doesn't make his achievements and the impact he had any less," Sosi D. '21 declared. 
Bryant was a role model to Andre Zumaeta, Westridge's Athletics Trainer, ever since he was in middle school. "I understand that the allegations are serious, and there is no justification for his actions," Zumaeta asserted, "but what I do respect about him, however, is that he came out and apologized. It was a sincere apology." 
The same day that the charges against him were dropped in 2004, Bryant did issue a public statement in which he acknowledged the incident directly: "After months of reviewing discovery, listening to her attorney, and even her testimony in person, I now understand how she feels that she did not consent to this encounter." 
Zumaeta appreciates this honesty and maturity, especially considering that most celebrities accused of assault do not take such an approach. In the end, Zumaeta believes that Bryant's legacy is more than one charge against him. "I think that was a small portion of his life," he expressed, "that should not obstruct his whole life and everything that he was about."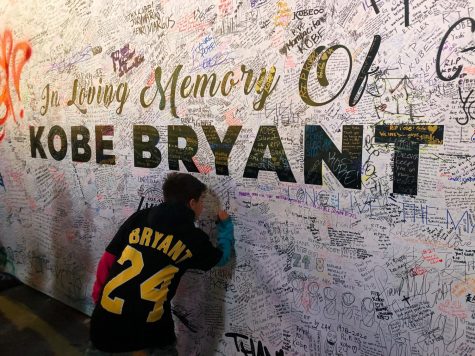 For some, the rape charge plays a much greater role in how they think about Bryant. Ryan Skophammer, Upper School Science teacher, is one of those people. "Whenever I heard the name Kobe Bryant, I always thought about the rape," Skophammer revealed. "Any memorial about him, in my opinion, must include a discussion of that event because he is both an exceptional, all-time great basketball player and a rapist." 
After Bryant's death, Julia S. '21 expected that more students and faculty would be engaging in conversations about his complicated past. Although she did not grow up in Los Angeles or as a basketball fan, she did know about the rape allegation he faced. "It really confused me when the entire internet and everyone at school was worshiping him," Julia shared. "I thought it was terribly tragic that he and all the other people died on the helicopter crash, but I was just surprised at the degree to which people were celebrating his life and ignoring [the rape allegation]."
Skophammer questioned the school-sponsored event that allowed students to wear Lakers colors for a similar reason. "I think that that decision was made very quickly in the wake of his untimely death. I understand the desire to pay tribute, but also I think we should have taken a more critical eye toward doing it or not doing it, especially given this is a girls' school in 2020," he explained. "It's very dissonant with our culture."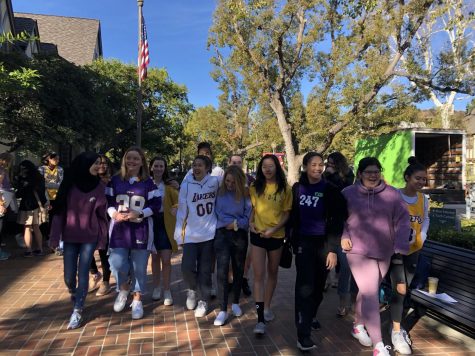 Natalie V. '21 was the student who first proposed the idea to Westridge ASB. "I just thought it would be a really fun idea, especially because we didn't have free dress that Friday. I was like 'why not?'" She was not aware of Bryant's assault charge until after she suggested the event, but claims that she would not have done anything differently had she known about the allegation beforehand. "I don't think that the week after his death was necessarily the correct time to bring it up, although it should be brought up," she expressed. "I think it was more about everyone coming together to…remember the victims."
Brittany Coker, Dean of Upper School Student Activities, believes the community should find space to hold and talk about both aspects of his identity. "We can honor the victims of the crash, including Kobe and all the goodness of him while also recognizing that it appears he made a grievous mistake in his past," Coker stated. "We don't have to limit ourselves to any one feeling," she continued, "and to do so would be a missed opportunity." 
Kobe Bryant leaves behind a difficult and controversial legacy, and we must decide how we want to remember him. His death has opened up discussions, both on our Westridge campus and more broadly, about what it means to appropriately honor someone. In the classroom and at lunch with their peers, students at Westridge have been engaging in this difficult discourse about Bryant. Regardless of the answers we come to, we are doing the hard, worthwhile work: asking questions, rejecting binaries, and embracing the complexity of human life.
Leave a Comment