To read this article in its intended format, as a photo essay, click here. 
On Wednesday, September 20, Westridge students and faculty packed the Hoffman Gymnasium in yellow, blue, and white attire. This day marked the annual Greek and Roman Initiation, where new students and faculty are announced as either Greeks or Romans. This year's theme was Mario Kart, and the event included sliding board races, candy tosses, and chants of "Let's go Romans!" against "Let's go Greeks!"
In 2021, the initiation was held over Zoom in Advisory Pairing rooms, and in 2022, took place outside on the Herrick Quadrangle. This year marked the first year of the ceremony returning to the Hoffman Gymnasium, the pre-pandemic location.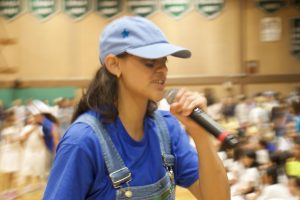 New students, who wear their white uniforms to represent their neutrality, are called up by grade level to hear if they will be sporting yellow or blue for the rest of their Greek-and-Roman days at Westridge. Detracting somewhat from the suspense, children or siblings of current or past Westridge students are always put into the same group as their family members. This year, as new Greek and Roman initiates were called up to Mario Kart-themed arcs, they were told their group and subsequently ran through the corresponding yellow or blue arc, and received necklaces, stickers, and certificates.
Initiation is one of many significant events in a student's first year at Westridge, as it determines who they will be rooting for during the rest of their time at Westridge. 
Larkin M. '27 is a new student this year and felt the strength of the Westridge community during the event. "The Greek and Roman Initiation was so much fun," she said. "I loved how even though the school was [divided], it still felt united. When I was initiated as a Roman, I looked at the bleachers in the gym and saw so many of my friends and teammates cheering for me which was an amazing feeling. I'm excited to see next year's initiation and be one of the people cheering for the incoming Romans!"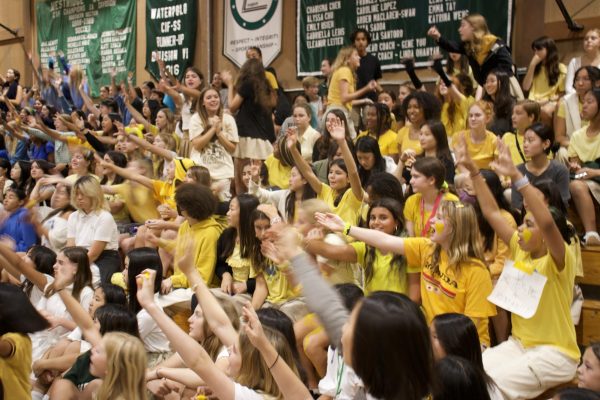 Senior Cyana L. is this year's Roman Associated Student Body (ASB) Head and played a large role in overseeing the planning and execution of this event. "I thought it was great seeing all the ASB and grade [Greek and Roman representative's] work finally come together," Cyana said. "It was amazing seeing the whole school get so excited. I don't think I've ever heard the gym so loud before."
Last year, the Greeks hoisted the year-end trophy; the year before, it was the Romans. With these new student faculty and staff additions to each squad, Westridge will have to wait and see who will get to call themselves champions this year.