Advanced Courses One Year Later: Faculty and Students Reflect on Deeper Learning
On February 3, 2022, Westridge announced that it would officially move away from the Advanced Placement (AP) program and toward new Advanced Courses developed by Westridge faculty members. The move was spurred in the hopes of "[promoting] deeper learning and the critical thinking skills and habits of mind that colleges and employers are looking for today and for the future," according to the announcement email from Former Head of School Elizabeth McGregor.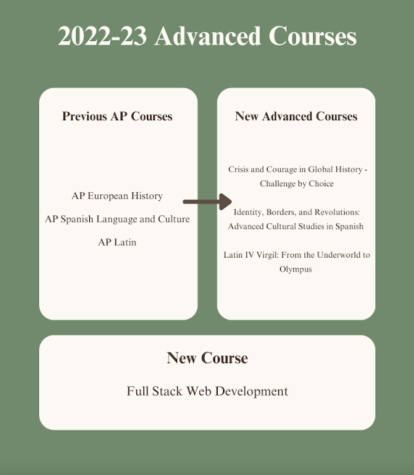 The primary goal of the curricular shift was to make the material in the classes more sophisticated and engaging for students. "What we are talking about is teaching the disciplines that we teach, the exact same ones we teach now, but doing it in a way that is better and more meaningful…Nothing is going to be an Advanced Course just because it's going to be a regular course plus some more stuff. It's going to be an Advanced Course by being more sophisticated than a regular course," said Gary Baldwin, Director of Upper School.
For the 2022–2023 school year, Westridge replaced three AP courses with Advanced Courses—AP European History, AP Spanish, and AP Latin were replaced by "Crisis and Courage in Global History," "Identity, Borders, and Revolutions: Advanced Cultural Studies in Spanish," and "Latin IV Vergil: From the Underworld to Olympus" respectively. Additionally, the Computer Science and Engineering department designed and introduced a new Advanced Course called "Full Stack Web Development" to the curriculum.
The initial reaction was mixed, but one year later, Spyglass checked in with students and teachers about the school's commitment to deeper learning.
How does Westridge define deeper learning?
Over the past few years, Westridge has been working toward defining deeper learning and what that will look like in courses.
James Evans, Director of Teaching and Learning, said that while defining deeper learning may be a challenge, it can also be an exciting opportunity for the school. "I really like the idea that we get to define what we mean by advanced. I feel as though a lot of our classes are advanced in what we ask our students to do. This way we get to define it for the people in the school."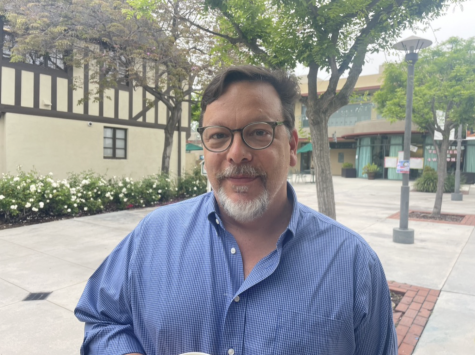 Mr. Baldwin reflected that the deeper learning was about not only knowing the facts, figures, and procedures that are an integral part of the AP program but also being able to ask bigger questions and analyze those entities.
"[With AP courses] so much of what you're focused on is getting kids to control data, but controlling data is really not a thing that you're going to spend a whole lot of time doing in the real world. So what I would rather have you spend your time doing is thinking creatively about it, predicting what the next question is going to be, engaging with it, looking for patterns in the data, and thinking about how those patterns might have applications and other sets of data…That's really at the center of what learning is about," he said.
Evans added that an Advanced Course at Westridge will be, "meaningful, rigorous, equitable, focused, reflective, relevant, purposeful, and healthy."
Did the new Advanced Courses meet these goals?
History: "Crisis and Courage in Global History" and Challenge by Choice
The new history course, "Crisis and Courage in Global History," replaced AP European History and Modern World. In the new course, all students were enrolled in the regular class for the first quarter. Following that, students had the option to choose a more advanced track called "Challenge by Choice" or CbC. This means that students on the "Challenge by Choice" track and on the regular track are in the same class.
Melissa Kelley is the History Department Chair and "Crisis and Courage" Teacher. She has also  taught AP European History in previous years. "What we're doing right now is just at a different level, and more gratifying and meaningful for me as a historian…The work that we get to do in Crisis and Courage is just deeper," she said.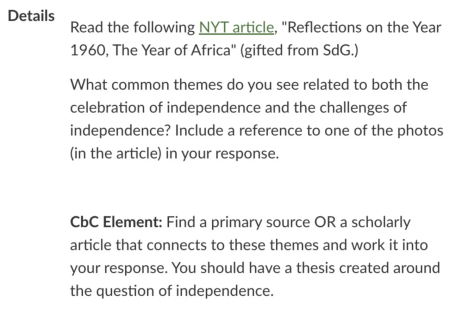 In rethinking new history courses, the department discussed what deeper learning meant in the field of history; they landed on the act of historical research. "[Students] get to build their research skills…[they] will show an advanced and honors level within the courses themselves," continued Kelley.
While generally, students were happy with the Crisis and Courage course, many seemed dissatisfied with the level of the more advanced "Challenge by Choice" track.
This year in "Crisis and Courage," students on the CbC track have had additional assignments in comparison to their classmates on the regular track. Depending on the assignment, students on the CbC track may have needed to find and utilize primary sources, complete more citations, or create annotated bibliographies.
Ms. Kelley commented that the work in Challenge by Choice goes beyond extra citations and bibliographies. "It's not just citations and bibliographies that are the extra work for sure. In order to even have a citation, you have to actually find the source, and you have to actually engage with the source, and you have to actually include it within the paper."
"You have to find a primary source and then include that in your analysis. That is deeper. It's much more in line with what real historians do. It's closer to what historians are trained to do. And it's closer to what you would be asked to do in college," she continued.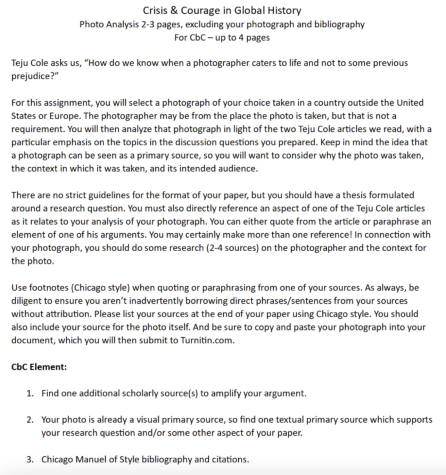 However, some students feel that the additional CbC assignments don't feel deeper. "I think that the Challenge by Choice element of the class doesn't offer a lot of deeper learning; it's mostly about doing extra work like finding more sources for papers and writing more," Saba K. '25 said.
Micah M. '25 also reflected that because both Challenge by Choice students and students on the regular track are in the same class, a higher level of discussion is not always achieved. "In terms of actual class discussion, not much has changed. And so in that way, it's less advanced because we're not actually having deeper conversations. It's an independent way of excelling," she said.
In an attempt to bring about deeper discussion, Challenge by Choice students also participate in History and Pizza (HAP) lunches. "I feel like History and Pizza is so hard because it's just based on who decides to go up and speak. And so if people don't want to go up and speak, or if they don't have something to say, then we can't have that in-depth discussion," said Micah.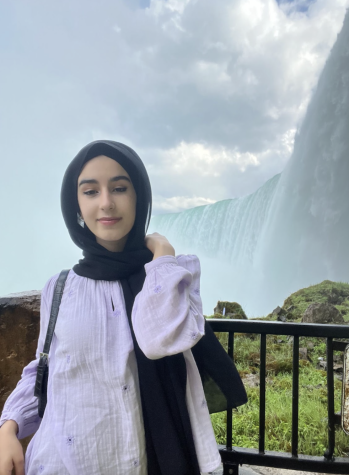 She also added that when those deeper discussions take place, they can be a successful accessory to a combined class. "There is a deeper level of conversation that may or may not happen in the class."
Saba agreed, "HAPs were very helpful to me this year because they offered a space where CbC students could expand on the ideas and topics that we discussed in class."
Ms. Kelley added that class and HAP discussions shouldn't be the only benchmark for deeper learning. "I would also encourage students to think that discussion isn't the only thing," she said. The history department wanted to find a way to access students who have a harder time participating in discussions. "It's also about introducing a different kind of model of engagement and allowing for a more diverse variety of students to feel like they have a place [for advanced learning]," Ms. Kelley added.
An unnamed 10th grader saw a different problem with the combined class. She chose not to take the "Challenge by Choice" track when the time came to pick in November. "I think the class is really flawed," she said. "They're still figuring it out. For example, CbC kids have to do different readings. And so they'll have conversations in class discussing different sources. And so they'll talk about that and have an entire conversation about a source that other people didn't get to read. So they don't get included in that conversation."
The same sophomore also commented that her issue with the class wasn't necessarily with the depth, but rather with the logistics and lack of clarity when introducing a more advanced track. "I do regret [not taking CbC] because now, with basically all of my assignments, I've ended up reaching the CbC requirements, just because it's not very different. Like it's getting one more primary source or doing the bibliography. And I'll do that not knowing that I wasn't supposed to," she said.
Despite student concerns, Ms. Kelley said that although certain parts of the class may change over the years, she doesn't foresee any significant changes. "We might tweak the way that we do the self assessments, we might tweak the order of things…we don't really know, that's a very preliminary conversation."
So far, the process for student feedback has been an informal process—taking place in conversations with teachers outside of class.
However, Ms. Kelley said that the history department is interested in hearing students' thoughts. "We'll be sending out surveys at the end of the year. We want to make things work as best as we can for people. And we really value people's experiences."
World Languages and Cultures: "Identity, Borders, and Revolutions: Advanced Cultural Studies in Spanish" and "Latin IV Vergil: From the Underworld to Olympus" 
The new advanced Spanish course, "Identity, Borders, and Revolutions: Advanced Cultural Studies in Spanish," replaced the AP Spanish course. The course explores various historical and contemporary issues through film and media from the Spanish-speaking world.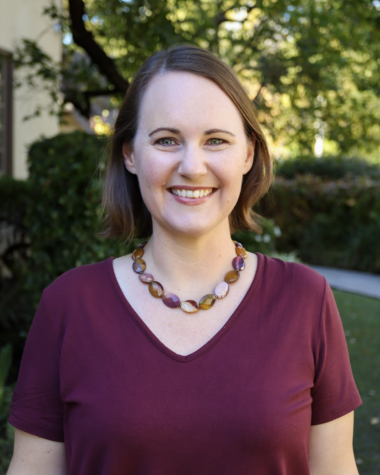 Dr. Victoria Garrett, who taught both AP Spanish and the new Advanced Courses reflected that the main purpose of the AP curriculum felt like, "how can you show your skills in this test format…that is something that I felt was like the antithesis of deeper learning and really thinking about the things or themes that matter."
Garrett felt as though the new class reached beyond the AP course and took on a higher level of learning. She articulated that the course felt comparable, if not more advanced than college level courses she had seen. "I took this class as an opportunity to bridge my former life as a college professor—my former teaching, topics, and courses I had designed for college, and adapt and adjust. And so I got to kind of compare my previous experiences teaching some of the same material. Westridge students hit it out of the park. This was beyond what I had seen in college."
Maya C. '24, who took AP Spanish last year and is currently a student in Advanced Cultural Studies, agreed that the Advanced Course has a deeper level of learning. "I think the new advanced course goes much deeper into all areas of Spanish as a class. Through the viewing of different Latin American movies and discussions surrounding those, we (the class) are exposed to different types of Spanish as well as a greater vocabulary in comparison to the AP where our vocabulary was limited to what was required for the exam," she said.
"The same goes for culture because as opposed to the AP where the curriculum was limited to very particular aspects of Latin American culture, in the new advanced class, we explore an array of different Latin American cultures including the histories and social issues that are present in those," Maya continued.
Though the course seemed to be overall successful this year, Dr. Garrett commented that she is always looking for ways to improve the course and learn from previous years. With the absence of a standardized test, she felt as though some students lost a sense of accountability during class.
"One thing that I want to improve upon is more structure. This past year was kind of, 'Let's just see what happens.' Now I think that providing a little bit more structure, some guided questions…It's easy to only half listen. There's no, 'Do I need to know this for the test?'" Dr. Garrett said.
Even so, Garrett concluded that the new course addressed integral parts of deeper learning: analyzing and making connections. "I think it's really important to have moments where you synthesize and see where connections and ties are. I think that's a part of deeper learning: that reflection and synthesizing and making connections. This class really lends itself to that in that way."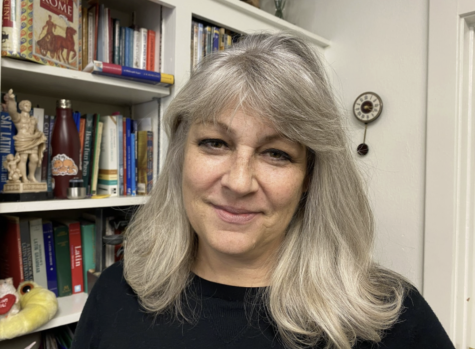 Another new Advanced Course this year, "Latin IV Vergil: From the Underworld to Olympus," replaced AP Latin. Dr. Hillary Malspeis, Latin Teacher, commented that rather than covering more information, the new course takes "a long, slow, deep look into it."
"We're able to look at parts of the Aeneid, slow down and look at the grammar. We can look at rhetorical devices…In the AP syllabus, we would have had to zoom through so much, and not really get to just soak it in and enjoy it," she said.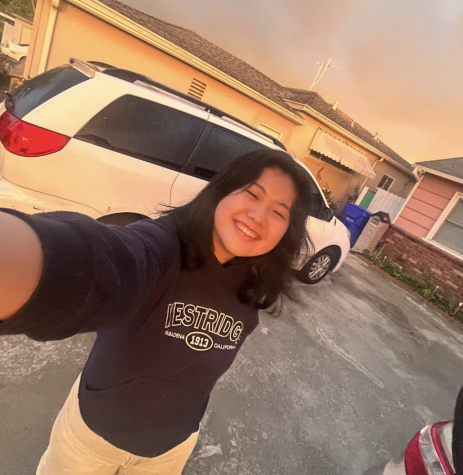 Sofie W. '24 agreed that the new advanced course allowed students to take a slower, deeper approach to learning.
"The workload is still pretty intense, but we're really getting into art and cultural aspects of what we're learning. That's why I took Latin, to take in not just the language, but the culture," she said.
Malspeis reflected that deeper learning comes from engagement and excitement for a certain topic. "Deeper learning to me is to know something to the point where you can't just spit back something on the test, but where you can talk about something and look for the joy that you have in learning something…You learn so much here, and you will learn so much in college. If you can walk away from that experience, and at least have something you felt passionate about, to me, that's deeper learning."
"What I think deeper learning is doing something not because you have to, but because you want to, because you want to really understand," she continued.
Computer Science and Engineering: "Full Stack Web Development"
The final Advanced Course added this year is called "Full Stack Web Development." The course, taught by Daniel Calmeyer, asks students to produce a website or app for someone in the community that solves a problem.
This year, students created websites that organized glazes for the ceramics studio and World War II simulators for History classes.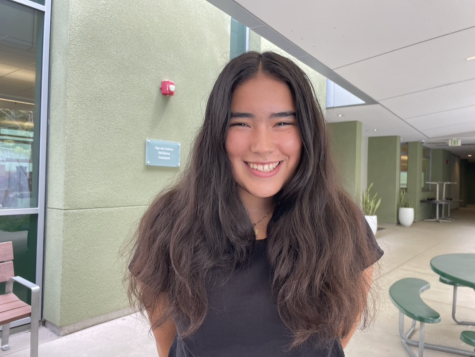 "What makes it more advanced is the level of both creativity and kind of ownership that the students have over their own work," Calmeyer said.
Isabella V. '24 said, "This year, we've just been able to go as far as we want, and figure out what actually interests us in Full Stack. It's been really good not having to worry about teaching for the [AP] test and having to cover a certain curriculum to get a five."
"I think it works really well with students who are interested in the subjects that they're taking classes in," she continued.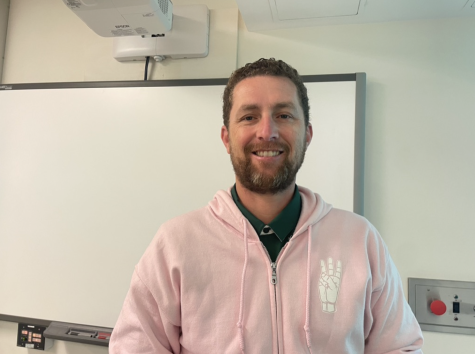 Calmeyer added that the pacing of the course could change slightly in following years. While he was generally happy with the progression thus far, he added that by nature of a first-year course, there is always something to be improved.
"So like any first year course, it's not really a disappointment. It's more just like a learning opportunity for the next time around or just figuring out how fast to go. I really relied on [students'] feedback for a lot of things," he said.
Calmeyer considered that deeper learning in Computer Science came from the ability to create a product that would generate meaningful change. "For me, deeper learning is not only being able to replicate something that you see, but to be able to internalize it to a level that you can then extend it to something that matters to you."
"And I think that's really the difference between education and learning, right? With education, it asks if you can regurgitate facts and figures. Can you pass a test, that sort of thing? And learning is actively engaging. I think we were pretty successful with that in Full Stack this year," he said.
Moving Forward
Mr. Evans said that in the forthcoming months and years, student perspectives will be taken into consideration to ensure that the courses are living up to their goal of deeper learning."It's a learning curve…Teaching is responsive learning, and it depends on who the students are, how they're showing up, as well as what we design for them. Because if we just design something, and it isn't engaging with the students, then I don't think we're necessarily delivering on that promise…The lived experience of the students is one of the most important parameters."
Evans hopes to have more opportunities to meet with students during lunch to learn more about their academic experiences. He emphasized that courses and curricula are constantly evolving entities. He said, "​​I think that in generating our own courses, we're drafting different responses and growing to be responsive to the students and to the world as it's changing…I don't think that the curriculum is ever set. I think it's in motion."
For Further Reading: 
Leave a Comment
About the Contributors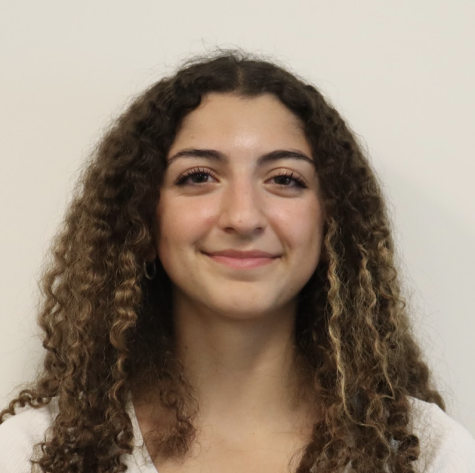 Daria H., Editor
Daria is a junior. This is her third year on Spyglass and second as an editor. Outside of Spyglass, you can find her reading, studying in coffee shops,...
Cyana L., Design Team
Cyana is a junior and is new to Spyglass Design. She is super excited to work with everyone and hopes to explore different art forms through her work with...