Teia L. '26 Breaks School Record in Pole Vault, Wins Prep League
"When you do it, right, it's such a fun feeling because you feel like you're flying," said freshman Teia L. about pole vaulting.
On April 15, Teia L. '26 broke a 2006 Westridge record after she pole vaulted a whopping 8′. Just a few days later, on April 25, at Prep League Finals, she beat her own record by reaching an outstanding 8'9". That mark captured her the league title, advancing her to CIF competition. At CIF Finals, she once again broke a school record, vaulting an impressive 9'9," placing her 4th in CIF's Division 4. Her record and Prep League championship have garnered her attention and praise from the Westridge community and beyond.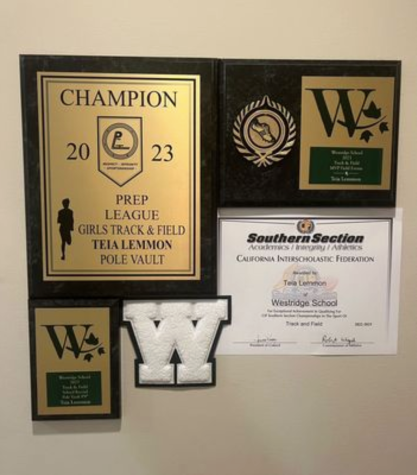 Despite these record-breaking pole vault stats, Teia originally joined Westridge's track and field team to participate in high jump and long jump. But, when the former gymnast learned that Westridge would be offering pole vaulting, she gave it a shot. 
After realizing her potential at the second meet of the season, Teia began to take pole vaulting a little more seriously by setting goals for herself and pushing herself as much as possible. Teia remarked, "I was like, 'Oh, I'm kind of good at this,' maybe I should take it a little more seriously. When I ended up doing that, personal records just came."
Coach Tamara Shahar Jaffe '08, Dean of Lower and Middle School Student Voices, has worked with Teia in several capacities since she was in 5th grade. Ms. Jaffe emphasized Teia's hard-working nature as a catapult for her success. "I think a lot of it comes from her never being satisfied with any performance, whether it's record-breaking or not. I think that work ethic is really going to help her do some really big things and I'm excited to be a part of that." 
Westridge's pole vaulting coach, Reuben Chavira, expressed a similar sentiment. "She's a worker. If you tell her she can't do something, she's gonna do it. So [her] feeling like pole vault was hard at the beginning just made her want it even more.  Every time she got closer and closer to the school record, you could see her getting more and more motivated and excited," he said.
"

She's excited about what she's doing. And that's why she's becoming great.

— Coach Reuban Chavira
After an unprecedented freshman season, Teia L. is not done. With the 2022-2023 track and field season ending, she has taken up pole vaulting outside of school. She may attend some meets in the summer to continue to improve. With one season down, and three to go, there is certainly more greatness in Teia's future. 
She continues to be motivated by breaking records, whether they be personal records or school records. "I always want to do better than the last time. I know that that's not going to happen every single time, but it's just a good motivator," said Teia.
Leave a Comment
About the Contributor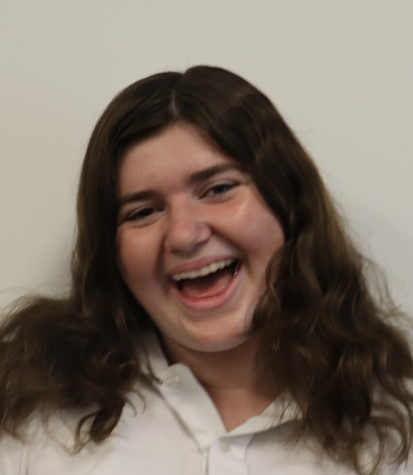 Ella B., Editor
Ella is in her fourth year writing for Spyglass, first year as an editor, and her second year developing Spyglass' social media presence. When she is not...