I was Lost on a Bus for Three Hours and I'm Glad it Happened
When the eighth grade left school at 9:00 a.m. heading towards the Santa Clarita mountains, our plan was to spend an hour on the bus before arriving at Tree People, an organization committed to improving the urban environment. The goal was to plant trees as part of our Discovery Week unit on climate change.
After forty minutes, our bus turned around and began heading in the direction from which we came. We ignored it the first time, too caught up in conversation to really care, but then it happened again. "Didn't we just drive by here?" I thought. As if on cue, the entire back of the bus rose in volume. "Where are we GOING?" someone blurted out.
A few minutes later, the bus turned around again. Our chaperones, Ms. Irish, Mrs. Ramirez, and Mr. Koch, all Middle School teachers, looked equally confused. Ms. Irish finally explained that she didn't have the precise location of the Tree People. By this time, we were far from cell service, and she couldn't get in contact with the organization. At some point, a message from teacher to student was passed to the back of the bus: "They're thinking of going to a park and eating lunch there if we can't find them," an 8th grade student yelled. I knew that meant that I wouldn't be eating lunch for a while, so I reached for the grapes in my lunch pack to quiet the rumblings of my stomach.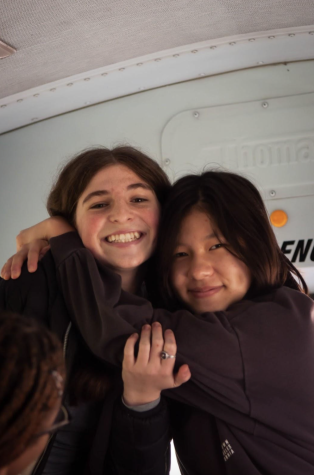 When the bus pulled over next to a Starbucks, we all jokingly begged to go inside and get lunch, but it really was just so Ms. Irish could get a signal and call the organization. Now two hours into the drive, I looked out the window and recognized the bright green round mountains. I had the whole route memorized already; the smell of fresh rain from the morning felt peaceful.
With no wifi, no one was playing any games or scrolling Instagram to pass the time. I looked to my right and saw my friends, Nia H. '27 and Izzie B. '27, singing along to their favorite Lana del Rey songs. Across from them was another pair of friends, Noelle S. '27 and Frances B. '27 played Chopsticks, a hand game, with each other. Laughter, singing, and chatter filled the bus.
Eventually, I gave up trying to save my lunch for later and continued eating my crackers and grapes. I even shared my leftovers with friends. At that point, Ms. Irish and Mr. Koch had stopped the bus to ask some local road workers for directions.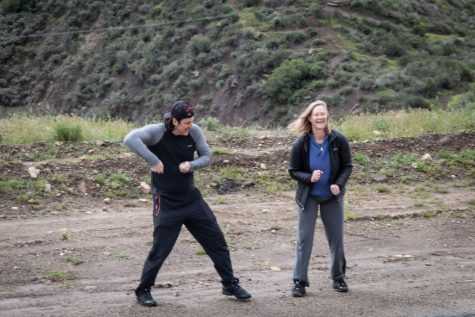 "It was funny watching Mr. Koch run," Makayla J. '27, said. Everyone rushed to the left side of the bus sticking their heads out the window laughing at how ridiculous this whole trip had become. Finally, Mr. Koch and Mrs. Irish returned and put their hands together mimicking the motions of digging with a shovel to communicate that we were going to end up planting trees.
Even though I was glad to finally stretch my legs, part of me wished the ride would last a little longer. We walked out of the bus into a secluded area. The counselors from Tree People had prepared the supplies and met us with full smiles. I saw my friend, Katie L. '27 taking photos with her professional camera of my friend, Shania W. '27, who posed with the mountains in the background. 
We were immediately separated into small groups and were given shovels, gloves, and a clipping of a tree that had a root.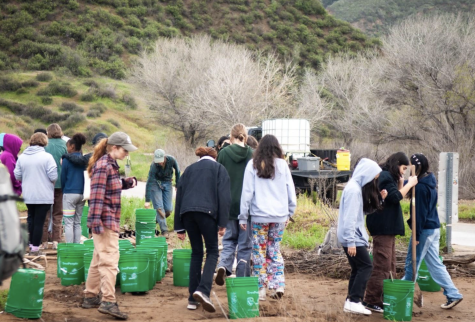 Each group planted one, some even two, trees, but after one, I already felt exhausted. Digging the hole and filling it back in with dirt drained all my energy. If planting one tree was tiring, I couldn't have imagined having to do that for the several hours originally planned. Maybe the lengthy ride was a double blessing. Our time with Tree People was cut down to only 45 minutes before we had to head back to the bus for our return trip to campus.
On the way back, the bus was much quieter. There was not much singing or talking. Most people were laying down with their eyes shut, curled up as best they could in the bus seats. I started to feel a little sleepy too. 
On the bus ride back, students were tired from their hard work and fell asleep. (Gia M. '27)
When I woke up, we were parking on
State Street. The one hour drive back to campus felt remarkably quick. Despite the roundabout route, it was meaningful and certainly memorable, especially when I think about all my classmates who won't be returning next year. "Overall it was a fun experience, and I definitely will remember it for a while," Avin M. '27 said.
"We got outdoors for a little bit, so it wasn't just a long bus ride," Mrs. Irish said.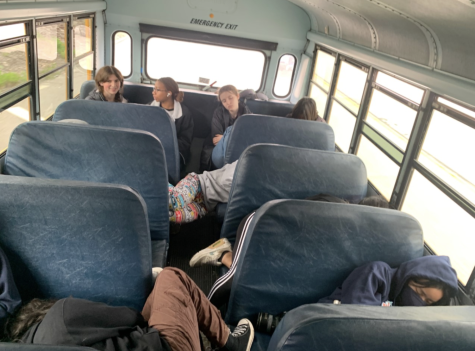 "One of the things that was so great was that the students were really positive and upbeat and flexible about our lengthy bus ride. They really made the best of it and bonded with their friends," Mrs. Ramirez said.
My classmates made it one of my favorite moments of my 8th grade year. I was being squeezed by my favorite people, including the ones that would be leaving next year. I looked around realizing that these were going to be one of the last memorable moments of my 8th grade life. After all, I only have two months left until I have to say goodbye and move on to highschool, which sounds scary just typing it.
Even if it wasn't part of the plan, I'm so grateful that our extended detour happened. It was one of the best ways I could have ended my Discovery Week—bonding with my friends.
View Comments (2)