Alumnae Weekend Gave Me All The Westridge Feels
I'm confident that most Westridge students cramming for quizzes in their bedrooms or binging Netflix with friends on the drizzly morning of Saturday, March 11 weren't aware that the campus buzzed with generations of former students. I, however, had the privilege to attend Alumnae Weekend as both a Spyglass reporter and as an interviewer for 2023's two Distinguished Alumnae Speakers. Between the speeches and finger food, the event was a serendipitous reminder that Westridge is an incredibly cool place to go to school. 
On Friday, Distinguished Young Alumna Award recipient Sarah Beshir came to campus to talk to students about her career. In her thirteen years since graduating, Beshir has forged a Life of Impact (as the Westridge promotional posters would say) as a systems engineer and social justice advocate. She spoke with current Westridge affinity heads during lunch and discussed her career with the Middle and Upper School during an assembly which included Q&A from the audience.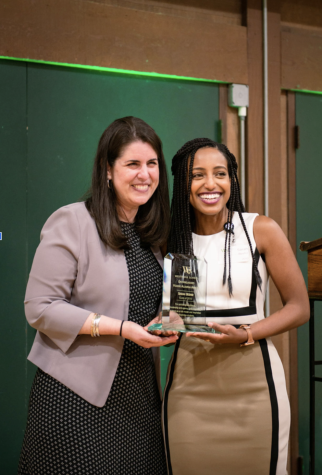 Alumnae Weekend officially kicked off that evening when a small, but enthusiastic, semicircle of former students gathered in Braun for "Coffee and Cookies" with Head of School Andrea Kassar. They shared Westridge memories and life experiences and listened to updates on the school.
Ms. Kassar immediately crushed my journalistic integrity by inviting me into the conversation; it opened the door for the alumnae to grill me about my own experience as a student in 2023. But that was okay, because in exchange I got to enjoy the fun catered snacks (despite the advertising, tea sandwiches were served) and talk in detail with former students about their lives on and off the Westridge campus.  
It was fascinating to hear about how Westridge has evolved over the years. One member of the class of 1994 scanned her eyes over Braun's intricate woodwork, noting fond memories of Westridge productions in "this theater." Another student, who graduated in 1973, recalled Braun with an equal fondness—but as a gym and a gathering space for morning assemblies. 
Alumnae young and old effused warm memories of Convocation day white uniform mishaps, Greek and Roman competitions, camaraderie on sports teams, and intense workloads. They all loved Westridge with a spirit that felt like a warm hug from the 2017–2018 school year's fuzzy sloth mascot. Many of them confirmed their devotion to the school when they noted that they were Westridge parents as well as graduates.
Though the alumnae spanned decades of change, one common sentiment was repeated throughout the event. From a current college student whose Westridge graduation I watched on Zoom, to a silver-haired member of the class of '73 who traveled the world working for the UN, everyone lauded Westridge's ability to successfully prepare students for life in the real world.
"After my Westridge English classes, college was so easy!" became, basically, the anthem of the weekend.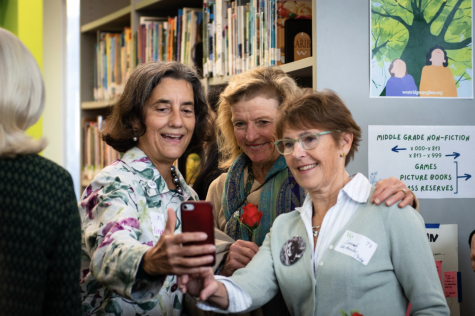 Another major takeaway was how Westridge built students a basis for gender equality as a right and expectation. 
Many of the alumnae—even, and especially, the older ones—surprised me by expressing their interest and concern over the school's recent and increasing DEIJ (Diversity, Equity, Inclusion, and Justice) efforts. They acknowledged, often very genuinely, a need to support students in the minority—a conversation that hadn't even been on the table during their time at Westridge. At the same time, they described Westridge as a community so warm and welcoming that, as students, diversity was so widely accepted that acknowledging it was practically superfluous. 
One alumna commented that serving in student government at an all-girls school taught her to speak her mind without fear. Thanks to Westridge, she was accustomed to women having a seat at the table; respect and equal dignity in a room full of men was a demand, not a privilege or a challenge like it was for many other female peers in college. 
On Friday afternoon, one alumna used the word "trajectory" to describe the way Westridge so successfully prepares students for life beyond high school. Ms. Kassar caught wind and brought up the term again and again throughout the weekend. She used it during Saturday morning's chat with Madeline Society Members (alumnae who have written Westridge into their wills) and during one of her speeches at the Alumnae Luncheon. The three-course lunch honored 2023's Distinguished Alumnae. Westridge's Glee club performed before Ms. Beshir and Thembisa Mshaka, '88 graduate, creative professional, activist, and winner of the 2023 Mary Lowther Ranney Distinguished Alumna Award, spoke about their careers and contributions.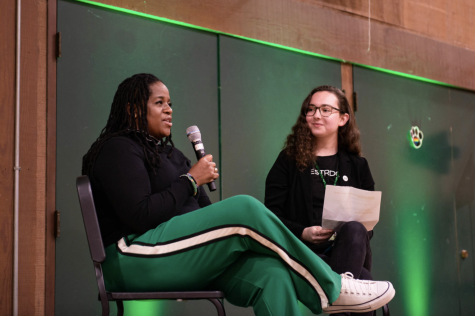 Over the past few years, we've been consumed by big worldly concerns like pandemic and racial reckoning and political instability in the United States and abroad. As a result, many on-campus conversations—often necessarily—have become opportunities to process the stressors and complexities of life-returning-to-normal in 2023. As a side effect of all the seriousness, many of the joys and silly time-honored traditions (All School Day, the Junior Ring ceremony, Greek and-Roman competition, etc.) of Westridge life have gone overlooked and undervalued. 
I regularly see students ditch all-school spirit assemblies, sports games, and concerts to panic-study in the weight room or sleep in the library. They comment that it's not worth the time or emotional investment. Absorbed in the daily grind of academic hoop-jumping, it's easy to take it all for granted. Hearing stories of joy and gratitude during Alumnae Weekend was a welcome and much-needed reminder of just what a unique and special place Westridge is. It's easy to forget that the real world is much bigger—and, culturally, very different—than our little East Coast Liberal Arts College of an LA high school. Alumnae's glowing reviews of the Westridge community and education, the school's uniqueness, and its invaluable long-term impact were inspirational. They filled me with a renewed enthusiasm for what makes our school special—and with optimism about my own life as a future Westridge graduate. 
As we fixed our hair on her selfie camera before going up on stage together, Ms. Beshir turned to me and said, "I think I want to have kids just so I can spend more time at Westridge."
Leave a Comment
About the Contributor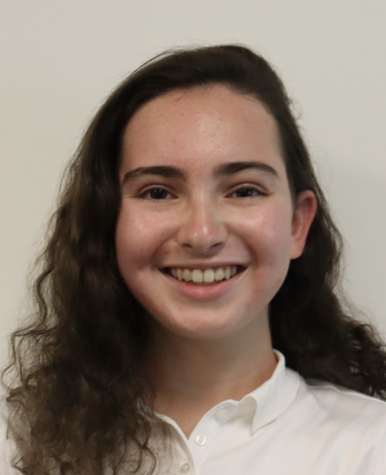 Ilena M., Editor in Chief
Ilena is the Editor-in-Chief of Spyglass. She's passionate about stories-- especially histories-- good snacks, and bad puns. Ilena is a junior and she's...