Humans of Westridge: Meet Star Violinist Isla R. '25
Imagine this: It's 5:30 a.m. and your alarm clock rings. The sun is still down, but you stand up, still half-asleep, to get ready for the day. Throwing on your school clothes, you quickly grab your violin from the corner of your room and practice your chamber orchestra's newest song for the following hour. While finishing up the last couple minutes of practice, you see the sun slowly starting to rise. By 7:00 a.m., you're in the car, heading to school, still groggy. You walk onto campus, ready for another day. After seven long hours of school, your mom picks you up and drops you off at Colburn School, a private music school in LA, where you receive lessons with an instructor and rehearse for an upcoming performance for the rest of the evening. It's 10:00 p.m. by the time you arrive home. After another hour of practice in your room, you attempt some homework, still exhausted from your busy day. Then you wake up and do it all over again. While this Herculean schedule might seem impossible to the rest of us mere mortals, this is Isla R. '25's daily routine. 
"It's a really great consistency through my life," said Isla when I asked about her rigorous routine. Her commitment to practicing for hours every day is evidently what made her the musician she is today. 
Isla has been playing the violin for 12 years. Her journey as a musician started in the halls of Pasadena Community College. Coincidently, her first teacher was Ms. Madeleine Eaton, who would eventually become her Lower School strings teacher at Westridge.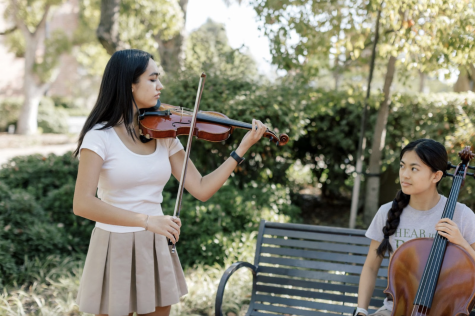 Isla's love for the violin first began after watching an episode of Sesame Street, where Elmo learns how to play the violin. The episode shows children of all ages and levels playing the violin and even includes a lesson on how to hold the instrument itself. The 18:00-minute episode inspired Isla, and that moment was her first exposure to the music world. She began taking lessons immediately after. Her violin instructors quickly discovered her aptitude for music and helped her become the talented musician she is today.
Even as a Lower Schooler at Westridge, Isla has played an important role in the chamber orchestra. She went from teaching her fellow fifth graders Twinkle, Twinkle Little Star to performing challenging pieces on stage in front of the entire Upper School. Now, as the first-chair violinist for Westridge's Chamber Orchestra, she leads the chamber group alongside Jessica W. '23.
In addition to her involvement with the chamber orchestra, Isla also excels in competitions all over the world. She has performed at and won numerous strings and music festivals both locally and internationally in France, Germany, and Switzerland. She has also competed in the prestigious Cremona International Music Festival in Italy, where she has won five times. She also performed at Carnegie Hall. 
"
Whenever there are changes [in my life] I know it's always a constant."
— Isla R. '25
Whether she's playing alongside Westridge's chamber orchestra or attending private lessons in a suffocatingly small room, Isla is constantly working to improve her skills. She also volunteers for a program called Love in Music, where she teaches younger children how to play an instrument. "I think it's really fun to work with little kids, and it's something that I enjoy." 
Although Isla's love and commitment to playing the violin remained relatively constant over the years, she has struggled with motivation to practice at times. "I do get a little bored of it [playing the violin] sometimes, and there are definitely periods, especially through the pandemic, when I was like 12 or 13, where I was like 'I can't with this.'" Her resilience has shone through, and she has continued to develop her talent. "I have definitely come to love it, and it's like one of my main passions."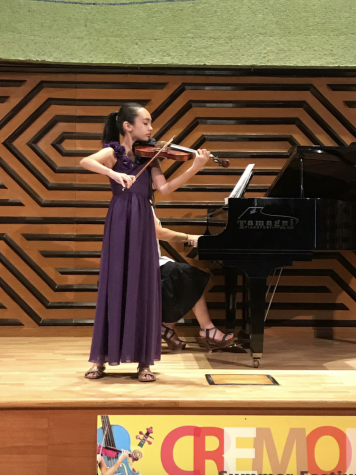 When asked about the countless hours she spends practicing and rehearsing, she said, "I love [playing the violin] so much. I know, especially in my earlier years, that there was a lot of stuff I missed out on, in elementary and middle school, but I don't think I would necessarily change that especially because I wouldn't be at the level I am at now." 
One of her most recent performances was at Zipper Hall at Colburn School, and it was her final level and graduation performance.
Spyglass asked Isla some fun questions to get to know her better: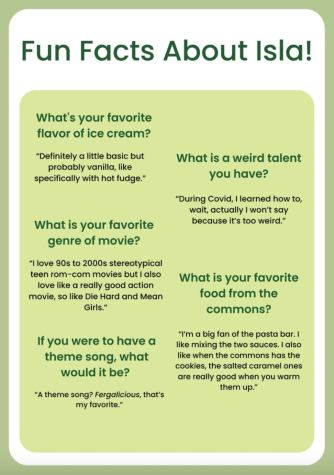 View Comments (1)