A Wild Westridge Goose Chase – Canada Geese Claim Campus
Lily Shang, Westridge's Upper and Middle School Chinese teacher, chuckles as she shuts the door of room PA2 to silence the noise from outside. For the past few weeks, Westridge's two unnamed visitors have been flapping and honking around campus like they own the place. These days, shutting the door to quiet the rowdy geese has become quite a common thing.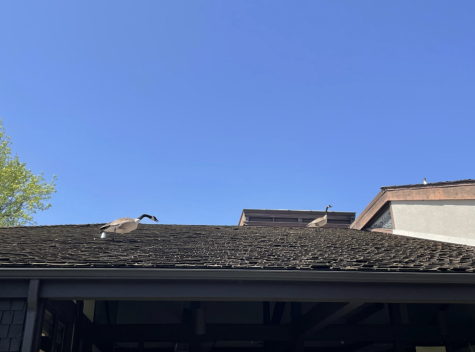 The geese have mostly been spotted on the South side of campus, where the Lower and Middle school is located, leaving much of Upper School oblivious to their existence. Still, most students and faculty have either heard them, or heard of them. Some of the geese's favorite spots to reside have been on top of the ceramics studio, MUDD, and on Frank Field.
Canada geese can be found in California all year long, but are only now arriving to Westridge. To some Westridge students, the geese have become annoying and even scary to see and hear around campus. But others find our visitors a beautiful addition to the Westridge community. "I love to see animals on campus. I think it's really unique that we have the two geese that have kind of claimed Westridge as their territory… It's a reminder that we are part of nature, and they are part of nature, so we can all coexist and share," Ms. Shang said.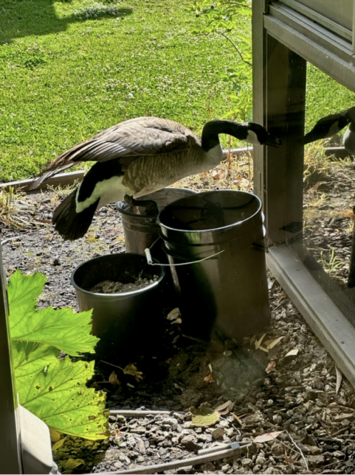 Because Canada geese may honk to ward off potential threats or create territorial boundaries, in a school environment, the geese can also become an unwelcome distraction. Dorothy M. '29 slowly backed up as she hesitantly said, "I don't like the geese. They're annoying."
Izzy C. '23 expressed similar thoughts. "I don't like the geese. They have a bad vibe," they said while shaking their head in thought of the Canada Geese.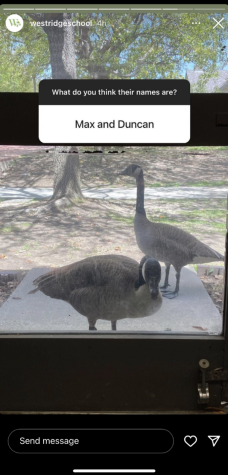 However, most students expressed that they can appreciate the geese if they stay away, but not when they're up close and loudly honking. "I'm terrified of geese because of their sharp fangs. If they're at a distance I'll vibe with them, though," Micaela R. '26 said.
Recently, Westridge's Instagram page posted a story question about the geese, asking, "What do you think their names are?" A variety of funny responses came flooding in including: Ed and Harrison, Max and Duncan, Taylor and Swift, and Marcus and Anthony. Though some students may not be the geese's biggest fans, they certainly enjoyed naming them.
You can love the geese, or you can hate their vibe, but it may be time to accept our visitors for who they are—tongues, fangs, and all. "The geese are just silly little guys, and they're amazing!" Lily N. '26 said. "We have to respect them because they chose to be here. We have to provide a balanced environment not only for us, but also for the cute animals," Ms. Shang said.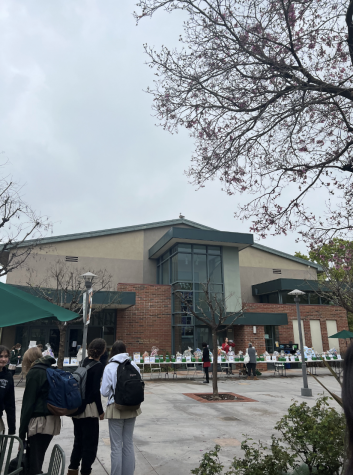 Leave a Comment
About the Contributors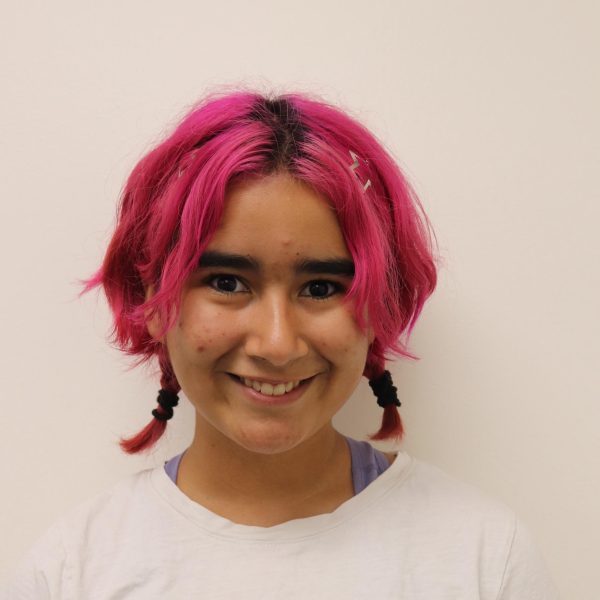 Valentina V., Editor
Valentina is a Sophomore in her second year writing for Spyglass and her first year as an editor. When not writing Spyglass articles about dolls, theatre,...