PROFILE: Coach Melanie Horn, Twenty-Five Years at Westridge
When I asked Coach Melanie Horn "What is a real coach?", she slowly leaned back into her black rolling office chair, paused for a moment, and then responded, "Even though your team doesn't get a victory out of a game, the best coaches will always try to make their athletes whole again and never let a single player feel less than." 
The desire to reach every player has characterized Coach Horn's 25-year tenure at Westridge.  As the Director of Athletics, Coach Horn has inspired many coaches at Westridge with her teaching philosophy.
"
I would say 'perseverance' [contributed to] the length of my tenure, yet in truth I think it's my appreciation and admiration of what Westridge does for its students."
— Coach Melanie Horn
"She really loves what she does, especially when coaching our basketball games," remarked Coach Allison Clark, an alumna and a member of the Physical Education Faculty. "She really drove me to become a coach that really motivates students to do their best. I would see her always trying to make up great offensive plays. She knows every game very well and also has a way of using words to motivate and drive us to do our greatest and best in our games."
Not only does Coach Horn influence and embolden coaches, but she also respects the students. If a game is lost, instead of giving feelings of guilt to the players, Coach Horn motivates them and turns their mistakes into goals. "Coach Horn can really see the players level to level, eye to eye, and player to coach, so she thoroughly understands the actions done on the court," said Coach Edwin Scott, another PE faculty member.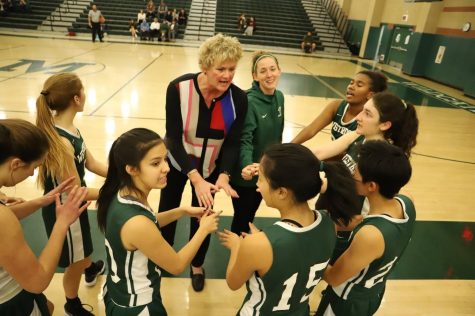 "She values team and personal growth over records," says Cassandra K. '21, a varsity basketball player. "Even if we make the simplest mistakes, she's patient and teaches with full optimism and encouragement."
Prior to her role as Director of Athletics, Coach Horn started in 1995 as a physical education teacher for four years and later as the Interim Academic Dean of Upper School, where she supervised APs, carried out much academic counseling, and ran grade-level meetings. 
At the same time, she was working for her administrative credential at UC Irvine, which was a natural transition into the full-time position of Academic Dean. Initially, Coach Horn focused on Westridge's academic program more than its athletics until the position of Director of Athletics was introduced by Fran Scoble, the Head of School at the time. 
"I remember going out to dinner with the Head of School, Fran Scoble, and we were talking about who was qualified for the position of Director of Athletics. During the talk, I was like, 'It's me,'" Horn cheerfully described. "I've come with a huge athletic background, even though I was doing academic things for awhile. After the dinner, I thought about it a little bit, and I decided, 'Let's do it!'"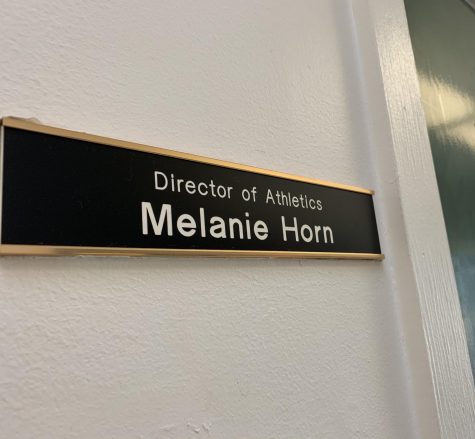 The transition from academic dean to athletic coach was smooth since Horn had a huge background in collegiate sports and coaching. "With a Master's in Sport Psychology as well, the transition was trouble-free. Since I never lost my name as 'Coach Horn' and never lost sports, the switch was easy," said Horn. 
In athletics, one coaching challenge is keeping a positive experience for the students when things do not go their way. "With playing time often being the barometer of success, it is difficult to always have students appreciate being a part of something greater than themselves even when their contributions are less than what they would like to be." 
Throughout her 25 years at Westridge, one of Coach Horn's proudest accomplishments is being an honorable part of the huge athletic successes in Westridge such as CIF-SS playoffs, CIF Finals and CIF State appearances. "The two CIF-SS Championships (Volleyball 2006, Tennis 2019) were also beyond epic!" exclaimed Coach Horn. "That said, the day-to-day accomplishments of our athletes, their commitment and dedication, and the progress they make each season is truly the heart of the program."
Leave a Comment
About the Contributor
Hannah W., Staff Writer
Hannah is a senior staff writer in her fourth year in Spyglass. During her free time, she likes to watch the Dodgers, eat ice cream, and enjoy Tom Hanks...