Courage, Connection, and Comedy: Westridge Theater Presents Matilda the Musical
Clasping the playbill between my fingers, I ran out of the Ahmanson theater—where I watched my first production of Matilda the Musical—towards the merchandise booth. I walked out of the theater eight years ago with a purple shirt that read "Sometimes you have to be a little bit naughty." The shirt, now more lavender than purple, still sits in my closet even though it is three sizes too small. After the show, I went home and listened to the soundtrack over and over. By the end of that week I had memorized every line. I can still recite most of it to this day: "If it's not right, you have to put it right…Nobody but me is going to change my story." It was like a personal call to action.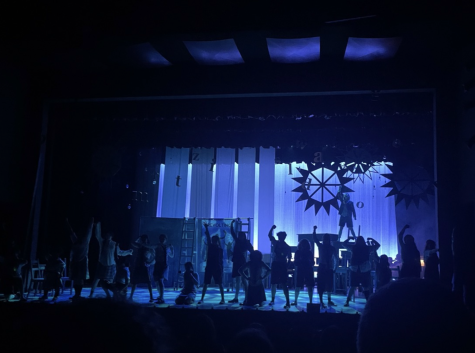 I'm not the only one who feels a strong connection to both the storyline and the production of Matilda the Musical. When it was announced as Westridge's spring musical, it was met with immediate excitement from students and faculty members who shared a connection to Matilda. Matilda the Musical sold out tickets on both Saturday and Sunday–earning its place as one of the most attended Westridge theater productions. 
Based on Roald Dahl's beloved book, Matilda, the musical features music and lyrics by Tim Minchin.
While Matilda is widely known as a book, movie, and musical, Brandon Kruhm, Director of the Theater department noted that for many, the strong connection with Matilda comes from its story rather than its popularity. He said, "Matilda starts out a story feeling powerless and finds power within herself. There's some quotes that really resonate with me: 'even if you're little you can do a lot.' Or 'if you're stuck in a story that you don't like, you can try to change it.' There's something so inspiring about this kid, really, all of these kids finding their own way to revolt against this broken system that they're living in."
Alex S. '24, a member of the Spyglass Design Team who played Matilda, agreed that acting it out on stage enhanced the message of resistance. "Being able to find that power to say no to authority figures and succeeding is so beautiful to see it. Even if it's like it is a script, it just still feels real," they said.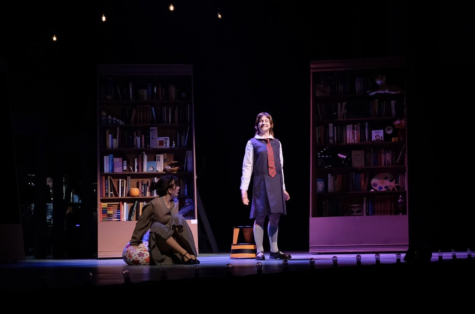 Izzy C. '23, the Assistant Director, also added that placing children at the center of the production also empowers the audience. She recalled watching Matilda the Musical for the first time. "There was something so magical… seeing the performances and especially a kid on stage, and feeling like, you can do anything. I think that's really the essence of not just theater, but Matilda in particular. The reason all children's stories have children at the center of it is because you need to see children represented," she said.
Izzy cited a quote from C.S. Lewis as representative of Matilda's battle against villains in her life. "Since it is so likely that children will meet cruel enemies, let them at least have heard of brave knights and heroic courage," wrote Lewis. In Matilda the Musical, children in the audience are not only able to see these heroes but see themselves in characters who resemble them: other children.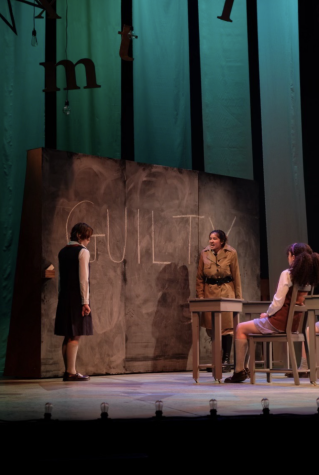 Most plays at Westridge are targeted towards older audiences, but with Matilda's focus on elementary school children, the Theater department and Theater Production class saw an opportunity to encourage lower schoolers at Westridge to watch the musical. They involved the library as a promotion targeted towards younger students in hopes of connecting the two divisions. The library now has two displays with book recommendations from the cast and books Matilda reads in the play. The team also placed a crochet Matilda doll, made by Mr. Kruhm's mom, and hid it in the library. Lower School students try to find it every day in exchange for a piece of candy.
Though Matilda depicts heavy topics such as emotional and physical abuse, it addresses them through the lens of humor—making it more accessible to young students. "Even in the darkest moments of this play, there's this underlying laugh…Some people think that it's handling a heavy subject matter carelessly, but I don't necessarily see it that way. I think that humor allows us to handle it. It allows us to face that thing," Mr. Kruhm said.
Although the musical was promoted to engage more lower schoolers, its lessons of heroism, bravery, and strength are universal. Cast member Maggie G. '23, said, "Throughout the show, you see both Matilda and Miss Honey, who I play, figuring out how to be brave at different points in their life, which I think is really important because it shows that it's never too late to learn how to be brave."
Leave a Comment
About the Contributor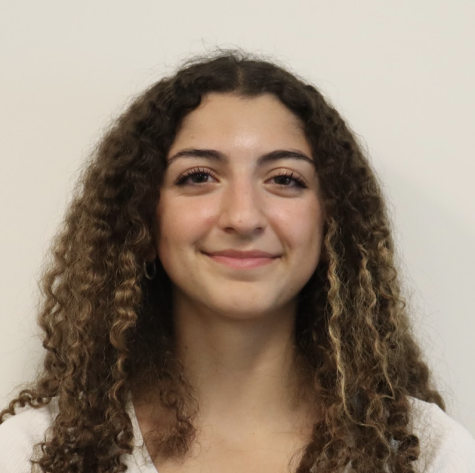 Daria H., Editor
Daria is a junior. This is her third year on Spyglass and second as an editor. Outside of Spyglass, you can find her reading, studying in coffee shops,...