Westridge Theater Students Find Camaraderie in the Costume Shop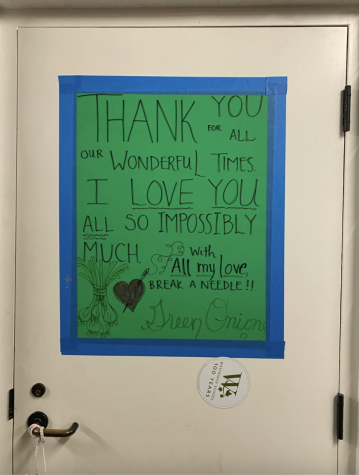 Deep in the heart of PAC, in the back room of the costume shop, a kelly green sign on the door of the storage closet reads, "Thank you for all our wonderful times, I love you all so impossibly much. With all my love, BREAK A NEEDLE!!" The note is signed by "Green Onion." Nobody in the current  costume shop, besides Costume Designer Ms. Io Hawk, could tell you where it comes from. 
"Green Onion," an affectionate nickname given to a former costume crew member over a decade ago during a summer working on a theater production, represents the type of friendship that forms after aiding in production after production throughout high school.
The costume shop and those who work in it have created a vibrant creative community. Over the course of a production, costume shop members spend hours working side by side. In doing so, they form rich bonds with inside jokes and shared memories. While there is a costume design class and a costume construction class, you don't have to have any prior experience to join; everyone is there simply because they want to be.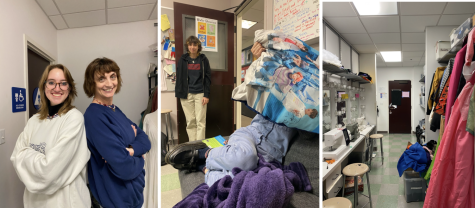 Longtime Westridge theater community member and former costume designer Izzy C. '23, who frequently haunts the costume shop couch, described costume shop culture. "There's a unique sort of folklore about the people who get mentioned again and again and again," Izzy said. That folklore only grows as every class adds its own layer or embellishment.
Another big part of the costume shop culture are the aprons crew members don at the beginning of tech week and barely take off until the closing night. The aprons are handed down from costume crew to costume crew and have been used for decades. They are a tactile connection to the costumes crews of yore, adorned in sharpie doodles and jokes that are no longer remembered. "Everything in here you're seeing is like old inside jokes and things that don't make sense anymore and people we don't recognize anymore," Izzy said. "It's a constantly changing, constantly evolving time capsule."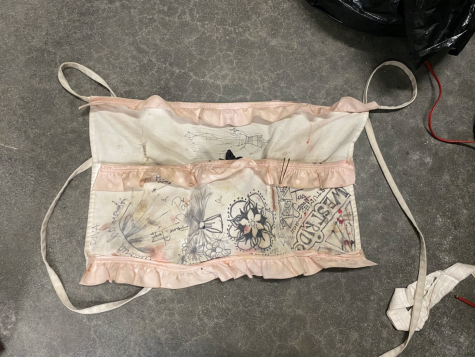 Jazz D. '23 has been part of the costume crew since she started Westridge in 9th grade. She originally auditioned for the fall play but ended up falling in love with the costume shop. Entering Westridge at the beginning of high school, Jazz didn't know anyone and looked to theater as a way to get to know people. "I did not have any friends before I got to school and so I wanted to get into theater to foster a community," Jazz said.
This by no means makes the costume crew an exclusive society. Talia G. '23, a member of the tech crew, explained, "I am always here [in the costume shop]. It's just a really welcoming environment." Although she has never officially been a part of the costume crew, she added, "I think I really am here to organize when I get stressed out. And I think it is a great outlet to come and talk to Ms. Hawk and laugh and have a lot of fun looking at clothes and shoes."
Most graduates of the Westridge theater department fondly remember their time in the costume shop. Ms. Tamara Jaffe, a Westridge theater alum and the current Dean of Lower and Middle School Student Voices, remembers her first time in the costume shop during her sophomore year, while rehearsing for a show. Even now, as a Westridge faculty member, the costume shop has a special place in her heart. "This is one of my comfort zones on campus," Ms. Tam said.
The most integral members by far of the costume crew are the physical costumes. They represent the many generations of costume crews that have dedicated their time to the community. The costumes are important to the Westridge community not just because of their production value but because of their sentimental value. "For the most part [the costumes are] made here, and they have a lot of memories attached to them," Ms. Julia Davis, a theater teacher, said. "Even if it's from before my time I can feel the memories attached to them."
The community that forms in the costume shop is not limited to the students that are part of it but also includes the faculty members that care for the theater department. A typical lunch period includes Ms. Davis and other faculty members dropping by as well as a gaggle of different theater students. The costume shop provides a place to decompress and connect for the Westridge theater department. Without the costume shop to serve as a communal stomping ground, the different branches of theater would not have the same opportunities to create shared memories.
The entire theater department at Westridge is protective of the costume shop and looks to preserve the inviting environment so that future students can enjoy their time immersed in it. "I hope stories continue to be passed around the costume shop," Izzy wrote in one of her college essays, "becoming an ephemeral kind of folklore. Even as we grow up so fast, and my own stories fade with every new class of freshman, I hope the community I build and upheld will remain."
Leave a Comment
About the Contributor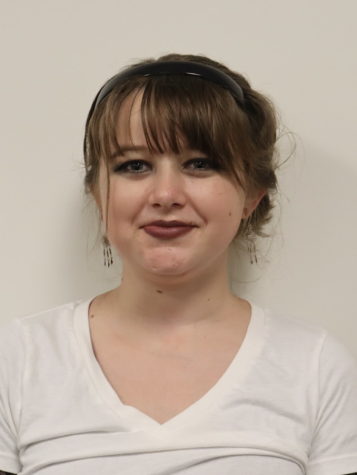 Sabina P., Staff Writer
Sabina is a junior and returns to Spyglass from her year long hiatus. She enjoys the opportunities spyglass gives her to connect and interact with the...