A New Shero for Pasadena: Nikki High Opens Octavia's Bookshelf
When Nikki High bought her five-year-old son a children's book called Learning to Swim in Swaziland, it was the first time she'd ever heard of "this tiny little landlocked country of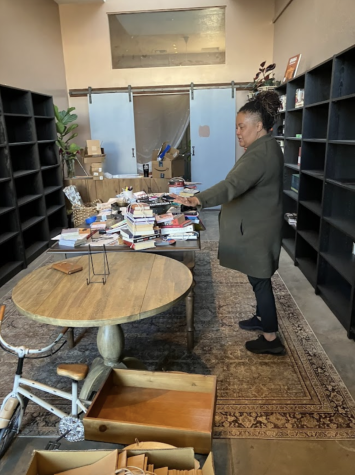 one and a half million people." The book filled High with curiosity about an unknown place. She decided that she'd travel there someday and, 25 years later, High—a dreamer with dauntless determination—finally did. 
"Reading has always brought me [to]…places I never thought I would go," High said. Most recently, High's passion for reading has brought her to 1326 North Hill Avenue in Pasadena, where she's busy buying merchandise and stocking the shelves in her new bookstore. Later this month, Octavia's Bookshelf—named for Pasadena native and High's literary "shero," Octavia Butler—will join the San Gabriel Valley's thriving collective of independent bookshops. Octavia's Bookshelf will focus specifically on centering the works of female and BIPOC (Black, Indigenous, and People of Color) authors. 
With cheerful approachability—a product of her years in customer service—and a fierce passion for books and human connection, High is on a mission to highlight underrepresented authors in her Pasadena community. 
Overnight, High has become something of a local celebrity. On New Year's Eve, she scrolled through Twitter and saw a post prompting viewers to brag about a 2022 accomplishment of which they were proud. 

"And then the next morning, I woke up and everybody was talking about it," High said. 
Immediately, the gofundme page she'd established in October to raise additional money for her largely self-funded bookstore was flooded with donations. "I think I was at, like, two or $3,000 [on gofundme]…around the first of January, it's now at, like, 17,000." 
And the support isn't all financial. Octavia's Bookshelf has been making headlines in local papers and the literary community since the start of 2023. High, whose first inclination is to send silly family photos to the press, is not quite used to the attention. "I'm right now just trying to stay, you know, true to who I am, but maybe like polish myself up a little bit, because I know the internet is forever and those pictures will stay on for a long time," she laughed.
While her sudden rise to stardom came as something of a shock, hearing from enthusiastic supporters is High's favorite part of her new job. "I had a voicemail message from a woman who said that she's 80 years old, and she lives in San Francisco. And she heard me on NPR….and she said, 'I just want to tell you how proud I am of you. And I'm so excited for you.'"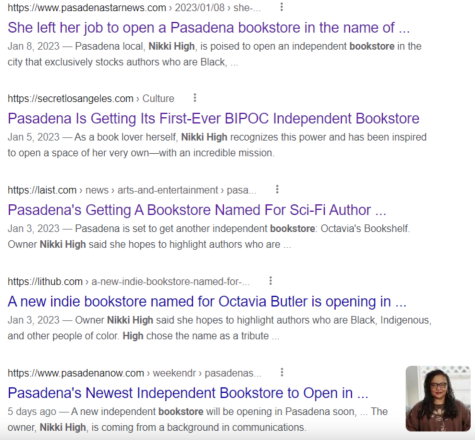 For High, this early outpouring of community support is proof that Octavia's Bookshelf has an impactful future ahead. Opening an independent bookstore when small businesses are on the decline is a brave move. It's especially brave in the San Gabriel Valley, one enclave where independent bookstores are thriving. Vroman's has been a Pasadena powerhouse for over a hundred years; Lost Books and Once Upon A Time in Montrose all continue to serve the community.  But that's High—brave. A resident of Pasadena for 45 years, she loves her local bookstores with a burning passion that echoes in her speech, and she's boldly joining a growing nationwide movement of diversity-driven independent bookstores. Octavia's Bookshelf stemmed from what she calls "this need had not yet been met" for a minority-centered bookstore in the area. She thinks that the "interest that this store has garnered even before opening just shows me how right I was and how much this is needed." 
High scans the half-empty bookstore strewn with plastic wrap and painters tape, musing, "I see kids coming in. And just readers, curious-minded people who want to, you know, decolonize their bookshelves, people who are looking to read more stories written by people who look like them."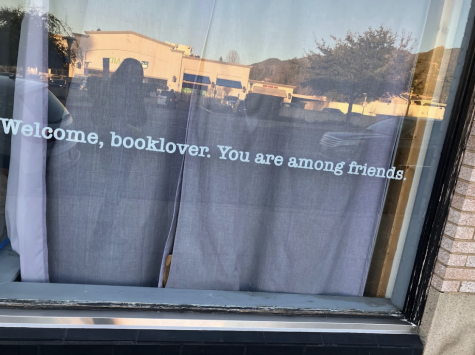 Bookstores have always been a powerful force in High's life; she tears up just talking about them. "You go into a bookstore, you get this feeling and, and they're all, like, so magical and powerful," High said.
The sheroes of her childhood, High's mother and grandmother, fostered her early love of reading. High was around age 16 when she discovered the writings of Octavia Butler, whose influential science fiction made waves exploring racial justice, global warming, women's rights, and politics. She told LAist Magazine that Butler was "the first Black sci-fi writer that I read, and it was the first time I saw Black people in the future." Like the story of swimming in Swaziland, Butler's work opened portals of possibility for High. "If kids are looking for another, kind of, shero"—she pauses and smiles—"She's a good one to follow." High describes her personal shero as "magic…. She's someone who takes you on a fantastic voyage. She is smart. And I still look up to her for her bravery. And I think being brave is really cool." 
Just as Butler centered diverse voices in the dystopian future, High is working to center diverse voices in the here and now. In High herself, a brave new shero has arrived to expand Pasadena's literary horizons and inspire the community with the eye-opening magic of reading.
The grand opening of Octavia's Bookshelf is on Saturday, February 18th at 10 a.m. 
Leave a Comment
About the Contributor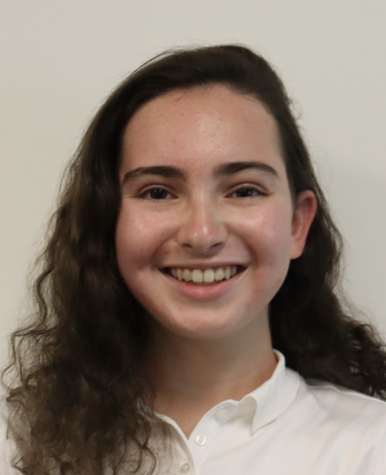 Ilena M., Editor in Chief
Ilena is the Editor-in-Chief of Spyglass. She's passionate about stories-- especially histories-- good snacks, and bad puns. Ilena is a junior and she's...