Westridge's 2023 Summer Opportunity Fair Engages Curiosity through Community
Every New Year, I always come up with the same unfulfilled resolutions that I plan to attempt but never follow through—but one resolution I've finally decided to cross off the checklist, however, is attending Westridge's famed Summer Opportunities Fair (SOF), which has been held annually since 1991. I've been a Westridge student for six years, yet this year—my senior year—marks the first in which I've felt inclined to attend. I had to. Not only was it my senior year, but 2023 was the first year SOF has been held in-person since 2020.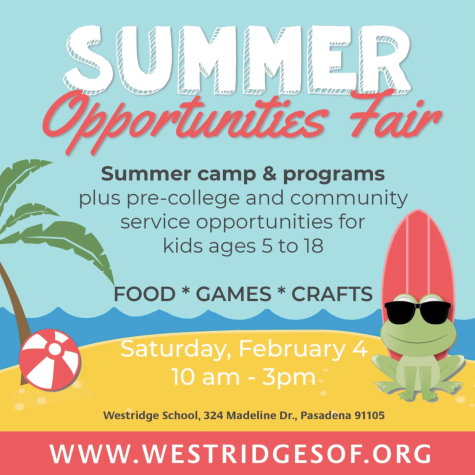 Described on their website as a "community service event that provides a venue for parents and children to learn about summer programs," SOF attracts curious parents and ambitious students to learn about ways they can engage with their communities, both locally and globally. 
At this point, I feel it is imperative to disclaim that Westridge has no affiliation with any of the organizations presenting at SOF. On their website, they note: "The camps and programs represented at the fair are independent organizations that are not affiliated with Westridge School. No endorsement by Westridge School concerning exhibitor offerings is expressed or implied."
With that being said—early in the afternoon of February 4th, I left the house with an empty tote bag and an even emptier mind; I tried to keep my expectations to a complete minimum. Although the spry little frog on SOF's flier (see to the right) claimed otherwise, I refused to let myself expect much from this fair in fear of disappointment. But the moment I stepped onto campus, I was taken aback by the sheer number of people crowding around tented booths advertising a range of service opportunities and summer experiences. Even more surprising was that most families perusing the fair were visiting from areas beyond Pasadena, putting real value into SOF's claim as "one of the largest camp fairs in the nation."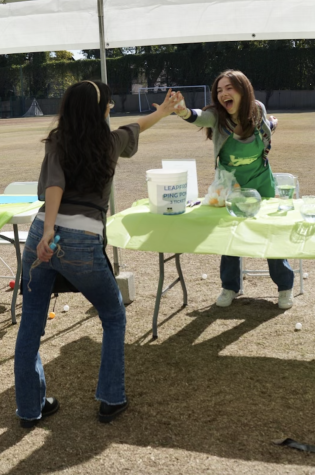 And it wasn't just me—this sense of community felt particularly prominent to others in attendance. "It's been really fun and I love how [the fair] is super open… we're walking around on our own without our moms and it's just super fun," explained Ella S., a visitor, licking the dribbling edges of a snow cone as she spoke. Similarly, Tessie J. '24 explained, "this is a great way to learn about different summer experiences I can participate in—it's also a great way to get to know others while enjoying delicious food and playing fun games." SOF is more than a stilted arrangement of white tents—it's an event run for the community, by the community.
Even presenters saw themselves pleasantly surprised by the genuine curiosity families displayed for the opportunities offered to them. Sarah Shahan, a representative for Page Turners Academy—a reading and writing program located in Sierra Madre, reflected: "This is our first time here at the Summer Opportunities Fair, but it's been really wonderful so far. Everyone on staff has been so kind and generous and very accommodating. The people here are very curious. They're asking a lot of good questions… it's been a really nice experience, and I wasn't expecting this many people to come up to the booth, so that's been nice."
For many—such as myself—the 2023 SOF was a new experience that most certainly would not be their last. By the end of the event, Andrea Kassar, Head of School, praised SOF's success, commenting, "The Summer Opportunities Fair was wonderful and such fun. Everybody was having such a wonderful time, and I'm so impressed with this community coming together and making this beautiful event happen." 
And that's really what SOF is all about—it's a way for Westridge to represent and give back to its community. Parent volunteer Michelle Carey explained it best: "I am thankful that Westridge creates an opportunity for the community—that it's open—and so I wanted to be part of sharing what I could and contributing in some way… I really care about the community and the opportunity to help encourage folks to give back."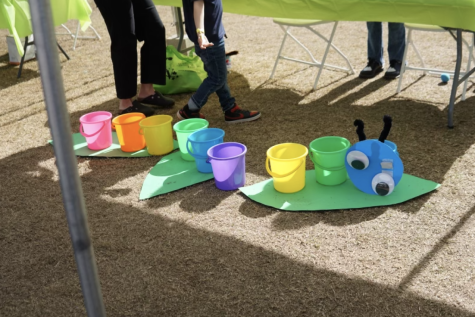 Leave a Comment
About the Contributors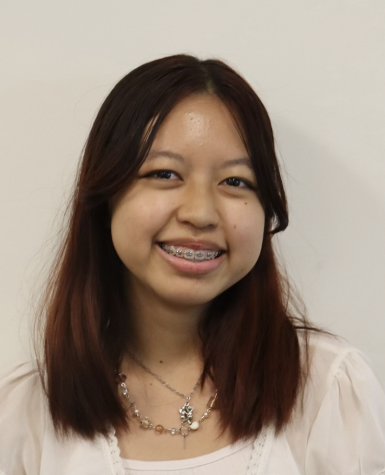 Hailey T., Website Manager/Editor
Hailey is a senior and this is her fifth year on Spyglass as well as her second year doubling as the Website Manager and a writing editor. When not writing,...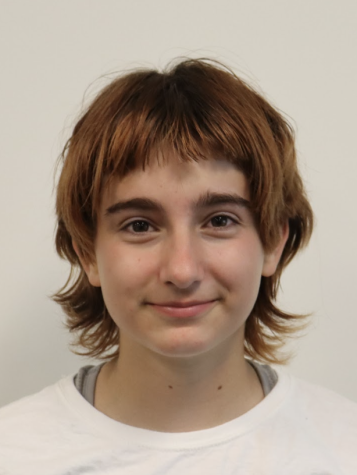 Alex S., Design Team
This is Alex's second year in Spyglass Design. When not napping in the Costume Shop, you can find Alex improving, reading non-fiction, and sporting re-usable...