The Latin Department Hosts a Latin Initiation for the First Time since 2019, Tradition Still Survives after COVID
On January 19th, Upper School Latin students filed into Room 65 as eerie organ music played over the speakers. Latin seniors buzzed around at the front of the classroom, preparing for the ceremony. In the next 30 minutes, juniors, sophomores, and freshmen would go through Latin Initiation and officially join the Junior Classical League (JCL), a youth organization focused on promoting the study of classical languages. This year marked the first time since 2019 that students could carry out Latin Initiation.
The Latin Initiation started at Westridge around three decades ago as a fun way to give out Junior Classical League cards, which mark a student's membership into the JCL. The membership allows students to attend a high school Latin convention, the Southern California Regional Amici Madness (SCRAM), and makes them eligible for Latin-related scholarships when applying to colleges. Instead of simply handing out the memberships in class, Upper School Latin teachers Dr. Hilary Malspeis and Dr. Diane Pintabone work with Latin seniors to organize a ceremony to mark the occasion annually. Their long-standing commitment to this tradition is a testament to the long-lasting nature of the class and the language itself.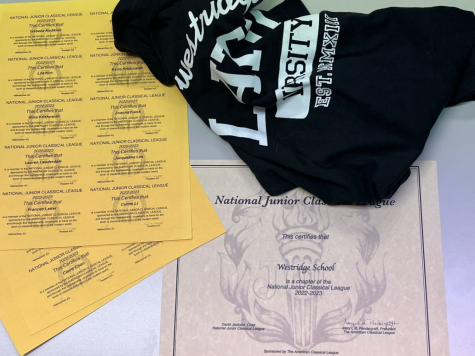 This year, Westridge seniors led underclassmen in reciting an oath, poured fruit punch as a libation to the Roman Gods, and stamped each student with a SPQR (The Senate and Roman People) stamp. The ceremony concluded when the students received their JCL membership card. In the past, seniors dressed up in robes, gave each student a laurel wreath, or drew a Harry Potter lightning bolt on each student's forehead. They've also previously knighted each student with a plastic sword or organized a Kahoot Latin trivia quiz. But, because Covid had canceled the past two Latin Initiations, this year's seniors had to initiate more than the regular amount of students, which limited the ceremony time.
A senior who helped set up the initiation, Melanie M. '23, said, "From what I remember from past years, it was a lot more elaborate. People would dress up, almost like a little play was going on. And I think as a freshman that really motivates you to kind of stick with the language, and join the Latin community. So, although we weren't able to do that, I would have liked to."
Even though the initiation is a relatively small event, it still holds value for several students. Frances L. '23, another senior who helped with the initiation, discussed the benefits of the tradition. "I think it's a really great opportunity to build and create community within different classes, especially something like the classics, that I think aren't as popular anymore, considering everything is sort of STEM centric. I think it's nice to kind of have a moment to recognize and have fun with people who share the same interest as you. So I can really appreciate it for that, and I think there are decades of tradition with this, so it's nice to uphold that as well."
For Dr. Pintabone, establishing connections between students is also an important aspect of the Latin Initiation ceremony. She reflected on the opportunity for creating long-lasting bonds in the Latin community. "I think that classes like Latin, where students have a choice and they choose something that is of interest to them, that's where sometimes they make their most long-lasting friendships." She said, "So, I remember all of the people I was in class with in my high school Latin classes, even more so than English or Math where everybody is taking it. So, when you have a choice or you're taking a particular orchestra class or art class or something like that, because you've chosen it and you share a common interest with that person, sometimes you just make a longer-lasting bond."
Although this year's Latin Initiation is not in its full glory, it still marks an important tradition in the Westridge Latin community. Around 25 years ago, the Latin program at Westridge was in danger of getting erased because of a lack of interest in the language among students. Alumni, teachers, and students worked to protect the program through presentations and letters arguing about the importance of Latin. Traditions like the Latin Initiation are a testament to the long-lasting nature of the language and the connections it fosters.
Dr. Malspeis said, "Latin has endured for over two thousand years, and it still is…I think this is a tradition that will stand the test of time and endure, just like the Latin program has, and just like Latin itself has."
Leave a Comment
About the Writer
Mckenna D., Staff Writer
Mckenna is a senior staff writer. This is her 4th year in Spyglass. She enjoys drawing, reading, cleaning, and watching movies. She also likes playing...