Westridge Responds to Monterey Park Shooting
On Saturday, January 21, at around 10 p.m., 72-year-old gunman Huu Can Tran shot and killed 11 people and injured several others at a Lunar New Year celebration at Star Ballroom Dance Studio in Monterey Park, a city less than 10 miles away from Pasadena. Tran originally fled the scene, but authorities later found him in Torrance, dead from a self-inflicted gun wound. Local and state authorities continue to investigate the motive. 
The mass shooting in Monterey Park, a city with more than half of its residents identifying as Asian, gained particular attention as it occurred during Lunar New Year eve, an important holiday celebrated by many Asian groups.
Head of School Ms. Andrea Kassar promptly sent out an email to parents (which was later forwarded to students on Monday, January 23) regarding the attack. She acknowledged Monterey Park as a place that many members of the Westridge community have connections to.
She continued her email by raising the Associated Student Body theme of the year: "Embrace." Ms. Kassar encouraged the Westridge community to embrace each other. She wrote, "Let us all reach out and embrace those in our community who are in pain following this horrific tragedy." 
Divisional directors Mr. Gary Baldwin, Director of Upper School, and Dr. Zanita Kelly, Director of Lower and Middle School, also sent their support to students. They wrote in a joint email, "We wanted to reach out to you to let you know we are thinking of you this weekend after learning about the mass shooting in Monterey Park."
Ms. Kassar, Mr. Baldwin, and Dr. Kelly encouraged students to reach out to school counselors if they need additional support.
Only two days after the Monterey Park shooting, on January 23, a small town in Northern California, Half Moon Bay, also experienced a mass shooting. Students came to school that week ready to talk about the recent California mass shootings. 
On Wednesday, January 25, Ms. Bonnie Martinez, Westridge Dean of Student Support, along with Student Life hosted a town meeting to discuss gun violence and gun control. Student Life Head Ellie L. '23 began the meeting and said, "We as future leaders can make sure these individuals are some of the last victims in our countries and epidemic of violence. As our generation begins to take positions of power both politically and socially, it is imperative that we as young people discuss how we can promote the world both in and outside of Westridge."
Several Westridge students have direct ties to the Monterey Park shooting. Sisters Manon I. '26 and Kanon I. '26 knew victims of the attack and spoke with passion at the town meeting about restricting gun rights.

Manon I. '26 shared that her and her sister dance frequently at the ballroom dance studios that were targeted in the attack. She said that she knew the majority of the victims. Additionally, Manon shared that she knew the man who disarmed the shooter, Brandon Tsay. She spoke about his bravery. "He could have been killed. But he was so brave." Manon concluded her time at the mic by speaking about the dangers of guns. "It just really hurts me to know that our country has these guns. We don't really notice how dangerous it could be to everyone. How many lives could just be easily taken by one shot," she said.
Many other students went up to the mic at the town meeting to advocate for better gun restrictions, often criticizing the 2nd amendment, an amendment which was ratified in 1791. 
Kanon I. '26 echoed cries for greater restrictions when owning guns. She began by saying that with the prominence of guns in American society, everyone's security is breached and no one can walk safely. "To be honest, I actually don't deem the Second Amendment a human right. And I think it is especially imperative right now that America should just once and for all get rid of guns. It is insane that we still have guns and that people who I know have guns," Kanon said. 
Frances L. '23 and a couple other students argued at the meeting that the Second Amendment loses its validity because it was drafted over 200 years ago and technology was different. "It's important to remember that in the 1700s, they did not have semi-automatic and automatic rifles. You see automatic weapons used in the military a lot. I do not think it's appropriate to have military grade rifles in civilian hands. That is not necessary. And if you're, if your defense or claim for owning a gun is self-defense, you do not need an AR 15. Automatic weapons are not used for defense or for hunting, they are used for killing. That's a very large difference," Frances said.
Throughout the entirety of the town meeting discussion, students all shared one thing: their cries for change. "I think that talking about [gun violence] is one thing and is so important to talk and spread awareness. But, it's also so important to go out there and make active change. Go to protests, send letters to Congress, donate, volunteer, do whatever you can to go and change, please, please, because we as a group can make so much change if we go out there and do it," Eliza L. '25 said.
For further reading about the Monterey Park shooting, Spyglass recommends: 
Leave a Comment
About the Contributor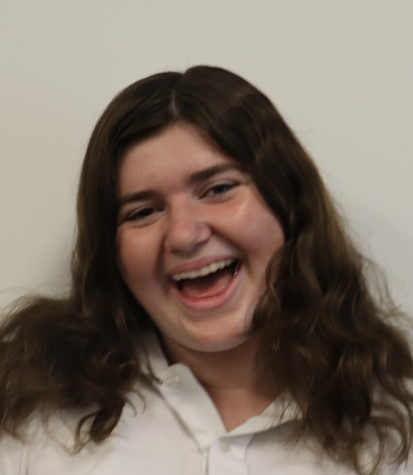 Ella B., Editor
Ella is in her fourth year writing for Spyglass, first year as an editor, and her second year developing Spyglass' social media presence. When she is not...