Kanye West Ignites Influx of Antisemitism, Faces Backlash
On the night of October 8, rapper Kanye West tweeted, "I'm a bit sleepy tonight but when I wake up I'm going death con 3 On JEWISH PEOPLE…" Since then, West has made other antisemitic comments like, "Jewish people have owned the Black voice."
On October 22, after West's tweet, an antisemitic white supremacist group, The Goyim Defense League stood over the 405 Freeway raising Nazi salutes, with signs that read, "Kanye Was Right About The Jews," "Honk if you know," and a sign advertising their organization, which said, "GoyimTV.TV. Rev 3:9. John 8:44."
Condemnation of West's comments was swift. 
Jonathan Greenblatt, The Chief Executive Officer of the Anti-Defamation League (ADL), a Jewish organization specializing in civil rights law, tweeted, "@kanyewest's bigoted statements about Jewish people are inexcusable & advance existing #antisemitic stereotypes, many of which are shared by extremists."
Twitter restricted West's usage of the app quickly after the tweet, but the restriction has now been li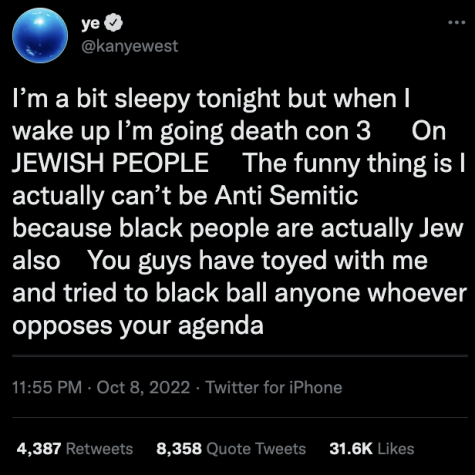 fted as West began tweeting again on November 3.
Following West's comments, celebrities—including members of the Kardashian-Jenner family, Reese Witherspoon, Sarah Silverman, John Legend, Amy Schumer, Gwenyth Paltrow, and others—used social media to condemn antisemitism, though most did not directly address West. 
After the backlash of West's comments, many companies severed their ties with the artist. First, JP Morgan ended its relationship with West and his clothing brand Yeezy. Luxury clothing brand Balenciaga followed. Creative Artists Agency, Adidas, Gap, and Footlocker all dropped West as well. Even MRC scratched their upcoming documentary about West. 
Adidas came under notable fire, and many called out Adidas' history as their founders were members of the Nazi party.  Historically the company had strong connections to Nazism. The company estimates that they will lose $250 million this year due to terminating the partnership.
After several companies ended their connections with West, Forbes removed him from their billionaire's list. According to Forbes, West's wealth is now estimated at a little over $400 million. 
Despite the criticism from influential figures, antisemitism made front page news during the month of October.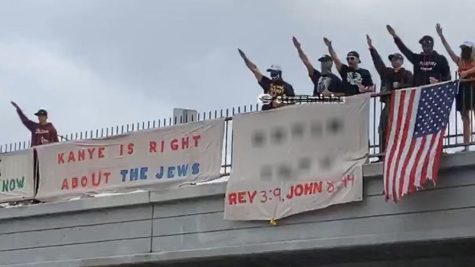 Former President Donald Trump, whose daughter Ivanka converted to Judaism, also recently shared antisemitic remarks. On Sunday, October 16, he published on his platform, Parler, "No President has done more for Israel than I have. Somewhat surprisingly, however, our wonderful Evangelicals are far more appreciative of this than the people of the Jewish faith, especially those living in the U.S."
Additionally, antisemitic flyers featuring Jewish stereotypes were also distributed in the mailboxes of various homes in Los Angeles and across many other cities in the United States at various times in late October. The perpetrators of these events remain unknown.
Seven-time all-star Brooklyn Nets basketball player Kyrie Irving also recently shared antisemitic rhetoric on his Twitter. Irving has since faced similar backlash as West. After conversations with the Brooklyn Nets, the team and Irving pledged to donate $500,000 to the Anti-Defamation League only to have their donation denied by ADL CEO Jonathan Greenblatt. The ADL refused to accept the money because Irving has still not publicly apologized for sharing the antisemitic film. 
On Thursday, November 3, the Nets issued Irving an unpaid five game suspension. At that point, he did not explicitly condemn the antisemitism he shared.
In addition to the Nets suspension, Nike also halted their relationship with the player. 
Only after learning about his suspension did Irving release an apology on Instagram. He wrote in his lengthy caption, "To All Jewish families and Communities that are hurt and affected from my post, I am deeply sorry to have caused you pain, and I apologize. I initially reacted out of emotion to being unjustly labeled Anti-Semitic, instead of focusing on the healing process of my Jewish Brothers and Sisters that were hurt from the hateful remarks made in the Documentary."
In response to the recent spate of antisemitic acts, Westridge published a statement on October 27 standing in solidarity with the Jewish community. It read, "As a community, we seek to be sensitive and supportive when issues of bigotry and hate are brought to our attention. Antisemitism has been front and center in the news, and we want to state that intolerance, discrimination of any kind, and antisemitic rhetoric have no place at Westridge." 
The statement included resources and encouraged students to seek out division directors Dr. Zanita Kelly and Mr. Gary Baldwin along with Director of Equity, Ian Tatum if they experienced difficulty processing the recent events.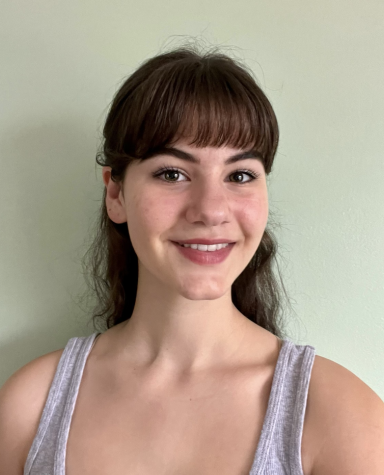 Isabel H. '26, a member of Westridge's Jewish Affinity said, "I think the current events are heartbreaking. It feels like we're moving backwards in terms of combatting and dealing with antisemitism, and it's scary to see the amount of hate crimes go up."
Jewish student Micah M. '25 said,  "I'm both unsurprised by the rise of antisemitism and deeply confused. Scapegoating and hateful, ignorant speech against Jews is not something new."
Micah continued, "I'm honestly blessed to be at Westridge. I'm grateful and feel so fortunate to be at this school because at the very least I know I don't have to walk around campus fearing I'll be called a slur or have a swastika written on my locker. And yes, that may be the bare minimum, but it's still reassuring. Westridge values peoples' voices and tries its best to be an active, supportive community for all, which is far more than many other schools can say. Although there are always improvements to be made, Westridge certainly can't be taken for granted."
Leave a Comment
About the Contributor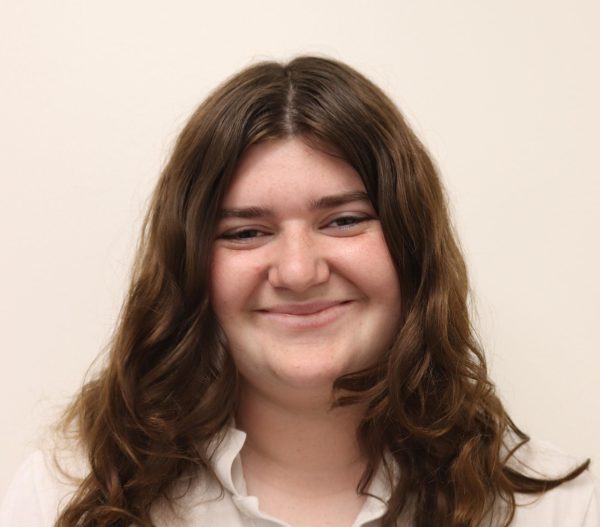 Ella B., Editor, Social Media Manager
Ella is in her fifth year writing for Spyglass, her second year as an editor, and her third year managing Spyglass' social media. When she is not writing...