Latine Affinity Plans to Repaint and Restore 1995 Mural
By the end of the 2022-2023 school year, the Latine Affinity hopes to repaint a mural painted by Westridge alumna and previous Latine Head Vanessa Delgado '95 and Xochitl V. Cruz Gonzalez '95.
At last year's LatinXellence assembly, Delgado explained that the mural features both the Mexican and American flags to represent a Latine person's two identities. As someone who was often the only or one of few Latine students at schools, she painted the mural in hopes that in the future, "other girls who were Latina would see themselves here."
Since its completion in 1995, the mural's paint has faded from its once bright, vibrant colors. Additionally, there are some in the Latine Affinity who believe the mural no longer represents the Latine community as a whole.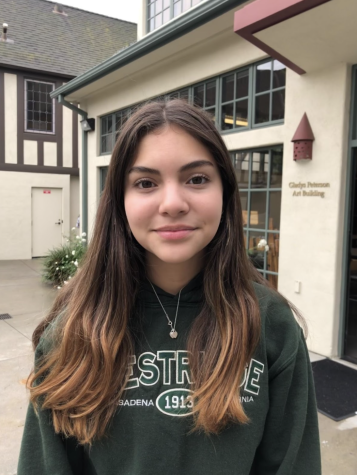 Latine Affinity Co-Head Kayla A. '25 said, "We wanted to represent more than just Mexico and the certain aspects that represent Mexico and Mexican struggles in the United States. So instead, we wanted to represent different cultures including Nicaragua or El Salvador and different countries."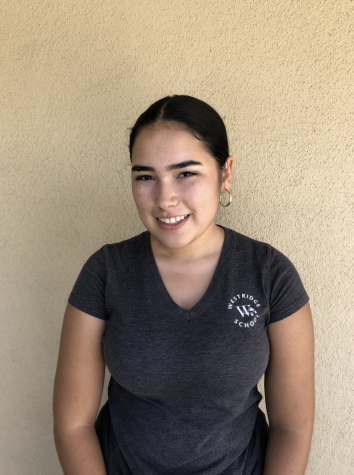 Co-Head Isabella V. '24 said, "[The mural is] very focused on Mexican identity, and in reality, Latine is an umbrella term, so there's a bunch of different cultures within that. We want to highlight more of those different cultures and ethnicities because our affinity isn't just Mexican identities. There's a lot of different identities in our affinity."
When Spyglass reached out to Delgado for her thoughts, she was unaware of the affinity's plan to change the mural. Delgado said that it was important to her to preserve the mural's message. "As long as there's a piece of [the mural] that's still the core, I'm all for it evolving." She later added, "To make it more inclusive of different types of Latinas and different countries, I think only amplifies that message of making sure that a lot of different cultures feel welcome at Westridge and don't feel like they can't thrive there."
Currently, the affinity is trying to include representation of Afro-Latinos and countries besides Mexico within the mural. They would also like to add important symbols in the Latine community such as the monarch butterfly and hummingbird to the mural.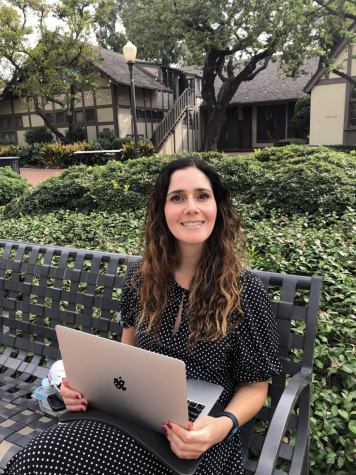 Latine Affinity advisor Dr. Jessica del Toro anticipates that creating a mural that "will unite everybody and be representative of everyone" will be one of the affinity's biggest challenges. "Finding something that is representative of all Latin America is going to be a little challenging because we're not a monolith. Just like in other ethnicities, there's a lot of diversity," she said.
Since the 2021-22 school year, the Latine Affinity has discussed repainting the Latine mural. At last year's Westridge Parent Association Night Market, they raised $600 to hire a muralist by selling paper flower activities and La Monarca baked goods like pan dulce. 
The mural is still in the planning stages, as the Latine Affinity is currently searching for a muralist who identifies as a Latine woman to paint it. They are also discussing moving the mural from its current location to one that will increase its visibility by the community. One suggested location is outside of the dance studio. 
Recently, the affinity formed a mural committee to help them stay on top of their goal to finish the mural before the end of the school year. The committee includes Latine affinity members Sofia K. '25, Arden R. '25, Nati L. '25, and Lilah R. '25; as well as the affinity coheads Kayla, Isabella, and Melanie M. t'23.
The committee plans to meet this November to discuss the mural. Dr. del Toro said, "I think the first thing we need to do is talk to a professional that has experience with painting murals that can kind of give us some guidance on styles and what things we want to add." She also said that they plan to reach out to the original painter, Vanessa Delgado, and "allow her to have a voice in this as well."
Leave a Comment
About the Contributor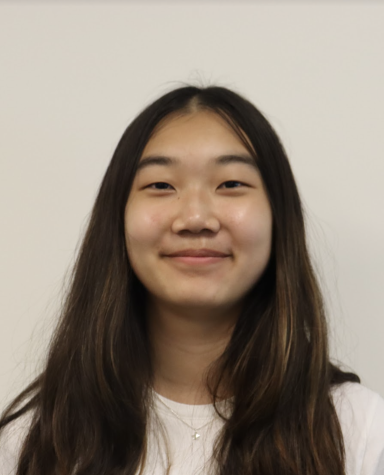 Gia S., Copy Editor/Staff Writer
Gia is a sophomore, and this is her second year as a Spyglass staff writer. She enjoys drawing, trying to bake new recipes, and learning fun facts.