Burritos and Tradition Persist at Senior Breakfast
It's 7:50 am and I'm standing in the Community Room that looks as though it had been decorated by Tinker Bell on her fifth cup of coffee. Ivy winds around conference room chandeliers, twinkling lights lend a Disney-esque quality to the (usually) stark walls, and a screen in the corner drapes the room in soft forest ambiance. The showstopper, though, is the massive buffet in the center of the room, containing everything from breakfast burritos to a cheese board. Students gradually pour in, donning expressions of wonder as they note the decor. Moms chat quietly in the corner, pausing conversation to greet kids they know. Faculty drift in and out, surreptitiously grabbing muffins or fruit. If it wasn't already clear, this isn't your average let's-use-parental-labor-and-theme-it-because-we-can Westridge event. No, this is Senior Breakfast. 
On the first Friday of every month, a group of parent volunteers convene to decorate, cook, and serve an elaborately themed breakfast for seniors. It's Westridge tradition, a sweet way to honor seniors in the thick of a stressful year. According to Lisa Burke, president of the Westridge Parent Association, Senior Breakfast began about twenty years ago. While she wasn't sure exactly why it started, Lisa explained that "It continues today…[as] a way to celebrate the Seniors as they prepare themselves to leap into the next chapter of life as young adults." 
Paused during COVID-19, Senior Breakfast made a triumphant return last year, serving as a way for parents to connect with students on campus. Joya Margolin, mother of Layla H. '23, said, "These are my last opportunities to see my daughter Layla—I have no more opportunities to see her at school and spy…I'm literally getting verklempt thinking about it." This sentiment seemed to be shared by many of the moms (let's step it up, Dad's Club) helping with the event—a collective celebration of their kids' growth at Westridge, but a bittersweet reminder that the end of that time looms large.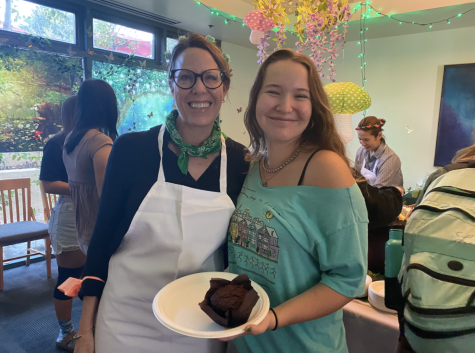 As for how the sausage gets made (both literally and figuratively)? For starters, the parents run the show, as Lisa explained: "Organized by the Grade Level Representatives and funded by [the] WPA, parent volunteers work in groups to decide on themes, decorate the Community Room, and contribute food." The planning is continuous—unlike a typical Westridge class, there are no procrastinators here. 
Julie Woo, one of the Grade Level Representatives, detailed the process: "We [meet] in the summertime and have all events scheduled through the year. We will meet again before each event to iron out the logistics—we have the themes and we buy the decorations and it all comes together." While the preparation and execution entail lots of work, Julie clarified that "it wasn't hard because we're such a good team and we work so well together. And we love doing this." Call it a labor of love. 
The seniors themselves are equal parts grateful and happy to eat, as Bella K. '23 joyfully said, "I can't believe the moms did all this! It's really sweet that they went all out and the decorations are really cute. And, obviously, free breakfast." It's a hard time of year, so any reprieve from the hell of applications and stressful schedules is joyously celebrated. As I watched students sip their iced oatmilk matcha lattes, drag their burritos through salsa, and enjoy avocado toast made on the spot, it was abundantly clear that Senior Breakfast is a tradition worth holding onto.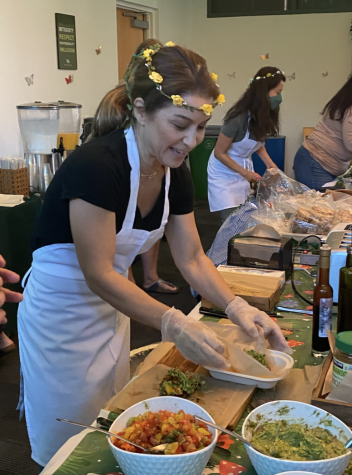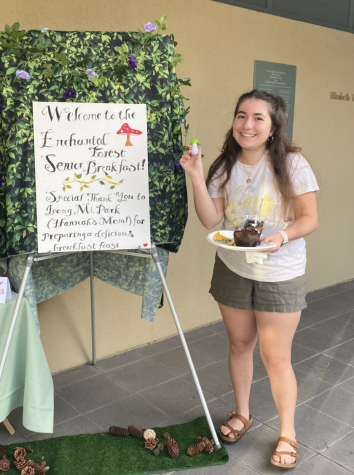 Leave a Comment
About the Contributors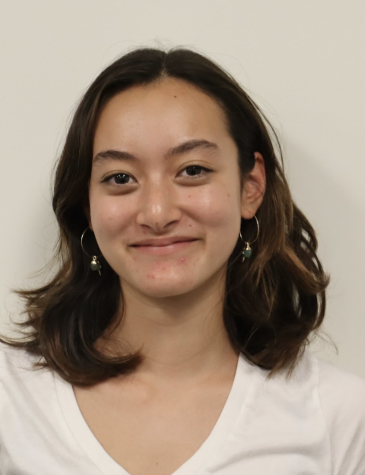 Sylvie S.-J., Staff Writer
Sylvie joins Spyglass as a junior excited to put her half-formed screeds to good use. She is a firm believer in seasonally inappropriate Christmas music,...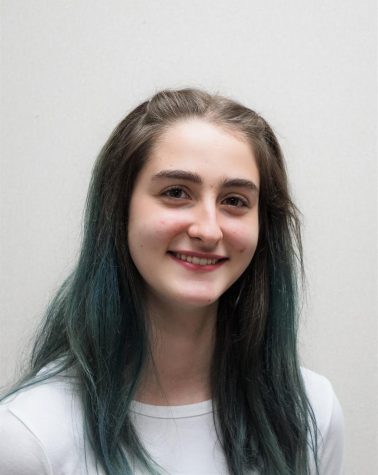 Bellamy S., Design Team
Bellamy is a junior and has been in spyglass design for two years now. They enjoy Outshine popsicles, music, and discussing Dungeons and Dragons. They...