Protests Erupt Across Iran Following the Death of Mahsa Amini
Protests and demonstrations continue to take place in Iran following the death of 22-year-old Mahsa Amini. Amini died three days after being detained on September 13 for supposedly violating the country's dress codes by not properly covering her hair with a headscarf or hijab. The Iranian Legal Medical Organization, included in a report that an "underlying disease" related to a surgery Amini had at the age of eight caused her to lose consciousness. Although Iranian authorities claim that Amini died due to natural causes, Iranian citizens continue to question the investigations into Amini's death. Many witnesses claim that police beat her inside the van transporting her to a detention center. Amini's death has prompted a moment of defiance by Iranian women and men. 
Amini's Death Sparks Mass Protests
Since Amini's death, thousands of protestors have taken to the streets to demand accountability for the death of Mahsa Amini and an end to violence and discrimination against women in Iran.
The nonprofit organization Iran Human Rights has estimated that at least 154 people, including children, have been killed by security forces in the nationwide protests across Iran since the Amini's death, with widespread arrests of protestors and civil rights activists. 
Protestors have also taken to social media to demand justice for Amini's death, with videos of protests in Iran showing women waving their hijabs in the air and some of them even throwing their head scarves into bonfires. 
Compared to previous protests in Iran, demonstrations over Amini's death are distinct, with protests occurring globally. Tara Sepehri Far, a senior researcher in the Middle East and North Africa division at Human Rights Watch, told USA Today, "Them doing it collectively as an act of defiance, it has forever moved the debate forward." She continued: "For brief moments, the city experienced defiance of women without hijab, the imagination that was once impossible for many people became reality."
Donya Dadrasan, a 24-year-old Iranian pop star with over 2.5 million followers on social media, is one of the countless women and men who responded to the death of Amini by cutting her own hair. Although Donya Dadrasan moved to Australia at 12 years old, she did not forget her female family members being terrified of authorities in Iran. "All the women around me were always scared and stressed when they saw the morality police," she said in an interview. 
Along with Dadrasan, women around the world have posted similar videos of them cutting their hair and burning their hijabs to social media platforms. Other protestors have done so at gatherings and protests throughout Iran.
Young women and girls have been especially involved in the movement. Videos posted on Twitter show students in Iran taking off their head scarves in response to the school bringing a parliamentary officer to speak to students. 
Amini's Death Prompts the Fight for Bodily Autonomy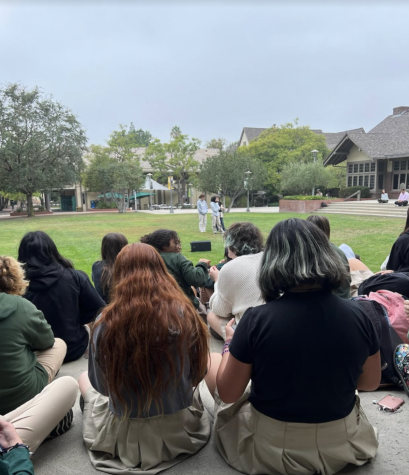 Heads of Westridge's Upper School Middle Eastern and North African Affinity lead a discussion about the protests in Iran and Mahsa Amini's death.
Thousands of Iranian Americans have protested in the streets of downtown Los Angeles. Protest leaders led chants of "zan, zendegi, azadi" or "woman, life, freedom" – a rallying cry of the movement. 
Southern California has the largest number of Iranian residents outside of Iran. Outside of Los Angeles, protests were also planned in Orange County, San Diego, and over a dozen other cities across the United States including New York, Denver, and Chicago, among others. 
The current protests in Iran differ from previous movements such as Iran's 2009 Green Movement, when Iranians protested in response to a presidential election they believed was fraudulent. Protests over Amini's death have occurred across the world rather than solely in Iran.
Mohammad Ali Kadivar, an assistant professor of sociology and international studies at Boston College, said in an interview, "The discourse of [the 2009] movement was a reformist discourse, it was not calling for a full break from the framework of the Islamic Republic." He continued, "Women were present in 2009…. Women's issues were I think articulated in 2009. But they didn't have the leading role that they have now." As women in Iran lead a movement fighting for their freedom and bodily autonomy, the debate surrounding women's rights moves forward. 
While several past protests in Iran have been short-lived and localized, Amini's death has reignited a movement in Iran as people fight for freedom and choice. In a statement, experts from United Nations (UN) wrote, "[Amini] is another victim of Iran's sustained repression and systemic discrimination against women and the imposition of discriminatory dress codes that deprive women of bodily autonomy and the freedoms of opinion, expression and belief."
During a Westridge community gathering held on October 10, hosted by Westridge's Middle Eastern and North African (MENA) affinity, Saba K. '25—one of the three heads of MENA affinity—said, "As an Iranian person and as an Iranian who wears hijab, it's so upsetting to see my government do something in the name of the religion I follow which is entirely untrue."
During the community gathering, students discussed the fight for bodily autonomy sparked by Mahsa Amini's death.
Saba K. '25 explained her own choice to wear a hijab. She said, "I personally have been wearing hijab since I was nine years old. And it was 100% my choice and I think that for me, it's really empowering because it gives me the choice to have control over my body and do what I want with my body." 
One student tied the current ongoings in Iran to restrictions on access to abortion in the United States: "At least thirteen states have banned abortion [in the United States]…A lot of different populations are sort of fighting for their right to their own body." 
In response to a student's question concerning what Westridge students can do to help those in Iran and spread the word about the ongoing events, Saba explained the importance of spreading accurate information. "There [have] been internet cut-outs in Iran where the Iranian people can't spread the information to other parts of the world. So, one thing that's really helpful is spreading information from where we are here because the people in Iran don't have access to sharing that information with us," Saba said.
Leave a Comment
About the Contributor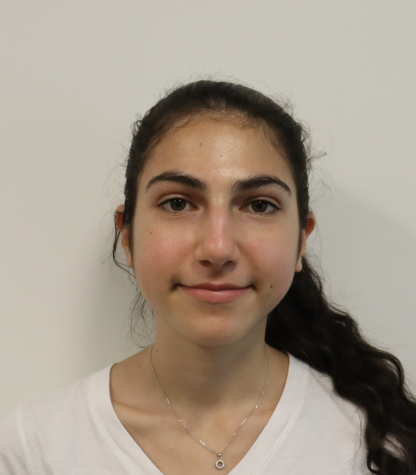 Sophene A., Editor
Sophene is a sophomore staff writer in her fourth year in Spyglass. She enjoys reporting on current ongoings and events. When she's not writing for Spyglass,...