4 Seasons Undefeated: What's the Key to Varsity Golf's Success?
For the past four seasons, Westridge's varsity golf team has yet to be defeated. While in years prior, the team has had some close matchups, no opponent this year came within 24 strokes of them. They are, without a doubt, Westridge's strongest and most consistent athletic team. 
Across three seasons, the team has kept a consistent core of four key players: juniors Gio K., Elizabeth W., and Julia W.; and the team's sole senior, Maya P. All four players have served on Varsity for the entirety of their high school careers. With the stability they provide to the team's roster, the team has been able to train, nurture, and explore upcoming talents. This year's additions to the team included Joanna L. '26 and Claudia Z. '25 as well as alternates Kayla A. '25, Avery B. '24, and Jaedyn T. '25. 
Coach Jimmy Jackson has coached the team for over a decade. He said he felt that this was the strongest Westridge team he had ever coached. Jackson continued: "We have got some great girls with great attitudes. And it's been a really, really positive situation. The older girls help the younger girls and [we] just got a great group." 
While Gio, Elizabeth, Julia, and Maya have all been crucial players, Coach Ryan Miranda said that you couldn't just acknowledge those girls. He said, "I would say that you can't really…talk about just the core four. I feel like it's really like [a] core eight and a core nine. All these girls really help each other out. For it being an individual sport, they really act as a team."
One of this year's new editions, Claudia Z. '25, is one of the best talents Westridge's golf program has ever seen. In her first and only regular season match, she shot a 36, which was one below par. That score placed her as the team's top player for that match. At Prep League finals, Claudia finished 3rd which allowed her to advance to CIF-SS individual playoffs. At that tournament, she placed 37th out of over 100 golfers. She then advanced to CIF individual finals where she shot an 86 on a challenging course. According to Athletics Director Coach Horn, her performance made Westridge history. 
Claudia enjoys being on the team and said, "I've learned a lot…from the coaches and the players. I feel like I've definitely improved my game a little bit more ever since I came and joined the team. It's been a pretty good experience so far."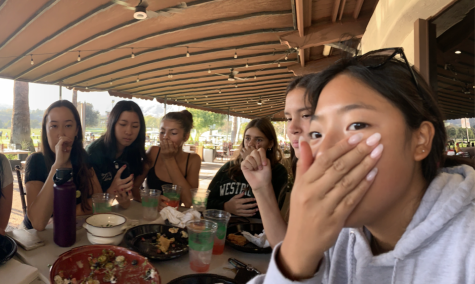 Part of the reason the program seems to be so successful is the environment it provides for its players. 
While Julia W. '24 acknowledged that there are certain pressures to win, she said, "I feel like varsity golf is so successful because it's such a close knit community. But since it's such a small [number] of people, we've built a community that's hard to break. We have a bunch of spirit in our matches and that motivates us to keep on playing."
Julia's sister Elizabeth W. '24 also shared her positive experience on the team. 
"Being on varsity golf is probably one of the best Westridge experiences, because not only do I feel a sense of community at Westridge with my friends, but I also have another sense of community in the golf community. Every year, I get excited for the golf season because that's when I get to be with a bunch of people in different grades and we come together, and we share this one sport that we love," said Elizabeth.
From karaoke during long car rides to pizza parties and shirley temples, there is no shortage of fun on Westridge's varsity golf team. While the team maintains a fun environment, they are also able to be serious in their pursuit of wins.
"We all have been working hard every time we play. We have the mindset of winning. But we also [know] that it is possible to lose. And that's why we still try as hard as we do to win," said Elizabeth.
View Comments(1)
About the Contributor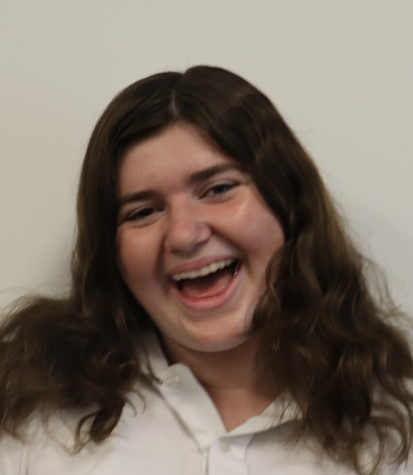 Ella B., Editor
Ella is in her fourth year writing for Spyglass, first year as an editor, and her second year developing Spyglass' social media presence. When she is not...