Why Be Factual When You Can Be Funny? Westridge's Thursday Detention, a Different Kind of Publication
Combine a need to pass time during quarantine with an affinity for satirical news.  What do you get? A new Westridge favorite: the online spoof newspaper known as Thursday Detention.
The current writers, excluding the editors, of Thursday Detention remain anonymous, but the newspaper was founded by Caroline L. '21, Sosi D. '21, and Sophia H.K. '21. On the website, the founders are known as Vlad, Sos, and Soup, respectively. "We just got bored really easily [during quarantine], and since we weren't able to be at school with each other, we were like, what's a way that we can kind of bring each other together and do something for fun, that wasn't, you know, just sitting in our room," Caroline said.
After finding out they all shared a common interest of reading The Onion, another satirical newspaper, these alumnae decided to create their own fun, mordant newspaper.  What started as an excuse to see each other more often quickly developed into a passion project. The writers frequently met up at the Rose Bowl and swapped ideas. 
Eventually, Thursday Detention gained popularity through emails and flier advertisements, and the founders decided to make it more professional, publishing more periodically. At first, the group wasn't sure how long Thursday Detention would last since they would soon be graduating from Westridge. However, after receiving positive feedback from students and teachers, they decided to reach out to underclassmen to carry on the new legacy. 
This past year, Grace N. '22, and Annie G. '22 were Thursday Detention's editors, also going by the names Ethel and Knee. In their last "Lettitor From Your Editors" they wrote, "This is the last edition of Thursday Detention. The final one. The last hurrah…We are forever grateful for our sexy, bold, substantial fan base. Our legacy will live on with our next editor ABG." The last edition of Thursday Detention includes articles like  "Getting Chased By Anthony", "Ten Things to Do Before School Ends", and "The Horrid Bathroom Squeak". 
Recently, The Stallstreet Journal, a self-described "Toilet Edition" from Thursday Detention, has gained popularity around campus. Instead of publishing online, the writers post weekly Stallstreet fliers in the school's bathroom stalls. The fliers feature humorous horoscope readings, poems, advice, and sometimes teacher quotes overheard and made up by students. 
"I think [The Stallstreet Journal] is cool. It gives me something to do while I'm in the bathroom," said Brooklyn P. '25.
"It's pretty funny, and it's pretty entertaining while I go pee. I like the horoscope," said Isla R. '25.
USA Poopay also gets a laugh in the bathrooms of Westridge. Described as The Stallstreet Journal's competitor, USA Poopay is actually made by the same writers. The constant back and forth between the two makes for an entertaining trip to the bathroom. Recently the two newspapers went head to head in a fictional "lawsuit."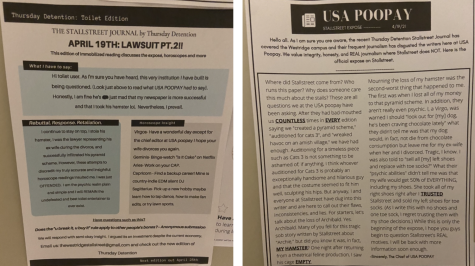 Although popular with students, Thursday Detention is also a hit with teachers. "I love Thursday Detention. I think that the articles are clever, well thought through, and address issues that everyone is thinking about but don't have the courage to say," said Brooke Surin, an Upper School Science teacher. 
Although Thursday Detention may seem like a comedic pastime, a lot of work goes into both the newspaper and The Stallstreet Journal. The writer of Stallstreet said they get up at 7:15 once a week to hang up the new edition posters and take down the old ones.
The not-so-new newspaper is a much-appreciated source of joy and silliness, especially at times fraught with stress and work. Who couldn't use another laugh or two?  Holly N. '25 said, "I think that they're a fun source of media and reading and art that makes the campus more fun."
View Comments (2)
About the Contributor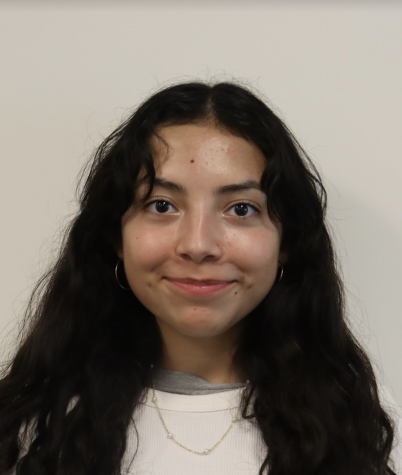 Lilah R., Staff Writer
Lilah is a sophomore staff writer in her second year in Spyglass. In her free time she enjoys playing softball, playing with her cats, and watching her...