Westridge Responds to Vandalized Yemeni Poster
On Tuesday, March 8th, Saba K. '25, head of the Middle Eastern and North African or MENA affinity at Westridge, put up posters about the humanitarian crisis occurring in Yemen, in hopes to shed light on the tragedies affecting her community. Those posters, among others created by students, were visible in multiple locations on the Westridge campus. Saba and her affinity put up their posters in bathroom stalls, outside the Commons, and near the Hoffman gym. Later that day, Saba discovered that one of her posters in the hallway of the gym locker room had been vandalized. In pencil, the words "nobody cares," and "fu— off" were scrawled.  The perpetrator of the incident is unknown, as the location of the poster lacks camera surveillance.
"I didn't really comprehend what [the writing] really meant at first, but I was honestly shocked," Saba said. Almost immediately after, she took action. "I went to my advisor, Ms. Greenstone, who then took me to Mr. Baldwin's office to think of next steps." They discussed potential forums where Saba could speak but could not find an immediate date to do so because of the proximity to Spring Break. The next day, on March 9th, Saba talked to Brittany Coker, Dean of Upper School Student Activities to raise awareness regarding the vandalization. 
Brittany Coker sent an email on Thursday, March 10th to all of Upper School. The email read,  "Please refrain from writing on or defacing any flyers that are posted. They represent hard work and important issues." 
Ms. Coker confirmed her response in an email. She wrote, "After expressing my shock and confirming that Mr. Baldwin and Mr. Tatum were working directly with her on a community discussion, we discussed next steps and how I could help. Saba specifically asked me to send an email reminding students not to write on any posted flyers. I said I would follow up to see what else was being coordinated, but in the meantime, sent the email as she requested."
Following her meeting with Ms. Coker, Saba talked to Bonnie Pais Martinez, the Upper School Dean of Student Life, who also manages all Town Meetings at Westridge. Because Town Meetings only occur once a rotation in the schedule, Saba wasn't able to organize one until after Spring Break. "Our initial response together was agreeing that a Town Meeting was necessary," said Martinez. "We both agreed that a Town Meeting after break would be ineffective." In hopes to organize a gathering before Spring Break, Saba and Martinez talked to Brittany Coker to schedule a makeshift Town Meeting on Wednesday, March 16th concerning the incident. 
Town Meetings at Westridge consist of relevant weekly topics and are designed to encourage student self-advocacy and to create thoughtful discourse. Town Meetings are almost always only attended by Upper Schoolers. However, Saba wanted as many students to participate in the discussion, so she talked to Dr. Zanita Kelly, the Director of Lower & Middle School. Both Dr. Kelly and Saba agreed to let all of Middle School attend the Town Meeting. 
Saba began her introduction at the Town Meeting, explaining what had happened. She asserted,  "As a school that emphasizes diversity, equity, and inclusion, it's really horrifying to imagine that this kind of thing could happen and that there are people in our community that would do something like this."
"[The defacing] was very shocking and disheartening to me, especially being at Westridge, which emphasizes creating a safe space for everyone," Sarah H. '24, a member of the MENA affinity, said. "As a member of the MENA community, seeing this poster get vandalized was very upsetting, not only because it is a disrespectful act towards a Middle Eastern country, but also because the poster simply mentioned a few basic facts about a war."
Several students, both Upper and Middle Schoolers, contributed to the discussion. Erin L. '24 thought that the Westridge administration handled the situation poorly at the time. She alluded to Coker's initial email. "There should have been a separate email addressing the situation. It shouldn't have just been two or three sentences."
Other students expressed their sympathy towards the affinity, including middle schoolers. "I'm just very shocked," Micaela R. '26 said. "As we know, Westridge is a place that teaches us to respect all people. We have to respect everyone, including minorities, because nobody should be treated like this." 
Student reaction was largely positive. "I thought that the town hall went really well, and I'm so glad we had it," Eliza L. '25 said. "It brought much-needed attention to the issue and opened a discussion. I was happy to hear from the people who were being directly affected and I think it was very educational."
"I think that many of the students had a very adequate response to the vandalism and I agreed with so many of the points brought up at Town Meeting," Clover D. '25 said. "I'm also very impressed with how Saba advocated for the meeting itself."
On March 17th, Head of School Elizabeth Mcgregor and Director of Equity Ian Tatum issued a school-wide email statement acknowledging the hateful language written on the Yemeni poster. The email read, "The defiling of the flyer and racially motivated language is unacceptable and does not represent the values we embrace as a community." It explained the steps the school is taking to address situations. Some examples listed were: "to investigate what happened, support individuals who have been harmed, participate in restorative practices to help the individual(s) involved understand the impact of their actions, and to create forums for community education"
Bonnie Pais Martinez reacted to the email. "I was very happy to see the email. I think it's important that both students and parents are aware of the situation, and that we continue to have conversations like these."
When asked about her feelings on the school's response, Saba said, "I did have to advocate for certain things, but when I asked for what I needed, the administration responded, so I'm happy about that."
Leave a Comment
About the Contributor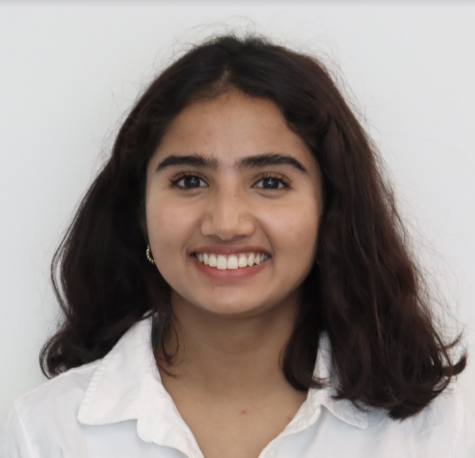 Tanvi C., Editor
Tanvi C. is a sophomore and returns to the staff for a second year. In her free time, you can find her baking, listening to music, or watching Selling...