Chicago Teachers Union Stages Walkout: Disputes About the Safety of Schools Continue
New York City student: "We [students] don't feel safe at school."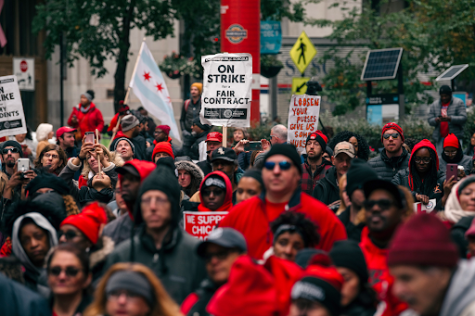 On Tuesday, January 4, amid the rise in Omicron cases, the Chicago Teachers Union proposed teaching online until attending school in person becomes safe for both students and teachers. Chicago Public Schools, the nation's third-largest school district, reported 422 new cases among students and 271 new cases among adults, the highest number of COVID-19 cases at Chicago public schools for the academic school year. Instead of offering remote learning, the school district canceled all classes. 
The Chicago Teachers Union suggested returning to in-person school on Tuesday, January 18. However, on the night of January 10, The Chicago Teachers Union's House of Delegates voted to accept a deal with Mayor Lori Lightfoot. The deal between the teachers union and Mayor Lightfoot included providing KN95 masks for both educators and students, closing schools with major outbreaks, and lastly, allowing teachers to take an unpaid leave of absence if an educator's medical background makes them vulnerable to the coronavirus. 
School districts around the country are closely watching Chicago and anticipating the potential impact on their own districts. The battle over public safety for teachers and students has pitted district leaders against teacher unions and raised important questions moving forward: Will the surge in Omicron cases lead to more battles between teachers' unions and leaders? More importantly, what does this recent conflict tell citizens about the state of the country?
Little Resources Means Little Trust From Teachers
During the dispute between The Chicago Teachers Union and Mayor Lightfoot's administration, teachers in Chicago expressed their concerns over insufficient student and faculty testing. Teachers have been advocating for Chicago public schools to require a negative COVID-19 test result before returning to school. 
"All we are asking is that we would like our students to test negative before entering the building," teacher Briana Hambright-Hall said in an interview with CNN. "A two-week pause [of in-person learning] is not too much."
In addition to testing, The Chicago Teachers Union hopes the school district will pursue a student vaccination program, as teachers believe that more children attending Chicago schools need to be protected against the virus for in-person school to be safe. 
Dennis Kosuth, a Chicago Public Schools nurse, explained the importance of mandating COVID-19 tests to all students: "If you put a bunch of students into rooms where they're eating lunch without masks, it doesn't take a rocket scientist – it doesn't even take a registered nurse to tell you this is a situation which could be a disaster," Kosuth said when speaking to USA Today. 
"Listening to Science" Is Becoming Complicated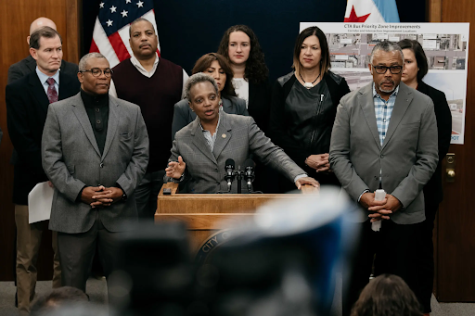 Most teachers believe that returning to in-person learning in Chicago disregards science and the research surrounding Omicron's highly-infectious nature. Other members of the district use "listening to science" as an argument for why resuming in-person learning is more crucial than ever.
Mike Magee, CEO of Chiefs for Change, an organization that supports and oversees education systems, believes that though coronavirus cases continue to spike after the holiday season, returning to in-person school is not a huge concern for certain communities, such as those with high vaccination rates. "It can feel as dangerous in January 2022 as it did in January 2021, but it is not as dangerous in the vast majority of districts in the U.S., particularly in communities with high vaccination rates," Magee stated.
Though teachers continue to argue that schools are not prepared for Omicron, and therefore should remain closed until safety is no longer a concern, Mayor Lightfoot's administration, similar to Magee, believes that the "science" supports the return to in-person school. 
"The best, safest place for kids to be is in school. Students need to be back in person as soon as possible," Mayor Lightfoot said in a statement. "That's what parents want. That's what the science supports. We will not relent."
Disputes in Other School Districts
Similarly, teachers in other districts across the country argue that insufficient measures are being taken by schools to prevent the spread of COVID-19 among students and teachers.
For example, although school resumed directly after winter break in San Francisco, teachers encouraged the district to require N95 or KN95 masks, along with weekly testing. However, the union and the San Francisco school district could not come to a solution regarding health and safety measures. 
United Educators of San Francisco's President Cassondra Curiel said that a walkout is possible if safe working conditions are not met. She stated, "Absolutely, if safe working conditions are not met then it's very possible that people are working in conditions that are unsafe, and that is not okay."
Students Caught in the Middle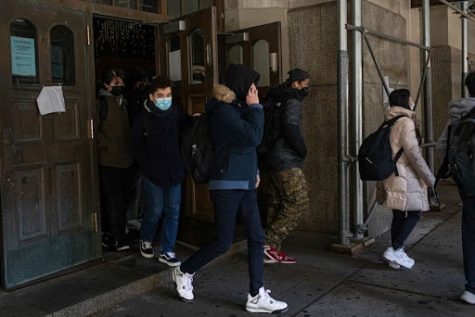 Not only are teachers across the U.S. concerned about the safety of in-person learning, but students in some districts share similar feelings. 
One Brooklyn Technical High School junior explained to the New York Post that "We [students] don't feel safe at school."
On Tuesday, January 11, students walked out of schools across New York City. Students protested the deficient measures taken by their district to protect schools from COVID-19 and called for remote learning to be an option. 
Chancellor David Banks, the head of New York City's Department of Education, wrote on social media, "We understand the concerns of our school communities during this crisis. The best decisions are made when everyone has a seat at the table—I'm inviting student leaders to meet with me so we can work together for safe and open schools."
However, discussions between students and New York City's Department of Education have not yet led to a consensus about how schools can become safer. 
What Citizens Should Expect
As more students and teachers raise concerns over in-person learning and safety protocols, strikes, petitions, and walkouts may become more frequent, especially in the nation's largest school districts. 
Danny Mui, a student at Brookly Tech, described his concerns to the NY Daily News. "It doesn't feel safe to be in school to be honest. In my classes, half the classes aren't there. Some have COVID, some are afraid of COVID, and the school just isn't doing anything about it."
For further reading, Spyglass recommends:
Chicago public school students will return to classroom Wednesday after teachers union suspends work action, mayor says
Chicago students lose more school time as teachers union, city fight over reopening schools
Leave a Comment
About the Contributor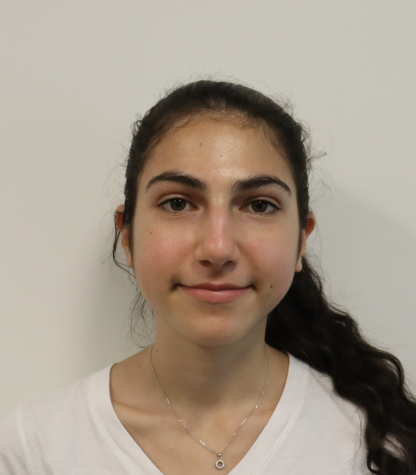 Sophene A., Editor
Sophene is a sophomore staff writer in her fourth year in Spyglass. She enjoys reporting on current ongoings and events. When she's not writing for Spyglass,...