15-year-old Skater makes history at 2022 Olympics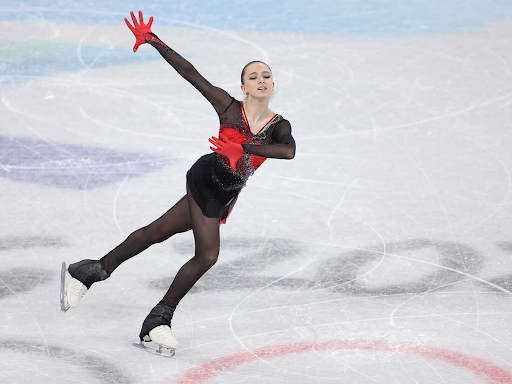 As the applause dies down, 15-year-old Kamila Valieva skates onto the ice. "Bolero" by Ravel plays. Minutes later, she makes history.
Quad jumps, or four revolutions in the air, have never before been performed by any female athlete in the Olympics. Male figure skaters have frequently landed quad jumps in the Olympics, with skaters such as Yuzuru Hanyu from Japan and Nathan Chen from the US having gained popularity in the figure skating community over the last few years for their amazing quad technique. Female skaters, such as Alexandra Trusova and Elizabet Tursynbaeva of Russia, have previously landed quads in World Championships, but until now, no woman has ever landed one in the Olympics. 
Valieva, competing for Russia, landed not one, but two quad jumps during her free skate program at the 2022 Beijing Olympics, securing her the gold medal and setting her own world record. On top of that, she became the 4th woman ever to land a triple axel, or three and a half revolutions, in the Olympics. Her impressive technique gave her a clean two-point lead over the US. 
Recently, results have surfaced that Valieva failed a drug test prior to the Olympics. She had trimetazidine in her system, a banned heart medication. However, results are currently uncertain. The drug in question is not approved in the US because it is believed to improve endurance by helping the heart work more efficiently. The medal ceremony for Women's singles has been postponed due to investigations by the ISU (International Skating Union), IOC (International Olympic Committee), and the WADA (World Anti-Doping Agency). Under WADA rules, Valieva is a "Protected Person," meaning "an athlete who at the time of the anti-doping rule violation: has not reached the age of sixteen." Valieva cannot officially be identified if she is guilty of an anti-doping violation.
The 2021-22 season is Valieva's first senior season, meaning it's her first time competing with adult skaters. "I do feel this burden a bit…" Valieva said in an interview with ESPN. "I believe that I'm coping with this pressure, and sometimes it even pushes me forward." She fell on the last of her three quad jumps, but she has since promised to keep working harder to perfect her technique. 
Valieva was born on April 26, 2006 in Kazan, Russia and currently lives in Moscow. She was a very active child, so her parents decided to enroll her in several sports including ballet, rhythmic  gymnastics, and figure skating. At age four, Valieva decided to drop the other sports and pursue figure skating since she liked it the best. She began training in Moscow shortly afterward. Valieva recalls struggling to keep up in the beginning. "While I was finishing one lap, [other pupils] were [on] the second and third. It was hard for me to get used to the pace," Valiyeva said in an interview with Russia Beyond. However, she soon became accustomed to the rigorous training.
Now, Valieva holds nine world records in women's figure skating. Her international debut was the 2019 Junior Grand Prix, where she won gold. In 2020, she became the Junior World Champion. She qualified for the Senior level of competition just in time for the 2021-22 season, and the 2022 Olympics.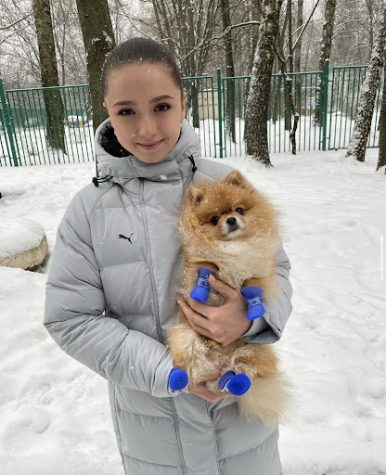 In her free time, she enjoys painting, dancing, and spending time with her Spitz dog, Leva. Besides her Olympic dream, Valieva also dreams of driving a car one day. She cannot legally obtain a driver's license in Russia yet since she is not 17, so in the meantime, she goes go-karting. 
Like all sports, figure skating is constantly evolving as athletes introduce increasingly rigorous techniques each season. With her historic Olympic performance, Valieva has shown fellow female athletes what's possible.
View Comments (1)
About the Contributor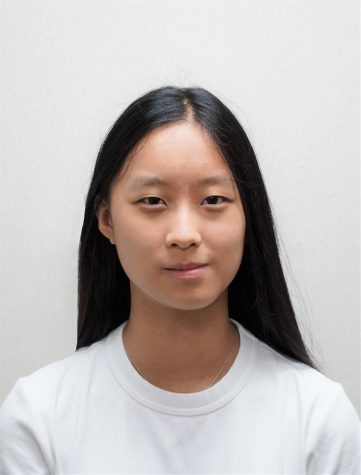 Katie X., Staff Writer
Katie is a sophomore staff writer in her second year in spyglass. During her free time, she enjoys watching anime and playing the piano.