Basketball's Back: Can Westridge Start Winning?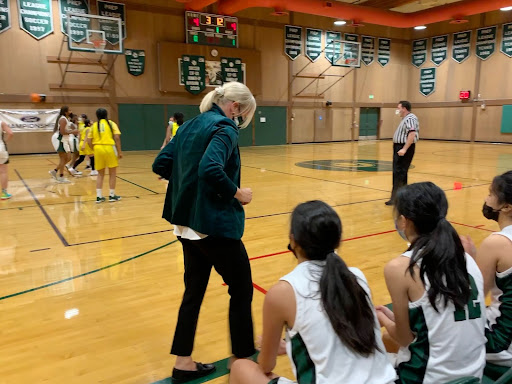 After several years of little success, Westridge's basketball team has the potential to be the best basketball squad the school has seen in a while. Last season, although impacted by the pandemic, the team saw a record of 0-7 in Prep League competition. The previous year, right before COVID hit, the team stood at 4-14 (1-11 in the Prep League). The pattern follows the team all the way back to their 2016-17 season where they posted a winning record of 14-11. This season, led by their new generation of young players, Westridge hopes they can be better.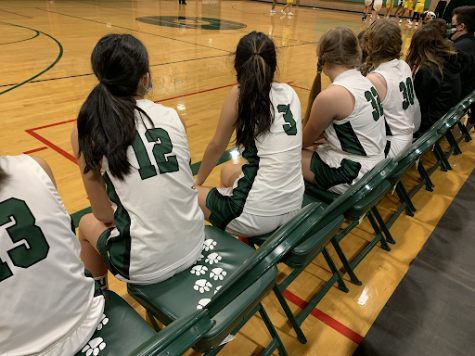 This year, the Tigers are joined by Coach Jaime Hoffman, former Director of Athletics at Occidental College. Additionally, Hoffman was a coach for women's basketball teams at several universities and colleges. She, and her assistant coach Laura Armenian
are well liked in the locker room. Team newcomer Lauren L. '25 said, "I really like our new coaches, Coach Hoffman and Coach Laura, a lot. They do a great job balancing the hard work with fun and they're doing a great job managing our team. I'm excited to see how we'll continue to bond and grow as a team this season!"
Despite Hoffman's years of experience in basketball, she's never coached a high school team, "So, I did not come into this experience with any preconceived notion of skill level. That said, our approach as a coaching staff was and continues to be to re-teach basic fundamentals that might be new to some and of value to even the more experienced players. It allows us to align and speak the same language in terms of basketball lingo."
Even though Hoffman has not coached high school basketball before, the team is still seeming to get along and work well together. Lauren L. continued to say, "I have a really good opinion of the team so far. We get along well, play well together, and practice hard. The older kids take good care of us freshman and our senior captains create a good team environment."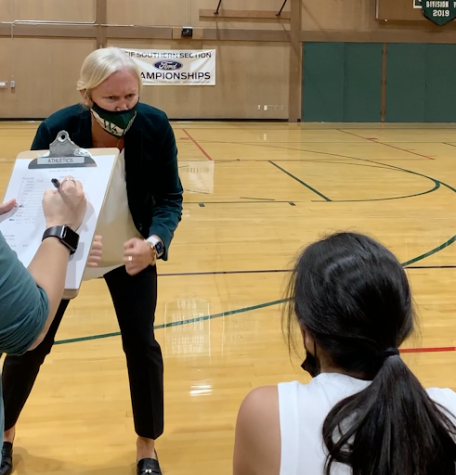 The upperclassmen will not be left alone to perform as the team is joined by several new and exciting freshmen and sophomores such as Sarah K. '24, Natalie A. '24, Ariana E. '25, Jaedyn T. '25, and Lauren L. '25. Coach Edwin Scott, Physical Education faculty member, has coached the middle school basketball's 'A' team for several years now. In the beginning of 2020, Scott coached Ariana E. '25 and Sarah K. '25. "Ariana E. was a phenomenal player, great hustle player, smart player on the court, good passer, great shooter and always willing to do what it takes to try to win. Sarah is a competitor, no matter what it takes, even if she's hurt, even if she's not having a great day, or she's having an off-shooting day, she still finds a way to work hard. Sarah's defense has gotten a lot better, her lateral movement is faster. Her hand-eye coordination has gotten a lot better, her ball handling skills as well."
"
Having them in Middle School was one of the best teams I've ever had. We went pretty far, we almost made it to the championship. We lost to the team that actually won the 'ship that year.

— Edwin Scott
Scott continued, "So as a middle school sports coordinator and their coach, I would say they're two phenomenal players, they're going to be successful in the future."
Currently, the team's record stands at 2-3 with wins over both Blair High School and Alhambra High School. With two wins, they are nearing and/or passing the amount of victories they had in previous seasons. Their losses have been against very strong and dominant teams like Immaculate Heart Academy and Flintridge Preparatory School.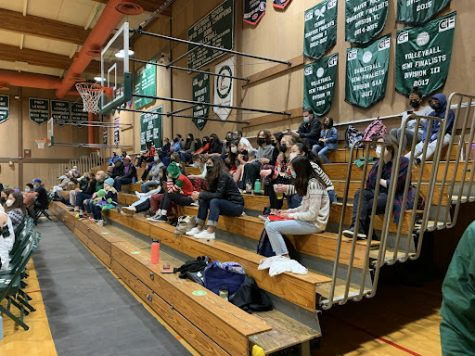 Sarah K. '24, one of the team's strongest players, has been out for some of the games this season due to an injury, but that hasn't deterred the team. Ileia G. '22 and Izzy M. '22 have had fantastic showings all season long. In the team's win against Blair High School, Izzy M. led the team with 22 points. Ileia G. was not too far behind her, posting 18 points.
Coach Hoffman is inspired "by good leaders… Ted Lasso is a fictional character who I have found embodies many of the characteristics that I value as a leader in my roles as a director, coach, and mother."
She is grateful for the opportunity to coach the varsity basketball team. "It is an absolute privilege and joy to be in the presence of dynamic and driven young people. We are a month in and I have seen such tremendous progress. Repetition is the mother of skill, as the saying goes… I can see improvement in every athlete in addition to the progress in meshing as a team."
Leave a Comment
About the Contributor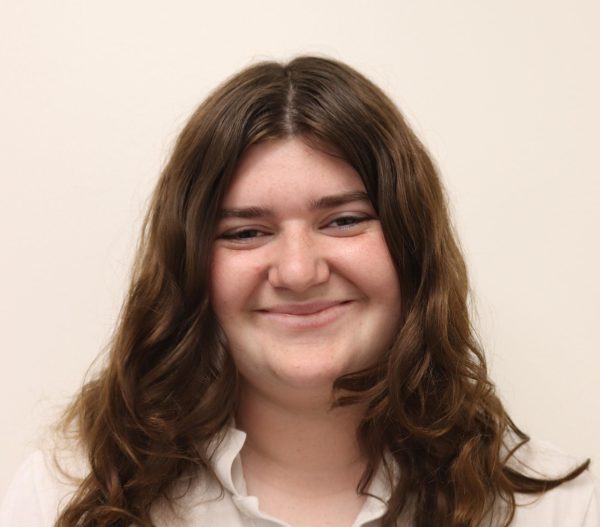 Ella B., Editor, Social Media Manager
Ella is in her fifth year writing for Spyglass, her second year as an editor, and her third year managing Spyglass' social media. When she is not writing...