The Pandemic Inspires Increase in Food Drive Donations
Throughout November, Westridge students in the Lower, Middle, and Upper School all donated over 1500 cans and boxes of food, baby formula, and other necessities requested by Friends in Deed, a non-profit organization for the homeless.
According to Service Learning Coordinator Erica St. John and Senior Service Representative Eloise A. '22, the surprise isn't that people have donated over a thousand items. Rather, the surprise was the high involvement of students. In previous years, food drive contributions of this amount constituted largely of parents, not students.
During remote learning, the food drives were very successful as well. Ms. St. John believes that the reason for the support of food drives was the widespread economic effects of the pandemic on Westridge families' households.
"Most of us are far removed from hunger and poverty. It's impossible not to see people who are struggling in the LA/Pasadena area, but we can't even imagine standing in line being our only source of food for the week," she said. "Last year's food drives were really successful because we were in Covid and families knew how hard it is to find food at grocery stores. That may have played into this year's drives as well."
"Parents have more time to think about that sort of thing, more aware of food insecurities, and more on top of the news," Eloise said in regards to the role of parents in last year's remotely connected food drive. "And it's the holidays, which is a time where people tend to donate more."
Friends in Deed has been vulnerable and low on resources. Similarly, KQED reports that due to the pandemic's slowing of inventory, decreasing of labor, and inflation of food prices, food banks across the US are having a harder time acquiring their supplies, which is reflected in the number of families relying on food pantries. According to VOA News, the number of families looking to food pantries and charities has gone up in some cities by an alarming seventy percent, and AP News reports that over forty percent of them are families which have never needed such services in the past. These families are disproportionately people of color.
"It's really easy for anyone at Westridge to be in that situation, especially with the state of the world and the pandemic right now," said Eloise. "Many things are changing. It could very easily be someone you know."
Ms. St. John believes that some Westridge students are also affected by the difficulties of the pandemic, as this year, there were four times as many applicants for service reps than usual.
Returning to campus after the pandemic spurred some changes in the way service reps approached and planned for the food drives. Aside from their typical emails and announcements at Town Meeting, they placed four large bins, each for a different grade in the Upper School, for the food in front of the Commons in the open air, instead of in the parking lot or inside the Commons with smaller cardboard boxes. "​​The change was definitely effective, because it's so much easier to be like, 'Oh, that's the senior box,' and put food in there," Eloise said. "It's also the power of seeing people bring it and other people being like 'Oh, I forgot about that' and bringing it themselves, too."
Junior service reps Bella K. and Jacqueline L. collaborated in making different kinds of flyers for the food drive to hang in the breezeway, by the library, and in other locations. A relay race for donations was also hosted for people of all grade levels, which Eloise credited for bringing "a whole new layer of competition" in contributing to the food drives.
Furthering Westridge students' connections to the outside world, Eloise suggested things like connecting more with Tim Nistler, the director of Friends in Deeds' food pantry, and interviewing students who did service over Thanksgiving Break. "Encouraging people on their own time to help out is something we can focus on because that can encourage their friends and other people."
To encourage students to donate to the food drives, the service reps promised a week of free dress to the grade who donated the most food. Eloise linked the sharpening appeal for free dress to students' return to campus from over a year of remote learning.
Ms. St. John highlighted how the competition between grade levels increased the number of cans and motivated many freshmen and seniors, in particular, to donate in bigger ways. "There were people in the twelfth grade who got excited about winning and communicated that with their friends, going to the store themselves to get all the cans they needed," she said. "In all the years that I've been doing the food drive, I've never seen seniors, or any students at all, leaving campus and buying a whole bunch of food. And there were a few personalities in the ninth-grade class that thought it would be really fun and exciting to be the winning class."
Eloise hopes the experience will help students realize how easy it is to have that sort of social impact once they become more aware of those who struggle with food scarcity in their communities. "We're supposed to live lives of impacts. What better way of living lives of impact than helping other people?"
Aside from the upcoming toy drive, Ms. St. John and the service reps have collaborated in creating a sign-up sheet for Westridge advisories to adopt a child related to Friends in Deed and work to give them gifts for the holidays. They hope that before everyone leaves for Winter Break, they will encourage their advisories to sign up and provide gifts to help make someone else's holiday a happy one.
Leave a Comment
About the Contributor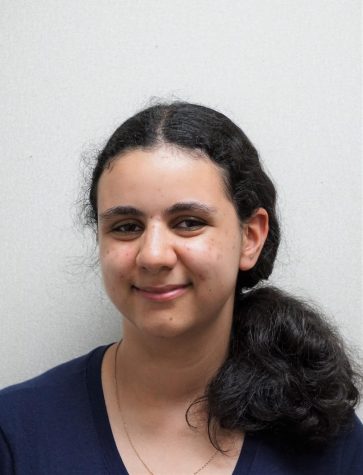 Hannya K., Staff Writer
Hannya is a 2021-2022 staff writer in her first year on Spyglass. She's a total bookworm and a devoted writer, getting all sorts of strange but personally...