Westridge's Esports Team Paves a way to Gender Equality in the Video Game Industry
Once a week, Westridge's Esports team, led by Jadyn Iinuma '22 and Giulia Wu '22, gathers in Westridge classroom MMB1 to game together. What started as a fun way to connect with friends and game together evolved into Westridge's newest sports team. 
Esports are multiplayer video games that are played competitively in teams. Esports team meetings start when Jadyn brings snacks to share as they warm up individually with training packs, online practice modules that help them get better at specific types of shots. Somewhere during their practice session, the team takes a break on the Ranney Court swings before they return to the classroom to continue playing Rocket League, which Jayden describes as "soccer with flying cars."
However, the inspiration for the team wasn't based on bonding and fun times alone. Jadyn and Giulia have both been playing video games since they were kids. Giulia played video games with her cousin, and Jadyn played with her dad and brother. Although both of them have been gaming since they were young, the inspiration for the Esports team struck when Jadyn, one of the team captains, attended a video game camp the summer of her sophomore year. She noticed that she was one of the only girls there. "I got interested in researching how women are treated in the video game industry, how women are represented in video games. I also started looking into women in Esports. There are next to none."
The team became a vessel for achieving gender equality in the video game industry and in Esports. The highest paid player in professional Esports, Johan "N0tail" Sundstein, has made $7,000,000. However, the highest paid woman, Sasha "Scarlett" Hostyn, has only made $400,000. "I was really upset by the wage gap between men and women in Esports, and thought that being here at Westridge with tons of underrepresented groups like women, non-binary, trans [people] that it would be a great place to start an Esports team," said Jadyn.
In order to start the team, the captains went through many meetings and proposals with Melanie Horn, Director of Athletics, and Gary Baldwin, Director of the Upper School. The captains wrote a persuasive essay and eventually, after many meetings and emails, got a coach and equipment.
​​
The Esports team is coached by USC Esports coach, Joe Jacko, who joins their team practices to analyze the games. Jacko brings in USC Rocket League players to talk to the Westridge team about tactics and strategies.
The team competes in CIF, which is the governing body for high school sports in California, against about 200 other teams from California high schools. The team has won two consecutive games at CIF. But even at CIF, the team noticed that the gender gap was still huge, as most of the players were male. The Esports team also recently made it to the CIF playoffs for this season.
Even though the team is competitive and has regular practices, it still doesn't count for PE credit, considering that there is no physical exertion taking place in the games. "Aside from PE credit, it is like a real sport. We practice and we get coaching," noted Giulia. However, the schedule is much more flexible than other sports.
Z Gutierrez '22, a player on the team, enjoys the practices because it allows him to connect with his friends and practice techniques in Rocket League. "I really like our practices. When we are practicing, we work on effective communication. But when we are having a chill practice and just messing around, we get to talk about other stuff while we play and that leads to some fun and chaotic conversations," he said. Z also noted that in the environment, there isn't a lot of pressure to be the best on the team like in other sports.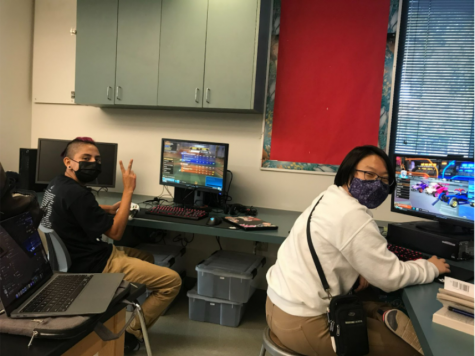 The team has finally established a stable standing after months of proposals and planning to get the equipment and coaching. Currently, the team consists of eight seniors. "A huge concern for us right now is that most of us are seniors and we want to continue Esports even after we are gone. So recruiting underclassmen is a huge priority for us. We fought hard for this team, and so we want it to continue. It's hard when other people don't know about it, though," said Jadyn.
Recruiting students has proved challenging for other reasons, too. "It's also hard [to recruit new team members] because a lot of people at Westridge already have so many extracurriculars already. But the commitment is only about two hours a week, so it's not completely unreasonable," commented Giulia.
For the current team, though, Esports is a way to have fun with their friends while also increasing representation in the field. Z said, "It's so fun to be a part of the team."
View Comments(1)