Though Advisory Snacks Return to Westridge, COVID Protocols Remain the Same
Advisory snacks have been allowed once again by the Westridge COVID-19 Team after being put on hold because of eating restrictions and safety protocols.
Although students have been allowed to bring food from home for their own lunches and snacks since the beginning of the school year, sharing advisory snacks has just been permitted. On September 3rd, Gary Baldwin, Upper School Director and member of the Westridge COVID-19 Team, sent out an email to Upper School Deans informing them of the change. The deans then relayed the message to advisors in late September who then informed their advisees in early October.  
"The broader context of eating at Westridge was a series of gradual decisions that at one point triggered, 'Alright, let's let the advisory have snacks,'" said Baldwin.
The new advisory snacks allowance follows the protocols issued by the Pasadena Department of Public Health. The COVID-19 Team—comprised of Head of School Elizabeth McGregor, Director of Lower and Middle School Dr. Zanita Kelly, Director of Upper School Gary Baldwin, Director of Dining Services Brandon Worrell, Chief Finance and Operations Officer Kendis Heffley, and other members—meets every other week to discuss COVID-related topics, ranging from the testing cadence to managing off-campus visitors at Westridge sports games.
Although students are now allowed to share snacks with their advisors, the eating regulations at Westridge have not changed. Students are still required to eat outside whenever possible, with the exception of rainy days. "We're trying to keep everyone outside when they're eating," said Brittany Coker, Director of Upper School Activities. "Just so students are not in an enclosed small space together as they take off their masks and eat."
However, there is some confusion about the current safety protocols as some advisories have been sharing food indoors. "Oh, I didn't know we had to eat outside," said Emma T. '23. 
Andrew Zhou, Upper School math teacher and advisor, has advisory in the Fish Room. "I guess the Fish Room is special," said Zhou. "If we have the doors wide open, it's similar to eating outside. But I did not check with [Mr. Baldwin]." As the tables outside the Fish Room have been occupied by other advisors, Zhou's advisees have been eating indoors with all the windows and doors open. In addition to having a well-ventilated room, he has also taken his number of advisees into consideration: there is enough space in the Fish Room for his eight advisees to be safely distanced while eating. 
"I don't mind my students taking a drink or putting a piece of candy in their mouths and then putting their masks back on. But if they're eating something a little bit more substantial, then it should definitely be taken outside just in terms of social distancing and all that kind of stuff," said Michelle Amos, Upper School Chemistry teacher. Her advisory has always shared snacks outside. However, now that snacks are officially allowed, Amos has been bringing homemade baked goods: harvest apple cake and hedgehog slice, a classic Australian chocolate cookie slice. 
Students have been eager to share snacks with their advisories once again. 
"Advisory allows us to share new types of snacks. Everyone gets to try new things. In short, food brings people together," said Emily Z. '25. Unlike most other advisories, her advisor, Upper School English teacher Max Duncan, has been the one bringing snacks. They have had chocolate mouse bunny pastries from a bakery in Los Angeles and granola bites. 
Anna F. '23 brought homemade cookies for her advisory. "I think food is a great therapy because it's comforting, and we can just eat your heart out," she said.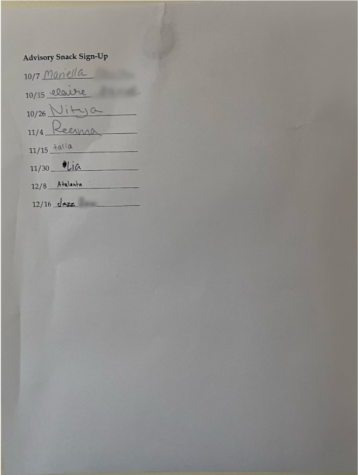 Some students would rather not bring snacks. "They prefer bringing the snacks they buy from the Commons right before to our meetings," said Fang-Yu Hull, Middle and Upper School Mandarin teacher. 
To make sure there are snacks present at every advisory meeting, many advisories have created Google Forms and sign-up sheets for each advisory rotation. "We usually have a list, and we would just remind each other to bring snacks the day before," said Aya R. '23. 
Some advisories, though excited to be able to bring snacks again, have not started due to lack of interest, organization, or just in an abundance of caution. "We don't have snacks because my advisor hasn't set it up yet, and, since no one is talking about it, I don't want to be the first to bring it up," said Crystal Z. '23.
Leave a Comment
About the Contributor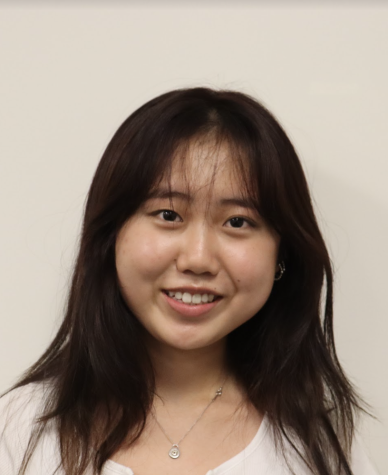 Jessica W., Staff Writer
Jessica is a senior staff writer in her third year in Spyglass. She enjoys reading, listening to music, and going on walks in her freetime.