Dig Pink! Westridge Hosts 4th Annual Volleyball Game
Pink shirts, shorts, pants, skirts, socks, hair ties, and shoes could be seen across campus on October 8, 2021. The day is "Dig Pink," a volleyball game dedicated to breast cancer awareness that holds significance to many in the Westridge community. "I lost a sister to breast cancer. I had two scares myself and a surgery," said Coach Karen, a Lower and Middle School Athletics instructor. "And all is good and I never had to endure what so many folks do. My daughter is playing in the game and she is really crushing volleyball this year. Everything about [the day] makes me smile."
Farrell Heydorff, Dean of Lower School and Middle School activities and the current coach of the middle school "A" volleyball team, talked about this game's significance to her. "I also had a close family member that died of breast cancer and so I think anytime we can bring attention to an issue like this, it's a great way to [do so]." For the first time since the pandemic began, Dig Pink is coming back to Westridge, this time against one of the Tigers' rivals, the Poly Panthers. It's Westridge's 4th time hosting the game in partnership with the Side-Out Foundation. Side-Out's mission page states, "Through youth education and empowerment, The Side-Out Foundation unifies the volleyball community to drive change in the way that breast cancer is treated." The organization was founded in 2006 and has had over 1000 Dig Pink events.
"
It is dear to my heart and it is something that we all must take seriously and I'm happy that we can do this for breast cancer research.
— Coach Horn
The game is also Senior Night, when the seniors play in their last home game and reflect on their experiences. "My favorite memory is probably from my sophomore year when I was on the varsity team and we would start our game all in a circle on the court and we would do [the] deep in the heart of the Westridge jungle [chant] three times, but it gets louder every time," Ileia G., who has been on the varsity team for all four years of high school, recalled with a smile. "Just the third time is so thrilling and it gets me so hyped up for the game." Ileia was joined by five other seniors—Sarah Y., Audrey T., Orla I.-H., Celeste T., and the team's star libero, a defensive specialist, Natalia L. All played spectacularly throughout the season and added a strong sense of leadership.
The series of games began with the Freshman-Sophomore (Frosh) team. Led by freshman stars Ginny A. and Kaitlyn H., the team lost the first set by only a few points. Lauren L. '25 expressed her pride about her sister Erin L. '24 playing in this game. "It's very cool to see them play and to be supported by this organization about breast cancer awareness. I'm really proud of her and I think they're going to do a great job." Although the team did not wear pink jerseys like their Junior Varsity and Varsity counterparts, they did show their spirit with pink face masks. The team ultimately lost to Poly in two sets yet showed much improvement from their previous games. "As someone who has plenty of friends on Westridge's Frosh team, I'm so proud of them for how far they've come this season," stated Nick S. '25, a former Westridge student. On their last home game of the season, many are taking time to reflect on the team's growth.
Along with Frosh, the JV team failed to win a set, losing in two. Led by Ashley Z. '24 and Jordan C. '24, the team did show improvement in both their serves and chemistry. "I just think just that the fact that it's a big game, it's our last home game of the season so it's really exciting. And it's Senior Night, so we're here to celebrate our seniors," team member Evy L. '24 said before their game. Chloe O. '24 and Alyssa X. '24 also had an impressive game.
For the main attraction, varsity's match, parents of seniors held up pictures of their daughters' faces on sticks while the traditional pre-game playlist was played. The varsity team was only warming up, but they began to show off their powerful hits and accurate sets. Faculty and students alike crowded the gym for what would be the last home volleyball game this year. Green and white pom-poms, bead necklaces, and number-1 foam fingers were passed out to fans in the stands. Pink ribbons that were hung on the wall began accumulating on the floor, but the clever signs stayed up. The bright pink of varsity's jerseys could be seen throughout the gym while Coach Horn once again advertised the ongoing raffle. Tickets were around $5 each and winners would receive awards like gift cards.
Starting off the senior recognition, Coach Horn honored Poly's three seniors and handed them roses. Westridge's non-seniors lined up in preparation to give goodbyes. Most speeches were emotional, others were humorous, and some even ended in tears. The seniors were each awarded a plaque with their name and number, shirts with nicknames, and a single rose with some smaller white flowers.
The building's energy could be felt early on. As loud as it's ever been, the team took a lead early in the first set. Assisted by the team's fantastic serves, Jade I. '24 and Gracie N. '23 added on to the score with their dominating spikes. After keeping it close all game, they lost the first set 25-19. The loss was disappointing, but the team did not let that get to them. In between the sets, winners of the raffle gift cards were also announced. Tickets had been sold all game.
Poly took the last two sets too. The play in those sets was very similar to how it was in the first. In all three beginnings, they took the lead, but Poly's outside hitters were just overbearing. Even with the loss, it's clear they have an incredibly bright future.
In the end, the game was to support the Side-Out Foundation and Breast Cancer Awareness, which was achieved. The Tigers eventually met their goal of $750 raised with the generous support of the Westridge community. If you'd like to donate more money to the fund, please click here.
View Comments (2)
About the Contributor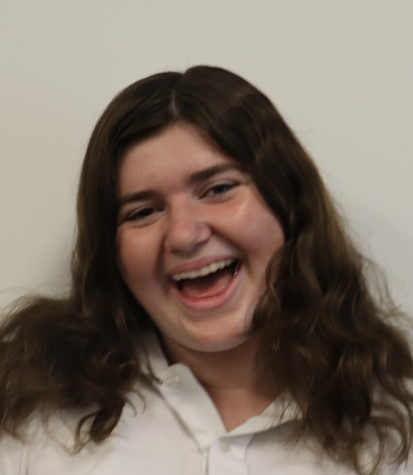 Ella B., Editor
Ella is in her fourth year writing for Spyglass, first year as an editor, and her second year developing Spyglass' social media presence. When she is not...